Monmouth Medical Center Welcomes Rutgers Robert Wood Johnson Medical School Students
The lure of the shore attracts future physicians to practice in New Jersey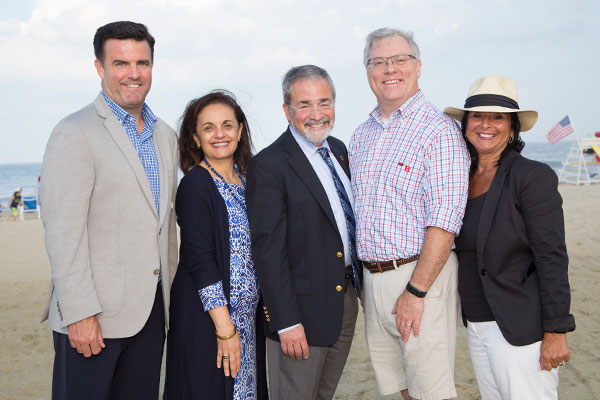 The rain cleared just in time for a beach barbeque and bonfire at the Ocean Place Resort and Spa recently, where Rutgers Robert Wood Johnson Medical School students and Monmouth Medical Center residents gathered for a welcome and team-building event.
Leadership and administrators from both Rutgers and Monmouth Medical Center, an RWJBarnabas Health facility, hit the beach with two things in mind: training and retaining the best and brightest New Jersey educated physicians.
Beginning in July, approximately 40-50 third-and fourth-year Robert Wood Johnson Medical School students began performing clerkship rotations at Monmouth. An additional five students will have Monmouth as their academic home for all rotations.
"We look forward to forging this new academic partnership with the teaching faculty and administration at Monmouth Medical Center as a new regional campus," states Sherine E. Gabriel, MD, MSc, dean, Rutgers Robert Wood Johnson Medical School. "The goal is to provide the best education for our students and retain as many physicians as possible to live and practice right here in New Jersey."
Retaining many of the next generation of physicians is important for a state that is so densely populated and home to young, growing families and aging baby boomers.
"Monmouth Medical Center has a long history as a teaching hospital and our respected reputation as a university-level medical center attracts outstanding physicians and dentists to our teaching faculty," says Bill Arnold, president and CEO of Monmouth Medical Center.
"We are proud to announce that Monmouth will now serve as a regional medical campus of Rutgers Robert Wood Johnson Medical School to teach third and fourth year medical students. As always, our efforts will focus on excellence in education, research and scholarship, and preparing our future physicians to care for the people of New Jersey."