Mohamed Sanu Set Records at Rutgers. Now He Is Changing Lives in West Africa.
For years Mohamed Sanu made his mark on the football field at Rutgers and then for the NFL. Now he is working to make a difference for children in Sierra Leone, his mother's native country where he lived briefly growing up.
"My mom has influenced me by teaching me the importance of hard work, perseverance and sacrifice. Growing up as a kid," Sanu said, "I never really heard her complain about the hardships of life because I knew what was most important to her was for me and my sister to be happy. She taught me that if you have a dream, you must protect it and do whatever it takes to accomplish that dream.
"She had a different perspective on how to approach life," he added. "I truly believe that if it wasn't for my mother, I wouldn't be the man I am today."
Born in New Brunswick, Sanu, 34, moved to the West African nation with his mother and sister before coming back to America at age six. By the time he was a teenager he was a standout athlete at South Brunswick High School. Then came setting records as a wide receiver at Rutgers from 2009-2011.
"He was one of the great, all-time Rutgers football players, and a better guy,'' Rutgers head coach Greg Schiano said of Sanu. "He has always been a giver who cares about people."
Last year, after a decade in the National Football League, Sanu was released by the Miami Dolphins and decided to dedicate his time to a project with Develop Africa, a non-profit that empowers people in poverty in Freetown, the capital of Sierra Leonne. Now he is working side by side with his mother, Aminata Koroma, to improve his native country.
Today, this means helping to build a three-story community center in Sierra Leonne. The first floor will be for workspaces where people can run businesses. The second floor will be a banquet hall for events such as weddings, graduations and parties. The top floor will be a computer lab to provide training for children and adults.
His interest in helping kids became cemented while living in Georgia and playing with the Atlanta Falcons. There he opened, and is still the co-owner of Legacy Sports complex, an indoor-outdoor multi-purpose facility for youth, with training and team competitions in the town of Swanee.
He is head of the football division and coaches a youth flag football team. He interacts with kids from age 5 through high school and with a staff trains them in soccer, baseball, wrestling, mixed martial arts, and football.
"I enjoy my position with Legacy Sports Complex because it allows me to positively impact young boys and girls lives  and prepare them to be able to succeed whether it be sports or otherwise. I was blessed to play football at the highest level and I had a lot of help along the way," he said. "Now it's my time to pay it forward."
He works out himself, training 90 minutes a day, including running up hills. Just in case, he said, he gets a call from an NFL team.
Sanu was a third-round pick of the Cincinnati Bengals in 2012, where he played four seasons. He would play three years with the Atlanta Falcons, as well as seasons with New England, San Francisco and Detroit.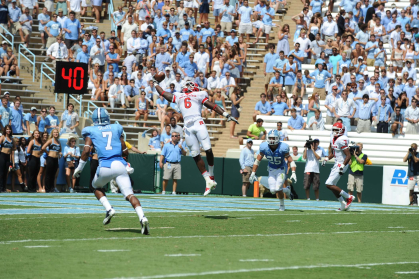 Dave Brock, his receivers coach with the Falcons and now an assistant coach at Rutgers, keeps in touch with Sanu and credits him for his talents on and off the field.
"He was just dominant catching the ball, a unique competitor," Brock said. "As a person, he's an incredible family man. He is a very, very special person. A phenomenal dude."
Sanu still holds a Rutgers record with 210 career receptions. He played 38 games at his alma mater and totaled more than 3,000 all-purpose yards. He caught 19 touchdown passes, as well as passing for four TDs.
Rutgers remains a special place for him.
"My time at Rutgers was impactful in the way of helping me establish a new level of appreciation for the game of football, as well as what it means to be a student,'' Sanu said. "I learned the importance of leveraging relationships as well as being a source to others that could be leveraged as well."
His high school coach, Rick Mantz, has known Sanu since his teenage years.
"He's amazing. He's the same person he was as a 16-17-year-old high school kid,'' Mantz said. "He has the most positive outlook I've ever seen. He makes everybody around him better."
That includes being a father to his 8-year-old son and 5-month-old daughter.
"Being a dad is the best experience I ever had," he said, "including being drafted to the NFL. There's no greater blessing than new life and I am honored to be able to impact their life. Being a father is the best responsibility to ever have and I am going to cherish every last moment of it."
Just as he plans to cherish his future.
Asked what life might be like 10 years from now, his first response is that he will still be happy.
"I will have continued to expand my business portfolio, have continued to significantly impact the youth of Sierra Leone, and that my first born," he said with a smile, "just accepted a full scholarship to Rutgers University."