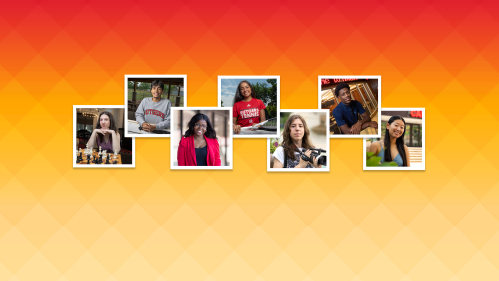 Meet the Class of 2027: An Award-Winning and Caring Group of High Achievers
Members of Rutgers' Class of 2027 have excelled not only in the classroom but also on the tennis court, behind the camera as an award-winning filmmaker and as a nationally ranked chess player.  

They've eased the pain of physical therapy patients and nursed ailing dogs and cats back to health. They are the next generation's nurses, business owners, scientists, mathematicians, physicians and more.  
Collectively they represent a surge in applicants never before seen in the university's 257-year history. 
Some 56,200 prospective students applied for admission to Rutgers this year, a phenomenon Courtney McAnuff, the vice chancellor of enrollment management at Rutgers University-New Brunswick, predicts will continue in the years to come. 
"There was record-breaking interest this year on the back of a record-breaking class last year," he said.
Across the university, Rutgers is welcoming more than 13,400 first-year and transfer students this fall. 
"We couldn't be more excited with this year's class. We're truly bringing the best and brightest from all over the state, around the country and throughout the world," McAnuff said. 
As students moved into residence halls last week turning campuses across Rutgers into bustling centers of activity once again, President Jonathan Holloway joined in the busy scene as he greeted the newest members of the Rutgers community and their families.

"It is so joyful to see our students arriving eager and ready to take on a new academic year in which they will learn as much from their courses as they will about themselves, their fellow classmates and the world around and beyond them," Holloway said.
Class of 2027 by the Numbers
Total Number of Applicants
Rutgers-New Brunswick First-Year Enrollment
Rutgers-Newark First-Year Enrollment
Rutgers-Camden First-Year Enrollment
Naomi Karki
Rutgers University-New Brunswick Honors College
School of Arts and Sciences
The first tennis racquet incoming student Naomi Karki held was pint-sized and colorful, with characters from the television show Dora the Explorer decorating the rim and handle. 
The East Brunswick resident was 5.  
She spent the next few months swinging the racquet around, never hitting a ball. Nonetheless, her parents kept her in the Pee Wee tennis program at the Nassau Tennis Club in Montgomery Township. 
Thirteen years and countless racquet models later, the first-year honors student has switched to a Head Speed racquet, a black-and-white racquet she describes as "very cool," and which will accompany her when she joins Rutgers' celebrated women's tennis team this fall. 
She comes to Rutgers with a resume that includes leading her team at East Brunswick High School to a New Jersey State Interschool Athletic Association (NJSIAA) state championship, and being voted Greater Middlesex County Fall Sports Athlete of the Year in her first year of high school. 
Karki has a dominant individual 24-2 record, and numerous division championships to her credit. Last summer, she trained at the Juan Carlos Ferrero Academy in Spain, which boasts internationally No. 1–ranked Carlos Alcaraz as one of its alumni. 
Tennis is a family sport in the Karki household. Her father, Trilok Karki, emigrated from Mumbai, India, bringing with him a love for all things athletic, plus a desire to share his passion with his children. Her brother, Ronit, a high school sophomore, is a recent national tennis championship finalist whom she describes as "a better tennis player than me." 
And her mother, Kanhan Joshi, who also comes from Mumbai, brings a competitive spirit that fuels Karki's passion for the game, she says. 
Although she averages two to three hours on the court every day, Karki also shines in the world of academics. She belongs to both the National and Spanish Honor Societies, and hopes for a career in medicine, probably one combining neuroscience and psychology. 
The biggest lesson she's learned from tennis? "You have to believe in yourself. If you're fortunate, as I am, you have people who support you, but ultimately you have to advocate for yourself." 
And the tennis racquet remains for her a symbol of persistence. 
"You work hard, you play hard – I'm very proud of that," Karki says.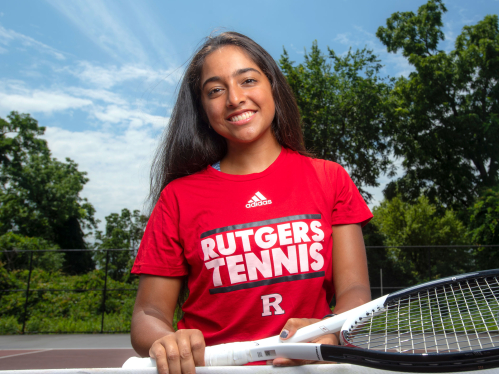 Mason Gross School of the Arts
Rutgers-New Brunswick
Tyler Riscoe has the distinction of entering Mason Gross School of the Arts at Rutgers-New Brunswick as an award-winning filmmaker. 
But the 18-year-old says he is the one in awe of the prestigious program he's been accepted to.
"I've been looking at the website and the other Rutgers portfolios. I can't possibly imagine myself getting to this level," said the Jersey City resident who is studying for his BFA in Filmmaking.
Looking back, Riscoe remembers feeling the same way when he was about to enter County Prep High School in Jersey City. But by the time he was a senior in school's audio visual program, he'd earned Best Social Awareness Award at the 2022 Revolution Me Film Festival for his documentary Vinny, which tells the life story of one of his school's bus drivers, Vincent Fano. His most recent work, "Place to Breathe," is a cross between music video and silent film.
"I love that with each step I feel more confident in my ability," said Riscoe. "Coming out of high school I was very happy with the work I did. I'm sure Rutgers will be the same way. It feels like a daunting task now, but I want to get every opportunity I can out of this school."
Riscoe's cinematographic style celebrates the beauty in New Jersey's renowned urban landscapes, finds solace in the busiest locations and elevates its everyday, hardworking people. He credits his mom, a former advertising art director and commercial videographer, with steering him toward a career in visual arts, entrusting him with her camera equipment at age 7 or 8 to document family events and celebrations.
"When I was 10 years old, I would go on to record my short films on my mom's phone. Those films made it into film festivals that I submitted online worldwide," he said. "These achievements allowed me to get accepted into my high school's exclusive film program."
Drawn to Mason Gross for its cross-disciplinary approach to arts education and urban location, Riscoe said he is looking forward to collaborating with his peers and exploring New Brunswick's nooks and crannies.
"Filmmaking is such a teamwork-based environment. It's a communal experience with so much deep planning and connecting with people," he said. "It forces you to push yourself outside your comfort zone."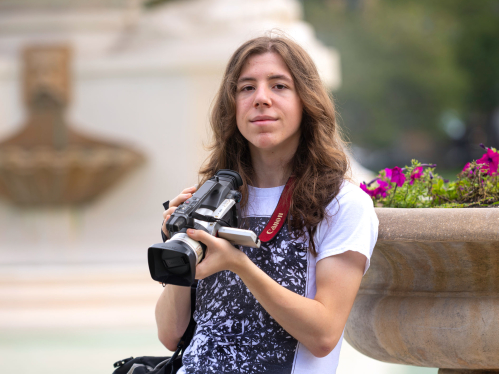 Jerry Melius
Rutgers Business School-Newark and New Brunswick
Rutgers University-Newark
A beloved aunt who raised him, the football coaches who mentored him and the organizers of an enrichment program at Rutgers Business School (RBS) who encouraged him serve as the inspiration driving Jerry Melius to succeed. 
"Growing up, Jerry didn't have much, and he has struggled, but he never let that stop him," says Miyokee Saint-Florent, program coordinator for the B-STAR program, which offers mentoring and academic support to high-performing students from under-represented backgrounds. 
Money was frequently tight; there were times his father, Joseph Melius, worked extra hours to pay the family's rent, Melius says, and COVID took an additional financial toll. 
The North Brunswick resident, who will begin studies in marketing this fall at the business school's Newark campus, received a boost in his journey to college when he qualified for the program run by the RBS Office of Inclusion, Diversity, Equity and Access. 
"Where I'm from, a lot of people don't fulfill their biggest dreams. I've never shorted myself in those dreams," says Melius, who grew up under the shrewd eye of his father's sister, Ginerva Auguste, when his own parents weren't on the scene. 
Auguste kept her charge on the straight-and-narrow, he recalls, hammering home the message that young Black men are too often viewed through stereotypical lenses, while insisting that he hold himself to the highest standards. 
"She taught me to be honest and to take pride in myself," Melius says. 
During the four years he played wide receiver at North Brunswick High School, his coaches fine-tuned the message: "They let me know things weren't going to be easy for me, that what I wanted I would have to work for." 
As a first-generation college student, he says one of his dreams is to be a successful business owner. 
"One of the reasons I chose RBS is because of the skills they provide. When I own my own company, I hope to be a boss who motivates and understands his employees, and helps them reach their potential," he says. 
Melius fell in love with marketing during a sports entertainment class in his junior year. He was drawn to Rutgers by its diversity, which made it feel like an ideal match.   
Despite a 3.7 average, he was nervous going in. But participating in the credit-bearing B-STAR program this summer calmed some of his fears. 
"They've taught me how to manage stress, manage time, keep up with my mental health," Melius says. "In the end, I would like to give back to the people who supported me. I want to spend more time helping others, because people have been motivating and pushing me all my life."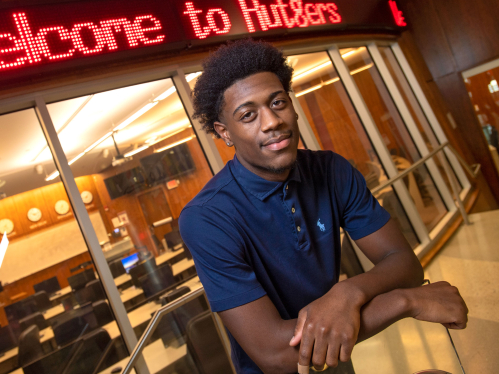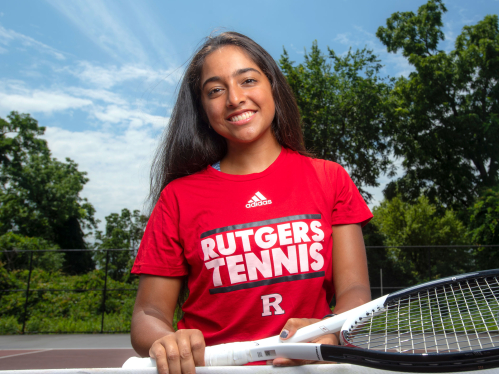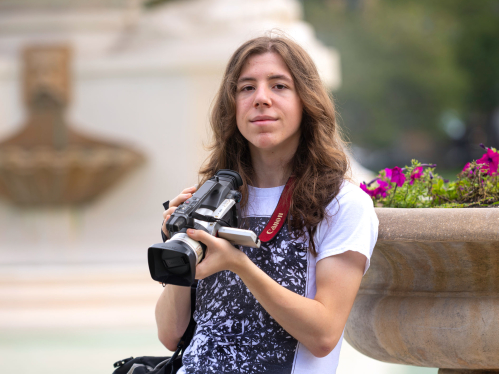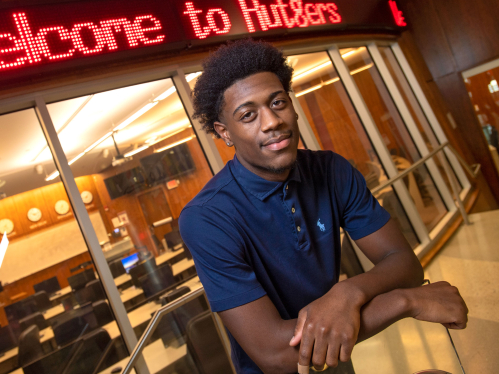 First-Generation Students
African American, Latino and Asian-Pacific Islander Students
Most miles traveled (from Essendon, Australia) to attend Rutgers
Gabriella Glaz
Rutgers-New Brunswick Honors College
School of Arts and Sciences
 
You can't overstate the role chess plays in the life of Gabriella Glaz. 
Not only is the Tewksbury resident ranked among the top 70 women of all ages in the state of New Jersey, but she's also captured rankings in the top 100 of her age group nationally every year from the time she was 13 until now, at age 18. 
She was the founder and president of the chess club at Immaculata High School in Somerville, and spent the last two summers volunteering at the local library, teaching children as young as 5 the basics of the game she's loved since she was that age herself. 
Glaz even managed to incorporate the sport into a year-long project she conducted as a Marian Scholar, part of an invitation-only program her high school offers to nurture research skills. 
Her objective was to determine through intensive surveys and testing of fellow students whether IQ or personality could better predict a chess player's future success. (Spoiler alert: IQ won.) 
Glaz believes the skills she cultivated playing chess over the years – sometimes up to 10 hours a week – will serve her well at Rutgers-New Brunswick School of Arts and Sciences, where she's contemplating a dual major in history and sports management. 
"I know that's not a common duo," acknowledges the Rutgers-New Brunswick Honors College student, "but I'd like to go to law school, and eventually do sports contract law, so I thought those two majors would serve me well." 
She also hopes to check out the Rutgers University Chess Club, which holds in-person meetings and tournaments throughout the school year. Although it's a relatively new club – created just 15 years ago – the organization, which meets regularly at the Busch Student Center, boasts more than 660 members. 
With all the concentration on rooks, knights, pawns and kings, Glaz still managed to stand out academically at Immaculata, being chosen president of the National Honor Society and the Spanish Honor Society. 
Again, it all comes back to chess, she says: Those long hours contemplating her next move at a long table in a quiet room paid off in myriad ways. 
"You learn a lot about yourself while playing," Glaz says. "I learned to have confidence in myself. Even if you're in a rough patch, you keep trying your best. I know I'm a capable person, and that one bad game doesn't define who I am."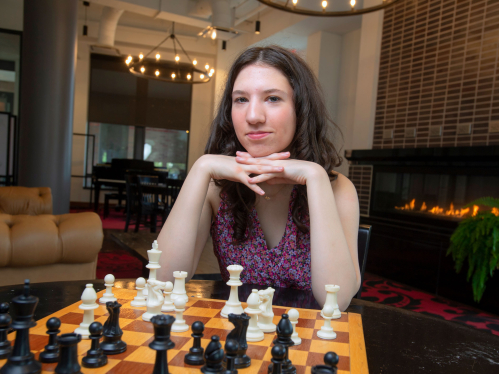 Aishat Jimohkuku
Rutgers School of Nursing
Rutgers Health
Aishat Jimohkuku decided she wanted to become a nurse when she was 9 years old living in Nigeria with her parents and sister during the 2014 Ebola crisis. 
She remembers watching a documentary about the disease with her family. They wanted to learn what they could do to protect themselves from getting infected with the virus, which was declared an international health emergency in West Africa at the time by the World Health Organization. 
"At that moment I witnessed people in a type of pain I'd never seen or experienced before," said Jimohkuku, 17, who will enter the incoming class at Rutgers School of Nursing. "I saw the positive impacts those medical professionals on TV were making in their patients' lives and at that point I knew I wanted to do that and help people medically." 
Four years later, her family migrated to the United States, living first in Maryland and then moving to Newark. She remembers feeling fortunate that she spoke English when she came to the U.S. because it made it easier to acclimate herself to her new country. 
"My parents wanted a lot more opportunities for us, educationally," saidschoJimohkuku who graduated with honors in June from Weequahic High School. "What we could do and achieve in Nigeria was very limited." 
Since her freshman year of high school, she has been part of the school's Allied Health Services Academy, which partners with Rutgers School of Nursing, Rutgers School of Health Professions and RWJ Barnabas Health to create professional and higher education pathways for its students. This past summer, Jimohkuku – who will be the first in her family to receive a four-year college degree – worked at a physical therapy center in Newark, learning what it takes to connect with patients. 
"I realized it's often the little things that matter," she said. "Asking people how they feel and how they are doing is really important." 
While Jimohkuku's mother is a home health aide for older people, she wants to eventually become a nurse in the neonatal unit, taking care of newborns. Her plans are to get her bachelor of science degree in nursing and then pursue her master's degree. 
"I'm forever dedicated to helping make people's lives easier because being able to live pain-free and healthy is a blessing," said Jimohkuku .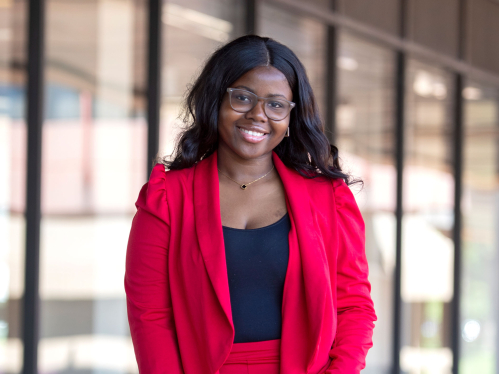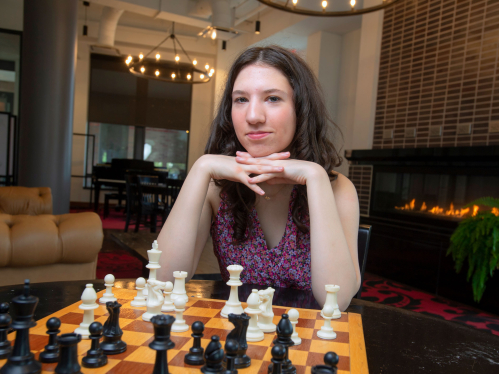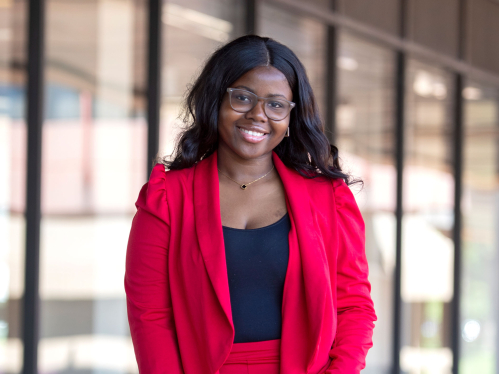 Out-of-State and International Students
School of Environmental and Biological Sciences
Rutgers-New Brunswick
A chocolate lab named Smokey sparked Bryce Hunter's dream of becoming a vet, and a yellow lab fanned the spark into a flame. 
This fall Hunter, a Cherry Hill resident entering the Honors Program at the School of Environmental and Biological Sciences, will begin working toward of his goal as an animal sciences major. 
He hopes ultimately to work with large, exotic animals. 
The brown lab that first captured Hunter's heart belonged to his grandmother Betty, and became his best friend. The two grew up together, the dog and the only child together roaming the woods across from Hunter's suburban house. 
More recently, during informal training as a veterinary nurse at Marlton Animal Hospital in Evesham, Hunter found himself tending to another lab, one who had just been neutered. 
"He was in a cage, just waking up from the anesthesia, when he lost control of his body and was flailing around," he recalls of the experience. "I got in the cage with him – all 60 pounds of him – and lay down with him and just held him. I fell asleep for a few minutes cuddling him, and I woke up with him licking my face." 
The president of his senior class at Cherry Hill High School East and member of the National English Honor Society says his parents – mom Chanda, a preschool teacher, and dad Chad, and landscape designer – are solidly behind his career goals. 
Hunter also finds inspiration in the family's 6-year-old Australian kelpie Renn, named after a Star Wars character beloved by both Hunter and his father. 
The honors student ran track for three years in high school. On the New Brunswick campus he hopes to participate in intramural hockey, and perhaps play guitar in a band. 
The future vet says the major difference between treating animals and humans is that the animals can't tell you what hurts. 
"You have to watch for visual signs, monitor their behavior to determine their moods," he says. 
Oh, and you always have to be wary of bites and scratches. Of the many times he's been on the receiving end he says, "Yes, there's been blood drawn. That's just the nature of the job."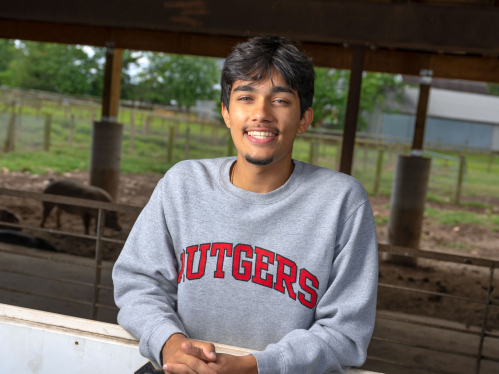 Tiffany Chan
Rutgers University-Camden
If time-management were an Olympic sport, incoming first-year Rutgers-Camden student Tiffany Chan would nail a 10 in every event. 
The Jackson Township teen took all AP-level classes in her junior year while working up to 40 hours a week at a steak house and serving as president of Jackson Liberty High School's Math Honor Society. 
Chan also was a member of the National Honor Society, the Science National Honor Society, the Math Honor Society - and others. 
Outside of school, Chan, a cross-country runner, completed the New York Marathon (finish time: 4 hours and 55 seconds), volunteered as an EMT for her township's emergency squad, and devoted hours to a local food pantry.  
She did all this – and more – while raising her younger brother, Trever, in the absence of parents whose financial and emotional issues kept them out of the picture. 
Chan, who hopes to focus on pre-med, says the secret to her success can be summed up in one word: prioritizing. 
"Throughout the years I've learned that you can only take on so much," the athlete-scholar says. "I push myself to get better and better, but at some point, I realize there's only a certain amount of things I can do, and I have to evaluate what's important and what's less important." 
Topping the list of what's important to her is looking out for Trever, a high-functioning 17-year-old on the autism spectrum who will live with an aunt nearby when Chan moves to the Camden campus to start classes in the fall.  
She started working at age 14, in the dietary department of a senior care center, as a result of family issues. She soon added two more jobs – working at a pizzeria and tutoring – to keep food on the table and to squirrel away funds for college. 
Running has been a constant in her life, and a constant source of comfort. 
"It makes me feel in the moment, absorbed, like nothing else matters," Chan says. 
"Tiffany has had a lot of responsibility for an 18-year-old," says Jill Chestnut, head coach for women's and men's cross country and assistant for indoor and outdoor track at Rutgers-Camden, who is looking forward to working with the incoming first-year student this fall. 
"She's really a remarkable kid."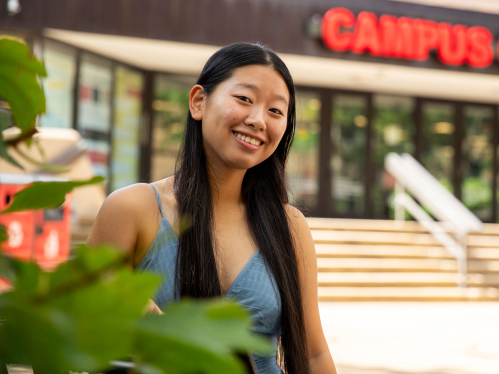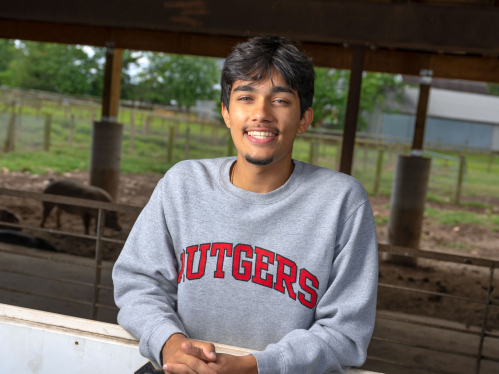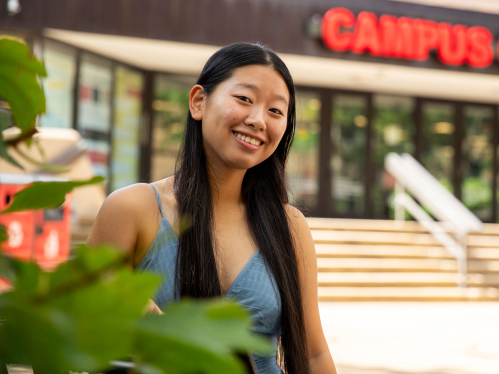 Welcome once again to Rutgers, a university with grand traditions, a place of exceptional accomplishments, and the home to the most inspiring students in the nation. I fervently hope that the coming years are fantastic.

Jonathan Holloway

Rutgers University President
Story written by Fredda Sacharow, Robin Lally and Lisa Intrabartola
Photos by Nick Romanenko and Ron Downes Jr.
Published Sept. 5, 2023
Produced by Andrea Alexander
For media inquiries contact Dory Devlin at dory.devlin@rutgers.edu or Andrea Alexander at andrea.alexander@rutgers.edu