Mary Flaherty has helped a countless number of students through insurmountable challenges as an assistant dean at Rutgers University-Camden.
Since she took over the role in the Dean of Students Office in 2014, Flaherty has helped students facing loss, hunger and potential homelessness reach their academic goals -- counseling students going through treatment for cancer, waiting for organ transplants, facing severe and chronic health issues and coping with issues like their parents' divorce.
"These students are not looking for any advantage," Flaherty says. "They only want the opportunity to finish their degrees as best they can. They are inspiring."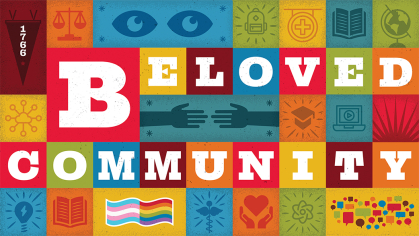 Flaherty's dedication to Rutgers-Camden spans 31 years, coming to the campus in 1989 as an administrative assistant in the campus police department where she worked to finish her undergraduate degree. While Flaherty expected her time would be brief, it has lasted decades and she is now a beloved champion of students who encounter obstacles on the way to graduation.
"I started with the sole intention of getting my degree and I fell in love with the place," says Flaherty, who went on to earn her bachelor's and master's degrees in English at Rutgers-Camden. "I never thought I'd be here this long.''
After two years with campus police, Flaherty moved into an administrative role in facilities, where she stayed for 17 years. In 2009, after she earned her graduate degree, Flaherty took a position as department administrator in student affairs before being named assistant dean in 2014.  
In her more than three decades at Rutgers–Camden, she has become a cherished go-to staff member. "Mary has had many roles on campus, and in all of those roles she has come to have followers," says Mary Beth Daisey, vice chancellor for student affairs. "Faculty members contact her because they trust that she will look into a situation and follow through on an issue or concern, and students who she has helped in one situation return to her again and again for assistance. Mary is a person with integrity and amazing organizational skills, and she's a great problem solver."
Supporting Students
Flaherty works closely with students, a passion she realized she had while she was an undergraduate working part-time as a writing tutor in the campus Learning Center.
Her impact has been immeasurable – like the time she helped a young woman who had been actively engaged in class and then suddenly became withdrawn and began pulling her hair out. The student's professor referred her to Flaherty, who learned that the young woman was distraught over turmoil at home – her parents were getting divorced and they were losing their house, possibly forcing her into homelessness.
Flaherty worked to help her get counseling and also find a room for her in student housing. "That semester she made the dean's list for the first time," Flaherty says, adding that the student went on to graduate and attend graduate school. "She could have dropped out. She could have walked away, but the professor caught it in time and we got her to the resources she needed." 
She has helped students learn to believe in themselves and develop invaluable life skills. Claire Sibley, a 2019 Rutgers-Camden graduate who held a work study position for three years in the Dean of Students office, found an enduring mentor and friend in Flaherty.
She says she felt that she always had support for following her creativity and voicing her thoughts, a meaningful experience for an undergraduate.
"I was able to present data to faculty and staff," Sibley recalls. "It was really cool for me, as a student, to be able to do that."
Now a teaching assistant working with children with disabilities at the Anderson School, Sibley credits the work-study job as shaping her professional and personal perspectives.
"I really feel blessed that I had the chance to work with Mary," says Sibley. "She is someone who I am so comfortable talking to. I know she won't judge me, and that she'll understand where I'm coming from. She's super-empathetic and supportive. She's the best cheerleader I know."
Flaherty says the pandemic has made connecting with students more challenging, but she has worked to overcome the separation and still provide support, including a recent visit to campus to help connect a student with Rutgers-Camden's laptop loaner program, which has loaned more than 50 computers to students.
She is quick to point out that she is not alone in her support of students, and is part of a campus team committed to student success. The reward of seeing positive outcomes achieved in challenging student situations is one of the reasons she and others have stayed. "It's a mix of student success stories and campus collaborations that keeps us 'lifers' on campus," she says.
What It's All About
Flaherty, who lives in Audubon, grew up in Pennsauken, which borders Camden, and graduated from Camden Catholic High School. After high school, she enrolled at Rutgers–New Brunswick, but did not finish. She was motivated to complete her degree and ultimately found the support she needed while working at Rutgers–Camden. Her circuitous path to a degree mirrors that of many students at Rutgers–Camden, which is one reason she excels in supporting students who encounter obstacles along the way.
She likes to read, especially Victorian literature like Jane Austen and Charles Dickens and enjoys bicycling, participating for more than 15 years on a Bike MS team that completes long bike rides to raise funds to fight multiple sclerosis.
When Flaherty started at Rutgers–Camden, the student body consisted of about 4,000 undergraduate students. Today there are more than 5,700.
She says the heart of the Rutgers–Camden campus is something she came to fully understand at her bachelor's commencement ceremony. Dressed in regalia, she went into the audience before the ceremony to find her family members and ran into the Dee Jonczak, the secretary of the English department, and her husband, Chip Jonczak, who was a painter in Rutgers–Camden's facilities department.
"What are you doing here?" she asked them.
"We come every year," Chip said. "This is what it's all about."
More than 20 years and thousands of student interactions later, Flaherty remembers that moment and takes it to heart daily in her interaction with students. "It's so telling of our campus and how our campus cares about students," she says. "It's the primary purpose of why we are here, which is getting students to graduate and preparing them to succeed in their lives."