Emma Broggi is leaving her mark on Rutgers, literally, after designing President Jonathan Holloway's holiday card in 2022 and creating the artwork on a line of Mason Gross School of the Arts merchandise.
The senior, who will graduate in May, hopes to use her degrees in visual arts and psychology to become a therapist, working with children and using her art to help them open up.
"Art has always been my peace. I feel it's a calming activity for me," says Broggi, who is concentrating in print in visual arts. "I think going to Mason Gross has helped me look at my art in different ways and critique it and change it and make it an interesting thing to look at."
Broggi's first foray into designing for others was illustrating a children's book, "Daddy Loves You." The author, Kieran Lenahan, is a family friend and Broggi's swim coach. During Covid, Lenahan would FaceTime with Broggi to share his ideas for drawings with rudimentary sketches. "I'd say, 'I've got it. I know what you want,'" recalls Broggi. "It was really cool to talk to someone with their vision and bring it to life, versus it being all my idea. It was a life lesson in a way."
When Mason Gross staff asked her to create art for the first set of items for the student-designed Mason Gross Signature Collection, Broggi said yes. She was recommended by a school administrator in response to a call for an imaginative and vibrant student.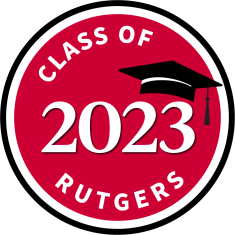 The T-shirts and tote bags she designed feature "MGSA" in an artistic script, with some items sporting a drawing of the Old Queens arch too. "Mason Gross didn't have a signature and more artistic logo, and we are an arts school, so I think that's important," Broggi says.
Broggi considered it an honor when she was asked to draw Holloway's holiday card. She was chosen based on her sketches for the school merchandise. The president requested a Rutgers scene, and staff suggested the Willie the Silent statue on Voorhees Mall or Passion Puddle on the Cook campus. Broggi sketched and submitted those scenes, but then added a third: the arch and steps at Old Queens.
"That's a personal image for me. That's the one I pushed for, even though it was not an image I was asked for," she says. The Old Queens image, drawn in India ink and designed in Illustrator, was chosen for the card. After the holiday message was emailed to all students, Broggi's friends began texting her, noticing her artwork.
Broggi knows Rutgers landmarks better than most students. Until she was 12, Broggi lived on the Busch campus in faculty housing. Her father, Jeff Broggi, senior associate dean of students, worked in residence life at the time. Deciding where to attend college was easy.
"Rutgers has always been a part of my family. To me it was Rutgers or nothing, in a positive light. I always felt at home here," says Broggi, 22.
As young girls, Broggi and her sister Alexis were a novelty on campus, and sometimes went to resident assistant game nights or dinners with their father. "I remember the college students being so interested in us, which is so funny," says Broggi. "They'd ask, 'Will you go to Rutgers?' To them it was a joke, but I'd say, seriously, 'Yes, I'm going to go to Rutgers.'"
At Piscataway High School, Broggi knew she wanted to study psychology, with the dream of working as a therapist. She had been doodling her whole life, but considered art a hobby as she mulled her major. "To me, it wasn't my life path," Broggi says. But her mother, Kimberly Broggi, and father saw how their daughter's face lit up during information sessions at Mason Gross, and encouraged Broggi to incorporate art into her studies. Being accepted into the Rutgers-New Brunswick Honors College solidified Broggi's decision to double-major in psychology and visual art.
Didier William, assistant professor of Expanded Print, had Broggi in his Relief Printmaking and Screen Printing courses.
"Emma is an exceptional young artist," says William. "She has a gifted capacity for constructing captivating and profound narratives, which made her prints just as conceptually powerful as they were formally accomplished. She was such a joy to work with."
After graduation, Broggi plans to pursue a master's or doctoral degree in psychology so she can be a therapist working with children and adolescents. "I think therapy is what I'm meant to do. To help people is important to me, and that's the way I think I can help the world best," says Broggi.