Mason Gross Student Wins Award for Original Anti-Bullying Song
Aspiring pop singer Kathleen Lonski double majoring in music composition and music education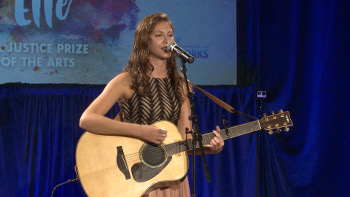 'I have multiple messages from kids in the Philippines, England, Australia, Canada and the U.S. who have told me the song has greatly helped them deal with bullying, and in a few cases prevented kids from attempting suicide.'

 

– Kathleen Lonski, a sophomore at Mason Gross School of The Arts
Kathleen Lonski can't remember when there wasn't a song on her lips.
"I was always singing," said the Mason Gross sophomore, a double major in music composition and music education. "When I was little, my family drove to South Carolina one year and I sang 'Part of Your World' from 'The Little Mermaid' for 13 hours straight."  
By 14 Lonski was following in the footsteps of her idol, Taylor Swift, writing and singing pop songs of her own, including the anti-bullying ballad "Don't Let Them In," which won the Social Justice Music Award at Elfenwork's 2016 Campus MovieFest.
The song's empowering message earned Lonski, 19, a $2,500 top prize and trip to the 10th anniversary "Elfenworks In Harmony With Hope" awards ceremony in San Francisco this September, where she performed the piece on her acoustic guitar under the stage name, Kathleen Elle.
"It's definitely something I'm super grateful for and gives confirmation that I'm doing what I'm supposed to be doing," she said. "It pushes me to write music that will have a positive impact on people."
---
Related Stories:
---
The East Brunswick resident wrote "Don't Let Them In" at 15 to fill a void she saw in school programs designed to deter bullying.
"They all focused on getting bystanders to stand up and getting bullies to realize what they are doing," said Lonski, who while never bullied understands what it's like to be occasionally picked on. "But no program spoke to the victims to tell them they don't need to change. Some people are mean no matter what you do. So surround yourself with people who love you."
Long before it won an award, Lonski's song resonated with her peers at East Brunswick High School and around the world. After loading "Don't Let Them In," on YouTube, messages poured in from bullying victims about how her encouragement helped them to overcome difficult situations.
"I have multiple messages from kids in the Philippines, England, Australia, Canada and the U.S. who have told me the song has greatly helped them deal with bullying," she said, "and in a few cases prevented kids from attempting suicide."
Since then, she's performed "Don't Let Them In" in more than 30 New Jersey schools. The song also was featured in Seventeen Magazine's "Mean Stinks" contest, led to an NPR interview and got her named the Abercrombie & Fitch Anti Bullying Scholar in 2015.
The success of "Don't Let Them In," made the math wiz rethink her academic plans.
"Up until junior year, I didn't know I was going to major in music," she said. "I was thinking about majoring in chemistry. It was the only science class I liked, and it had a lot of math in it."
Which explained why song writing came naturally to her.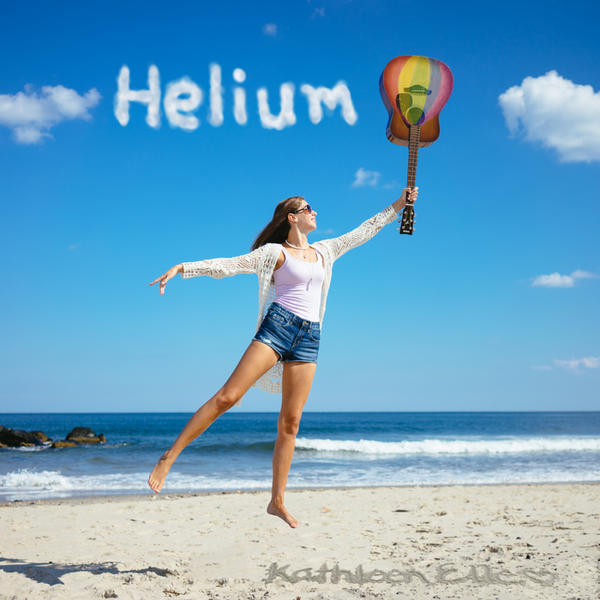 "Music theory is formula based, so it uses the same part of your brain," she said.
By the then, Lonski knew two things: She wanted to continue making music and she wanted to do it at Rutgers.
"My family has been very involved with Rutgers. We've gone to all the football and basketball games since I was a baby," she said. "I always loved Rutgers' New Brunswick campus. My dad and brother went there, and my grandmother, too."
What she didn't realize was how intense the audition process was for the music program at Mason Gross School of the Arts.
"I left the tour feeling very overwhelmed because hearing the requirements for everything I needed to do sounded crazy," she said of the three-song audition that requires students to perform an art song, classical song in Italian, and another aria.
Nearly two years in, Lonski said she is sure she made the right decision. Her double major means carrying a dizzying 24 credits a semester, but knowing she'll graduate with the skills with educate young musicians and continue to make her own music gives her the motivation to plow ahead. 
"I'm just trying to get as much experience with as much music as I can while I'm surrounded with awesome professors and musicians," she said.
Mason Gross composition fellow and Lonski's instructor, Chris Opperman, said he appreciates his student's work ethic and talent, noting the successful orchestra reading she received for a piece she composed last year is a rare accomplishment for a first-year student.
"She's really grown tremendously as an artist. She's enthusiastic, talented, and kind, and she 'gets it' about how hard you have to work to make it," said Opperman. "My primary music business background is in royalties and business management, but if I was in A&R I would have signed her last year."
---
For media inquiries, contact Lisa Intrabartola at 848-932-0554 or lintrabartola@ucm.rutgers.edu.