Alumni and faculty reflect on Broadway's historic shutdown and highly anticipated reopening
When Broadway announced it was closing for a month in March 2020 as concerns over COVID-19 were rising, Ben Jeffrey, who plays Pumbaa in The Lion King, welcomed it as a much-needed break from a physically demanding role.
"I thought, great – a vacation!" says Jeffrey, who graduated from Mason Gross School of the Arts with an MFA in theater. "A lot of us actors were like, hey, we're going to let our knees rest and take this time and enjoy it."
Then, things got "very, very dark," especially at home in New York City, Jeffrey says.
"We were here for three months of lockdown, listening to not much but the sirens," Jeffrey recalls. "It got real a few weeks in and then I realized, we don't know when we're coming back."
It would be 15 months until there were baby steps toward a reopening this year: first with a limited run of Springsteen on Broadway in late June, and then Pass Over, a fully staged play, which began previews in early August.
The historic shutdown was a "shocking time" for performers who were used to a steady, even hectic, pace of work, says Jeffrey.
"Going overnight from doing eight shows a week to nothing was pretty jarring, psychologically and physically," says Jeffrey, who has been in his Lion King role for 10 years. "It was a really big adjustment for anyone who's been doing this professionally for a long period of time."
Rachel Zatcoff, a vocal performance graduate who co-starred in the off-Broadway run of Fiddler on the Roof in Yiddish, recalls the bewilderment and sadness she and her colleagues felt as the reality of the shutdown set in.
"I remember thinking, 'How can this be happening?' It honestly felt like a death," says Zatcoff, whose run in Fiddler ended in January 2020 with the show's closing. "I remember walking through Times Square and just wanting to sob. It was quiet, solemn, and apocalyptic."
Musicians, too, found themselves suddenly without work and the creative outlet of live performance.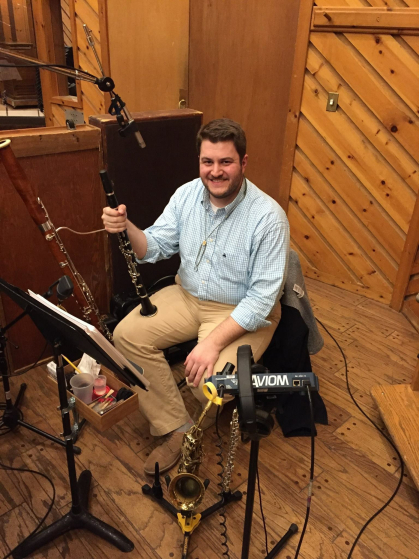 John DiSanto had just started a six-week gig as a sub – a role in which a musician sits in for an orchestra regular who needs to take time off – playing saxophone, bassoon, clarinet, and flute for Aladdin the week of the shutdown. He played just three performances before waking up to an email that read "No Show Tonight."
For the next five months, DiSanto didn't play live music again with – or for – anyone.
"It's the longest stretch I've ever gone since I started playing the clarinet in 6th grade," says DiSanto, who graduated from Mason Gross with a degree in saxophone performance and music education.
The loss left DiSanto feeling adrift as a musician, especially during the early months of the pandemic, he says.
"[Performing] is more than just a job – it's a part of your identity," says DiSanto. "It was like, 'What am I going to do if I can't play music?'"
Life During Lockdown
The months off were spent as best as possible at home with reframed roles: Jeffrey took on housework and parenting tasks and volunteered to help people with online learning. DiSanto taught music lessons. Zatcoff kept up her private voice studio via Zoom and taught online through an organization called Broadway for Arts Education.
David Ashton, who has subbed on Broadway musicals including Frozen, Beetlejuice, and Aladdin, finished his dissertation to complete a doctorate in clarinet performance at Mason Gross and learned how to do video production and recording. An opportunity to perform once or twice a week with a small jazz quartet in Central Park sustained him as the months dragged on.
"I'd bring my kids and let them play in front of the band while we watched them, and we just played in the park for hours," says Ashton. "It was so nice to play with live musicians. I don't think I could have survived without that outlet."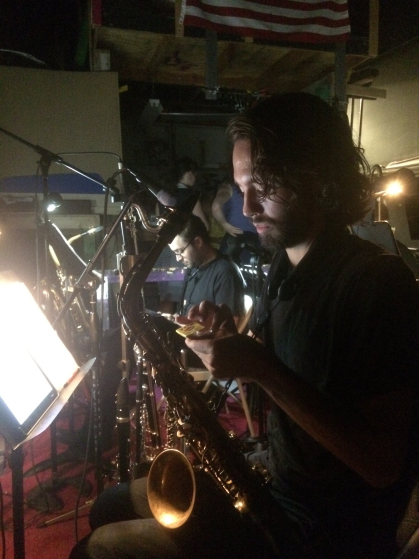 In addition to worrying about their health, performers had to contend with the sudden loss of income and few jobs of any kind as the city went dark. According to The Broadway League, the industry's trade association, 97,000 people rely on Broadway for their livelihood.
"Actors are used to hustling. The problem with this was there was nowhere to hustle," says Jeffrey. "Even the jobs you'd normally get to sustain yourself when you're not working as an actor – hospitality and the like – were gone."
Through an emergency relief agreement negotiated by The Broadway League and labor unions, producers agreed to pay wages and benefits for the first few weeks of the shutdown to hundreds of actors, musicians, stagehands, and others. Unemployment benefits, extended throughout the pandemic, provided some security after that.
Many were able to get by in this "survival mode," says Jeffrey, but "we've all missed living our lives."
"Human beings need art, we need artistry, and we need connection," Jeffrey says. "We've all been surviving for so long, and we're all ready for more than that."
A Slow but Steady Return
Two dozen shows, including Waitress, Hadestown, Wicked, Aladdin, and The Lion King, are set to open throughout September. There are several COVID-related protocols in place for cast, crew, and audiences alike, including requirements for vaccination, testing, and masking, as well as facility upgrades to theaters' air-filtration systems and the addition of contactless ticket-scanning stations.
"There's a real push to make the workplace safe, and I feel like people will be comforted by the fact that every possible precaution is being taken to keep people healthy," says Mason Gross Theater Department head of lighting design Don Holder, an industry veteran who has worked on more than 50 Broadway shows including the original production of The Lion King, for which he won a Tony Award.
Actors are used to hustling. The problem with this was there was nowhere to hustle. Even the jobs you'd normally get to sustain yourself when you're not working as an actor – hospitality and the like – were gone.

Ben Jeffrey
Still, audiences are making a slow return as the Delta variant raises new concerns about transmissibility even among the vaccinated. Tickets for blockbuster musicals Hamilton, The Lion King, Chicago, and Wicked – all set to open September 14 at 100% capacity – have been on sale for months but are still readily available.
Holder says that the less-than-booming ticket sales are understandable given the lack of visitors to New York.
"The joy and the difficulty about New York commercial theater is that it's highly dependent on the tourism industry, and there's not a lot of tourists coming right now, especially internationally," says Holder. "A lot of musicals in particular rely on tourists to buy tickets and come to the theater."
Several shows, including Frozen and West Side Story, announced they would not reopen, fueling worry about the stability and longevity of other productions.
Despite the uncertainty, Ashton is determined to stay the course.
"Broadway is not going to go away. It may have a bad season, but it won't close," says Ashton. "I may not sub as much as I was, but I'm not planning on bailing and leaving. I'm not ready to give up on the dream yet."
The Bright Lights of Reopening
Jeffrey returned to rehearsals for The Lion King on August 17 with a mix of gratitude and excitement, he says, as well as a touch of skepticism that the show would actually reopen the following month.
"The goalpost has been moved so much – that's no one's fault, as we've learned more about this thing, we've had to adapt," Jeffrey says of the pandemic. "Because it's been shifting for so long, I almost won't believe it until I hear 'Circle of Life' start on reopening night."
In the role of Pumbaa, Jeffrey estimates that he's sung "Hakuna Matata," the show's bouncy, feel-good anthem, "about 4,000 times," and while he admits to being anxious about the first few days back at work, he's ready to return to the joy of live theater.
"I'm ready to see people come in and hear the story and have their lives changed – that's why we got into the arts," Jeffrey says. "We really think there's something powerful and sacred that happens in the theatrical space, and I can't wait to experience that again and give that experience to people."
Zatcoff is taking a three-month maternity leave, but is already auditioning for new parts. She looks forward to being in the audience again, "just before the lights go down, [experiencing] the buzz as people flip through their Playbills, the stray instrument tuning in the background, and then it all slowly fades away as the lights come down – I could cry just thinking about that," she says.
DiSanto just wants to be with people, making music, he says.
The return to Broadway will be "an emotional thing for a lot of people, me included," says DiSanto. "I know I'll feel happy, maybe a little nostalgic. It's going to be momentous."