Today is National Day of Racial Healing, an event started in 2018 as part of the W.K. Kellogg Foundation's Truth, Racial Healing and Transformation efforts. The initiative seeks to bring about transformational and sustainable change and spark conversations about the historical and contemporary effects of racism in U.S. society. 
Sharon Stroye, director of the Truth, Racial Healing, and Transformation Center at Rutgers University-Newark, which is hosting a series of virtual events throughout the day, talks about what healing can look like during a period of racial and political turmoil in the country on the eve of the inauguration of Joe Biden as the 46th president of the United States.
The National Day of Healing is celebrated annually the day after the national holiday for Martin Luther King Jr. Do you think your work still draws on lessons from the slain civil rights leader?
With the unprecedented global COVID-19 pandemic, racial reckoning of social injustices and a divisive political climate in 2020, people are saddened, fatigued and frustrated. The country can benefit from positive engagement and interaction that support our shared humanity. The virtual activities and events planned for today include representatives from all communities to offer hope for humanity during the Biden Administration.
The foundational philosophy of Dr. Martin Luther King Jr. was his spiritual belief in God's law and love that all human beings should not be harmed and are entitled to fair treatment regardless of physical characteristics and beliefs. The incorporation of a nonviolent direct-action strategy for peaceful protests, marches, boycotts and sit-ins opened the door for the civil rights legislative victories. His legacy motivates us to continue the work where all people are free from oppression and entitled to life, liberty and the pursuit of happiness.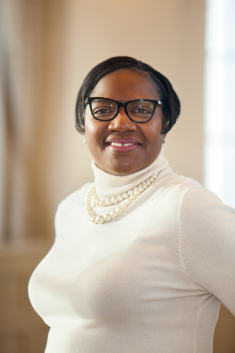 Can you tell us specifically what "Racial Healing" means? What does the process toward healing look like and who is involved?
Racial Healing is an individual, collective and societal process of learning and accepting that we are one interconnected human family. The process engages individuals in heartfelt experiences to be open, receptive and willing to reaffirm the humanity in all of us. 
The Racial Healing process is also a multi-tiered and multi-faceted approach for communities, institutions and organizations to heal and produce change from the inside out beginning with people. The framework consists of five foundational pillars: Narrative Change, Racial Healing and Relationship Building, Separation, Law, and Economy.
Narrative Change examines how narratives are formed about communities, groups of people and individuals from school curriculum, entertainment, journalism, digital and social media, museums, monuments and parks; then we examine, develop and distribute new and complete narratives that can influence people's perceptions, perspectives, and behaviors about and towards one another to create effective change.

Racial Healing and Relationship Building focuses on ways to heal the wounds from the past to build trusting mutually respectful intergenerational relationships across intersecting identities that better reflect our shared humanity.

Separation examines and find ways to address segregation, colonization and concentrated poverty in neighborhoods to ensure equitable access to health, education and jobs.

Law is reviewing discriminatory civil and criminal laws and public policies that come from them and recommending solutions that will produce a just application of the law.

Economy is studying, recommending and addressing structured barriers to economic opportunities.
What steps would you like to see President-elect Biden take to play a role in healing the nation?
One of the roles I would like to see the Biden Administration take on is "political doctor."  When we visit the medical doctor for healing of diseases, sicknesses and illnesses, we are expecting something to change in our situation. My personal doctor inquiries about my family, my career, my well-being and my symptoms attributing to a particular illness. Before a diagnosis is given, the doctor listens to everything that is shared.  An essential aspect of healing is listening. 
The Biden Administration can review, reflect and acknowledge the long history of racism (an open and deep wound) in the United States. A temperature and blood pressure check of all its citizens and residents can be determined through local and state elected officials, national non-profit organizations, unemployment rates, educational attainment rates and/or hospitalization rates. 
When citizens/residents' basic needs of food, shelter, employment and safety are comprised, temperatures and blood pressure increase from stress. Before a diagnosis of legislative policies are presented, debated and voted on, the willingness to listen to diverse and different perspectives is required for healing to occur. To heal a divisive nation, President-elect Joseph Biden should address the open wound of racism, which is a major cause of many societal ills in the United States.  
What can be done to engage and reach more people and to make clear this is not an issue for the Black community only, but that we all have a shared responsibility?
To engage other people outside the Black community requires intentionality and leadership.  The leaders establish a top-down approach to creating inclusive environments understanding the time, determination and human capital required for change to occur.
The TRHT Center at Rutgers-Newark engages in creating opportunities for individuals to participate in the racial healing process. The premier tool we utilize is a Racial Healing Circle. It is an experience where individuals from diverse backgrounds engage in storytelling in a safe, brave and responsible space by responding to specialized prompts. A racial healing circle is not a conversation about race, it is an opportunity for active listening to another person's shared humanity. When individuals outside the Black community reflect and/or share their own stories of oppression, discrimination and prejudice, the issue of differences dissipates. 
The National Day of Healing is occurring during one of the most contentious and divided times in modern history. Do you think unity and an end to divisiveness is possible in the face of ongoing national unrest and, if so, what does it look like?
Even in the midst of the current divisive climate, I believe unity is possible for most of the country. As a country, we witnessed young people from all backgrounds, races and ethnicities come together to denounce racism and social injustices.
From a personal perspective, we raised three children, two of them Black males who attended predominately white high schools. There were days they suffered offensive and racist comments and endured the offense in silence. In addition, the number of conversations about safety and precaution as a Black male in predominately white spaces were too many to count.  In the midst of a global pandemic, I was blessed to become a first-time grandmother to a grandson. It is my hope and belief that the next generation will create an environment for my grandson where those conversations will never occur – meaning the work of creating inclusive environments for all humans must continue and unity is possible.