Journalism students, youngsters when the terrorists attacked America, revisit the event by telling the stories of victims' children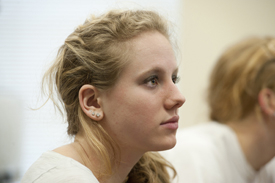 They were middle schoolers when their world changed on September 11, 2001. The adults in their lives were confused and scared. Their schools were locked down, evacuated, or both. Then they got on with the business of growing up.
Now, 10 years later, the journalism majors in the Rutgers 9/11 Student Journalism Project are trying to help the rest of us make sense of that day by interviewing the children of people who did not survive it.
The class is funded by a grant from the New Jersey Press Foundation. The students are paired with editors at New Jersey newspapers, which will publish their stories as the anniversary approaches. The first such story, by Krystle Rich, ran in the Star-Ledger on Sunday, Aug. 28. Ronald Miskoff, associate director of the Journalism Research Institute in the School of Communication and Information, and part-time lecturer Elizabeth Fuerst designed the class and teach it.
Many of the students are revisiting an event they thought they knew.
Mary Diduch grew up in Wayne, New Jersey, with the World Trade Center a backdrop to her life. Her teachers told her she would remember September 11, 2001, in the same way they remembered the day John F. Kennedy was assassinated. But Diduch, editor-in-chief of the Daily Targum, thought she was past emotional reactions to that memory until she got deep into the reading that's part of the class. "Some of these books actually made me cry," she said.
The class has been reading Ground Truth: the Untold Story of America Under Attack on 9/11, by Rutgers School of Law Dean John Farmer, and reviewing numerous newspaper and magazine articles and videos about the event. Their guest speakers have included Farmer; former Governor Thomas Kean, who was co-chair of the National Commission on Terrorist Attacks Against the United States (known as the 9/11 Commission); and Thomas Franklin, the photographer for the Record newspaper who took the iconic photo of firefighters raising the American flag over the ruins of the World Trade Center. They found their subjects by talking to journalists who had written stories about the attacks and soliciting help from local public officials and organizations set up to help the families.
The willingness of victims to share their stories varies widely. "We're finding it a bit more difficult to reach the children of 9/11 than we thought we would," Miskoff said, adding that they were limiting their interviews to people who were under 18 at time of the attacks and who lost a parent on that day. "At first, we thought it was a pretty big universe, but some of the (surviving) parents aren't jumping up and down to have their kids interviewed," he said. "Some have moved away, and some just don't want to talk."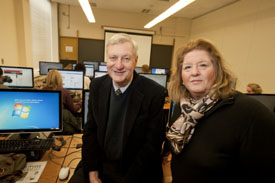 Diduch emailed four possible interview subjects. Two failed to respond, two politely declined. Finally, a colleague at the Daily Targum connected Diduch to a child of a victim who wanted to talk.
Joe Kushie, from Woodbridge, New Jersey, was nervous and unsure when he and his partner, Danielle Goglioto of Hopewell Junction, New York, went to interview a young woman whose father died in the World Trade Center. "But she was extremely easy to talk to," Kushie said. "She was in the fourth grade on 9/11, and her teachers only told the kids in fifth grade and up what had happened, so she didn't know what had happened until she got home."
"She was eager to talk about her dad," Goglioto said. "She was very close to him, and she told us she was studying hard and getting good grades in college because she knew he'd want her to. She told us she was going to be a counselor or psychologist, because counselors and psychologists were so much help to her and her family after her father died. She was very calm. I was more emotional than she was."
Alissa Haddaji, a French graduate student studying American cultural history, had some rejections before she found her interview subject.  "When I called her the first time, I felt awkward because of my accent, and she was a bit distant," Haddaji said. "But then we talked, and she asked me if I were a graduate student, and I said yes, and told her what I was studying. Eventually, she became really enthusiastic, giving us directions, offering to meet us at the train station." 
Michelle Berman, from La Mirada, California, just south of Los Angeles, hasn't found her interview subject yet. When she does, she'll be able to relate. Her father, a bankruptcy lawyer, had planned to be in New York that day, and near the World Trade Center, but something came up that forced him to delay his trip. "I was in my sixth grade history class, and my teacher told us, 'We don't need to do history today; this is history,'" Berman said. "They sent us home, because there were rumors that Los Angeles was a target. My mom was freaking out, calling my dad every five minutes to make sure he was on the 405 (Interstate 405), on his way home."
The class has helped Haddaji look closely at the events of September 11 for the first time. The event made little impact on her at the time. "It happened a long way away and didn't seem to have much to do with us," Haddaji said. "It was only when I came here that I really understood how significant 9/11 was for Americans."   
Students had to demonstrate writing ability to get into the class as well as some facility with photography, videography, and social media. "These are the best students in the department (of journalism and media studies)," Miskoff said. Besides the reading about 9/11, the students have been reading a lot of "new journalism" – the style of journalism associated with such writers as Hunter S. Thompson, Truman Capote, and Tom Wolfe, among others.
"How do you make these people (children of 9/11 victims) come alive without sounding maudlin?" Miskoff asked. "The natural tendency of readers will be to say, 'I've heard this story before; I don't want to hear it again.' Tell me something I don't know."