A Love Story that Began in Afghanistan
Amber and Kevin Fitzpatrick, who met in a mess tent, are pursuing careers in medicine at Rutgers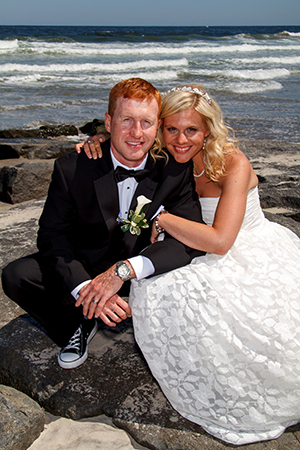 'Seeing the quality focus the military physicians were providing – that sealed the deal for me for wanting to pursue a career in medicine.'

 

– Kevin Fitzpatrick

 

'My interest in medicine picked back up when I was in the Army. I was friends with quite a few PAs and medics.'

 

– Amber Fitzpatrick
This Valentine's Day dinner should be slightly more romantic than the first meals Amber and Kevin Fitzpatrick shared, seven years ago.
Then they were in a mess tent in a war zone, talking about goals now being realized at Rutgers University.
Amber had left the Army in 2010, only to return to Afghanistan as a civilian contractor working as an intelligence analyst. There, she met Kevin, an Army Special Forces medic.
"It was a very small group," Amber recalled from their Edison home. "We were sequestered on a small base and I got to know everyone on the team a little better over lunches. At that point I was thinking I wanted to go into medicine and he was thinking med school. Our first real conversations were about that."
Of course there was an attraction but they decided to let romance wait until they were out of Afghanistan. Kevin was stationed in Germany, so when Amber left Afghanistan, en route to her job in Virginia, she stopped in Germany. They just celebrated their fifth wedding anniversary.
This will be Kevin's second degree from Rutgers University. Reared in Edison, he earned a B.S. in electrical and computer engineering from the School of Engineering in 2004, and then worked for Motorola on a communications system for the FDNY.
"It was not that long after 9/11, and working closely with those guys and getting inspired to do more is what led me to enlist in the Army," he said.
Though both Kevin and Amber wound up in medicine, neither had always planned it. Amber, who grew up in Humble, Texas, earned her undergraduate degree in psychology from Florida Institute of Technology. Growing up, she used to visit an aunt, who was a doctor.  Although intrigued, Amber was uncertain.
"When it came down to it I had a few years when I wasn't quite sure what I was going to do," Amber said. "But my interest in medicine picked back up when I was in the Army. I was friends with quite a few PAs and medics."
Kevin's interest also piqued while serving.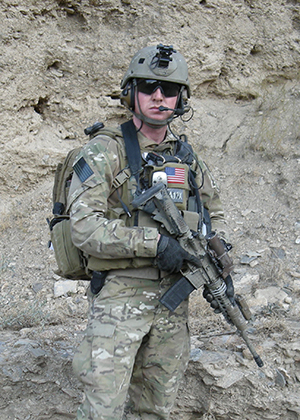 "I kind of knew I wanted to pursue it out of the military," he said. "As a medic every couple of years you have to work in a hospital to get your certifications renewed. In Afghanistan I worked at the hospital in Bagram for four weeks. There most of my time was spent in the emergency room where you are getting injured troops straight from the battlefield."
While some would recoil from the gore, Kevin was inspired by how fast and precise the doctors had to be.
"Seeing the quality focus the military physicians were providing – that sealed the deal for me for wanting to pursue a career in medicine," he said.
Stationed in Germany, then in Colorado, the couple considered their next move. Separation was not an option. But why Rutgers?
"We kind of went through the list of where we could apply to and be together," Kevin said. "We applied all over." He made one school and she made another but Rutgers came through for both.
Currently, they're both interested in working in emergency medicine, though they were careful to leave their options open.
"I start my clinical rotations this summer, and I know once I start that I will get a better idea," Kevin said.
"I am also leaning toward emergency medicine, but am going into rotations with an open mind because you never know," Amber said.
Their individual programs cover enough similar topics that they can help each other. As Kevin begins studying the renal system and Amber dives deeper into women's health and pediatrics, they were looking forward to a little break. 
During the week of Valentine's Day, they will be in the Poconos, snowboarding. They also plan to find a restaurant with a bit more romance than a mess tent pitched in the middle of a warzone.