A Love of Skiing Led Jean-Francois Daneault to Research in Movement Disorders
A new faculty member at Rutgers School of Health Professions, Jean-Francois Daneault arrived with a resume full of accomplishments in his native Canada and at Harvard University Medical School, where he did postdoctoral work and secured a number of distinguished research grants.
Coming from a family of dentists, doctors and health care workers, it seems almost pre-determined that he would wind up in the health care field.
But it was actually a five-year detour as a ski instructor that set him on the path to becoming a researcher into neurological diseases, such as Parkinson's and Huntington's disease and cerebral palsy.
After graduating high school in Montreal, Daneault studied physics, and then switched to linguistics. Both failed to capture his interest. An avid skier, he chose to take time off and hit the slopes, becoming an instructor and coach at Canada and New Zealand ski resorts, following the seasonal winter patterns.
"I figured out I didn't want to do that forever," he said. "But I really liked physical activities and understanding how people move. So I went into kinesiology, with the goal of becoming a coach for the Canadian Olympic ski team."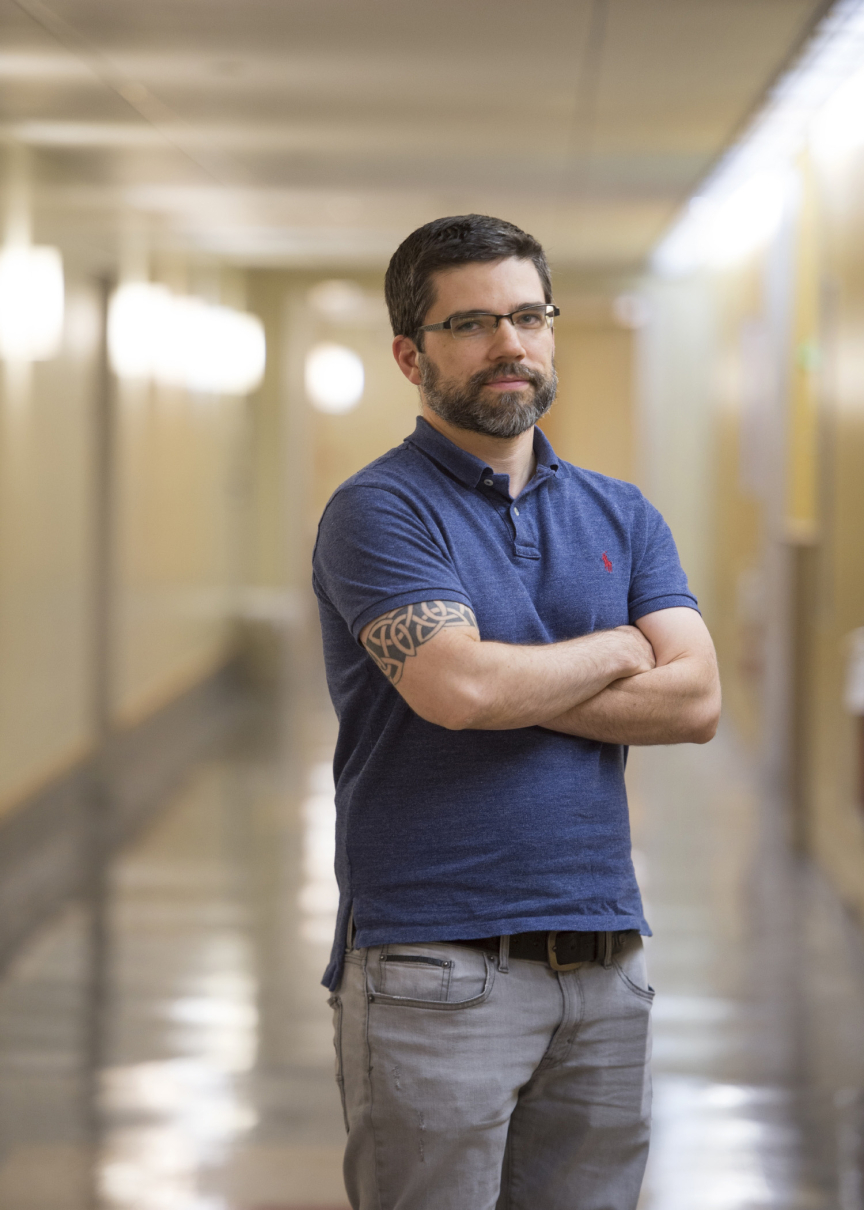 As Daneault began to study the movements of the human body, he interned in a lab, working on neurosciences and Parkinson's disease. That was where he discovered his calling.
"I fell in love with that and decided to keep going," he said. 
"There's so much that still remains to be understood about how the brain works. It's probably the body's most complex system, and we're barely scratching the surface of what we know about it."
Fellowships and grants have allowed him to pursue research into not only Parkinson's disease, but also other movement disorders. "We try to better understand the motor behavior of patients – how it is affected by their disease, medication or other interventions. This allows us to infer what is happening in the brain and develop interventions to optimize motor behavior," he said. "There is a need to improve the quality of life of those with neurological disorders."
Currently, with a grant from the Michael J. Fox Foundation, Daneault is working to find a marker in the brain that would identify people at risk for Parkinson's disease. Understanding how changes in the brain affect involuntary movements – such as the tremors, shuffling gait and blank facial expression typical in those with Parkinson's – is key to preventing those debilitating behaviors.
Daneault's goal is to develop a screening test, "like a mammogram, that catches the disease as early as possible so that we can then develop ways to stop it. It would be a test that would be given with an annual physical, like a prostate exam," he said.
Daneault, a married father of two, said he also began to focus on motor function diseases that afflict children. He currently has a Thrasher Research Fund grant for robotic-assisted therapy to improve movement in children with cerebral palsy.
"Researching Parkinson's disease is interesting and we can bring a lot to people with the disease. But most of them have had 40, 50, 60 years of a healthy life before they get the disease," he said. "There's a lot less research happening in pediatric populations. So if we can better understand a child's motor behavior, we can optimize what we do in terms of therapy."
"These kids are working so hard to get better to improve their motor function and they have so much motivation, it motivates you to do research to help them."
After he finished a post-doctoral fellow at Harvard Medical School in the spring, Daneault turned down offers from pharmaceutical firms and began looking for faculty positions, motivated in part by a professor in his master's degree program, with whom he is still in touch.
Driven to be in academia, Daneault sent out 100 job applications. Out of the interviews and offers he received, he chose Rutgers, where he is an assistant professor in the Department of Rehabilitation and Movement Sciences.
"I thought Rutgers was the best place for me in terms of the department, the people here, the resources and the research we want to do," said Daneault, who will focus his time primarily on research before beginning to teach.
While completing his Ph.D. at McGill University in Canada in 2014, Daneault was inspired by a then 96-year-old professor who continued to come to the school each day, refusing to give up her work in the lab.  "That's my goal. I see myself at 100 years old walking to my lab still doing science - so I know I'm in the right place," he said.