LGBTQA+ Activist Makes a Difference at New Jersey Medical School
Back in September of 2015, even before he took his first set of notes in "Foundations of Body Systems," the traditional first class at Rutgers New Jersey Medical School, Marc Berenson was helping redesign the school's LGBTQA+ curriculum.
As a young gay man, Berenson experienced his share of uncomfortable encounters in doctors' offices: the averted eyes, the awkward questions. He envisioned a course of study that would produce a new generation of physicians who are accepting and comfortable with diverse populations.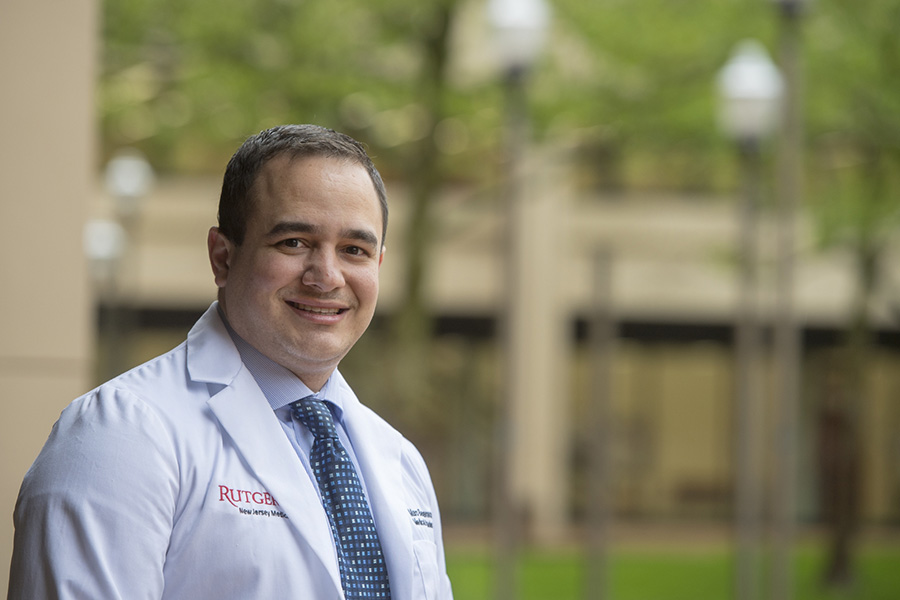 Marc Berenson helped redesign the LGBTQA+ curriculum and built awareness during his time as a student at New Jersey Medical School.
(Photo: Nick Romanenko)
---
More recently, on the eve of Commencement, Berenson learned that portions of that curriculum are to be published in MedEdPORTAL, the online peer-reviewed journal of the American Association of Medical Colleges.
His early activism came about when the tour guide showing him around the school after he'd been accepted suggested Berenson reach out to John P. Sanchez, associate professor of emergency medicine at NJMS.
Sanchez, who is also associate dean for diversity and inclusion, asked Berenson to help develop a course of study that would provide awareness of the LGBTQA+ community, honing in on such issues as pronoun use, the particular needs of transgender patients, and the benefits of prophylactics to prevent HIV exposure.
That was just the beginning of Berenson's advocacy in medical school.
The New York native, who grew up in the Bergen County suburbs of Teaneck and Oradell, also helped breathe new life into OUT@NJMS, an organization providing education, mentoring and community service opportunities for the members of the LGBTQA+ community and their allies.
Under his watch as president, the group collected $4,000 for the 2016 AIDS Walk, the single largest philanthropic effort in its history. OUT@NJMS also hosts meet-and-greet events to promote networking, and works to create a safe space for LGBTQA+ students, faculty and staff.
Berenson, 35, remembers what happened when he shared with his Nicaraguan and Armenian family that he is gay.
He was 17. It did not go well.
"Coming out is a major issue for anyone – basically, it means having to declare first to yourself who you are at a period of uncertainty and doubt," he says today. His relatives responded to his news with shock, then anger, and finally acceptance.
"Now, it is absolutely a non-issue – a sign of their resilience but also that generationally, things are changing, and most of our country is moving to a place of greater acceptance."
More indications of that growth: This year, Berenson was invited to give grand rounds to members of the hospital's Department of Pediatrics, a one-hour session with the goal of deepening and updating the physicians' knowledge of LGBTQA+ issues and challenges.
"Going up there as a fourth-year medical student against distinguished faculty was intimidating, to say the least," he remembers. "It gave me a lot of joy that they were interested, and that they gave me positive feedback when I was through."
Berenson's path to medical school was far from typical. For one thing, he's at least a decade older than most of his classmates, having formally started the intensive training at the age of 31, rather than fresh out of undergraduate school at 21 or 22.
"I did college in two parts," he says: a couple of years at George Washington University, then a break while he served as a paramedic and ran an EMS agency at that university, followed by a return to academics at Roanoke College in Salem, Virginia, when he finally realized that medicine is where his heart – and his future – lay.
Cramming 68 credits into 11 months earned him a bachelor's degree in sociology – summa cum laude. It also prepared him for the rigors of medical school, Berenson says.
Additionally, his real-life experience in the workplace armed him with time-management and interpersonal skills, as well as the savvy to understand how to navigate his way through an academic environment, he says.
Throughout it all, he's been drawn to taking care of people. The motif runs through his EMS training, his years at Rutgers New Jersey Medical School, and now his specializing in emergency medicine as he begins his residency this summer, also at NJMS.
"Emergency medicine is a field where you meet people for the first time on the worst days of their life," Berenson says. "You have the ability to provide comfort and strength to people from the start."
One case stands out in his mind, that of a young man dealing with the potentially deadly consequences of crystal meth addiction.
After stabilizing his patient, Berenson was able to snatch 30 precious minutes in the Emergency Department to sit down and chat with him about his long-time fear of doctors, about how he could find sources of help, and about what it really means to live with addiction.
"He told me how much it meant to finally talk to someone who understood," Berenson recalled.