For Hispanic/Latinx Heritage Month, we asked students to write an open letter about their heritage; their loved ones and those responsible for their cultural upbringing and to share what makes them proud to be who they are. These are their stories.
Dear Colombia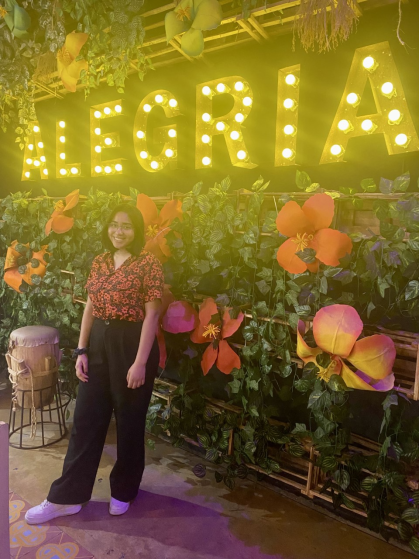 Andrea Ferreira
School of Arts and Sciences
Rutgers-New Brunswick
I grew up watching parades full of color. Skirts that moved to music as familiar as my heartbeats. Spanish love ballads playing softly during car rides. A constant summer breeze and weekend trips to the beach. My family always close by. Colorful home-cooked meals made by my grandma. Afternoons spent sitting in the terrace with her. Trying on too-big dresses and shoes at my grandpa's store, watching him press all the suits. Adventures with my dad, window shopping, visiting museums, walking in the park. Going to sleep in my mom's bed and waking up to cafe con leche before school. Glow-in the-dark stars on my godmother's ceiling. The sound of birds singing in the backyard. 
Colombia, to me you are made of memories. You wrap me up in your warmth and bring with you the people that have always loved and supported me. You welcome me back with a smile and a side of my favorite foods. There's comfort in your meals and your stories. We've  changed, we've fought, we've drifted but you're a constant safe haven in my life. Your roots are firm within me and not even moving to another land could pull us apart. 
Mi Isla Del Encanto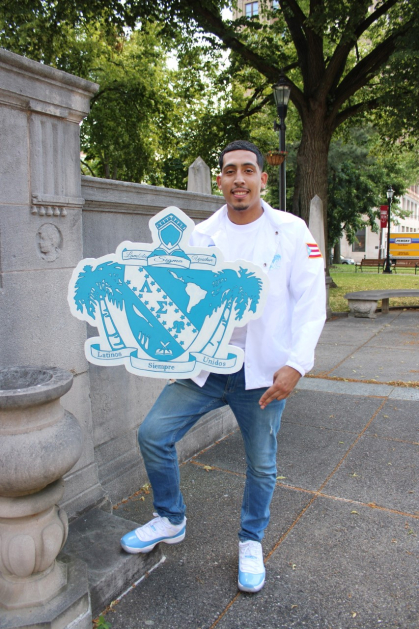 Gazuel Cruz-Rivera
School of Business-Camden
Rutgers-Camden

To Puerto Rico, "La Isla del Encanto". Thank you for gracing us with such beautiful scenery and history. From the thunderous waves of Rincon to the rich bomba music of Loíza, no matter what corner of Puerto Rico you reach, the history of the island speaks. You've endured centuries of colonialism yet you still shine through to this day. From the indigenous Tainos to the conquistadors of Spain, we are a melting pot of cultures, boricua is our name. Thank you Puerto Rico for being my home for years and allowing me to blossom into a proud Puerto Rican who carries his culture everywhere I go. Growing up for part of my childhood on the island allowed me to keep in touch with my culture and be proud of the island I come from. Waking up to the warm tropical breeze each morning and the smell of grandmother's breakfast will always bring a sense of peace to my heart. "Siempre Pa'lante" is a phrase that is heard all over the island and from Puerto Ricans abroad in times of movement. Hurricane Maria, a category 5 hurricane, rocked the island in 2017 and its damages still affect Puerto Rico today, but that didn't stop the people from rebuilding their island together. From struggle comes strength and time and time again Puerto Rico and its residents show why we move "Siempre Pa'lante". To my motherland of Puerto Rico, thank you, because of you no matter how far I go, you will always be home.
Dear Mãe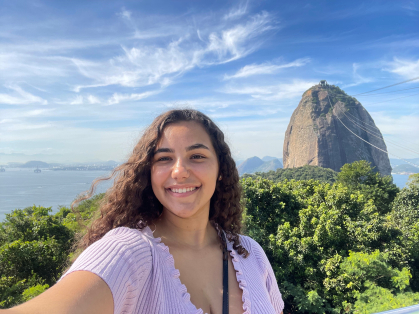 Amanda Pinho
School of Arts and Sciences
Rutgers-New Brunswick
Dear Mãe,

When I was young, I thought my Latine identity was my weakness. Being raised in a non-American household meant we were different from those around us. People thought our way of life was weird, our delicious beans were gross, and our volume was too loud. But, you ensured we had a Brazilian community to call home–a place where our culture, language, and beauty were all appreciated. You built us a family in a country where we had none.

You, along with that community, made me who I am today. You taught me how to love. You taught me to be inclusive of others. You taught me what community and support looked like. I use everything you taught me every day. You always showed up for me and pushed me to be the best I could be. You encourage me to follow my pursuits in social justice and my career. Our family in the U.S. may not be big, but it is ours, and you made it feel large with the amount of love you surrounded us with.

I know you love Brazil, and, in many ways, you never wanted to leave. Brazil was comfortable, yet you pushed yourself to go and make a better life for yourself and us in the U.S. You made sacrifices to move here, such as having to raise us without your mother, father, and brother by your side. You did it alone. My success is yours, and your success is mine. You made a place for us here as a family, and I hope I can show you that your sacrifices were worth it. I hope I make you proud.

Te amo muito,
Amanda Pinho
Para El Borikén Como Yo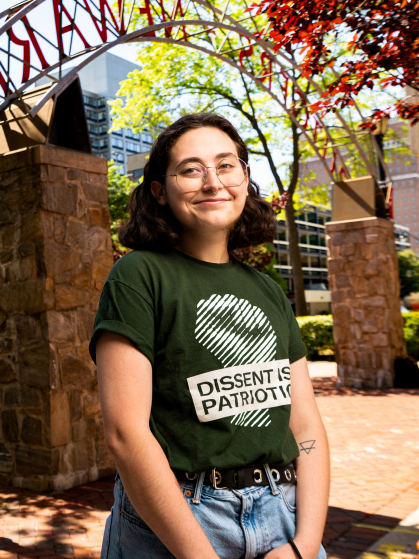 Samuel Olivencia
Honors Living-Learning Community
Rutgers-Newark
Para el Borikén como yo,
It's a strange duality to exist both because of colonialism and in spite of it. It can be hard reconciling what one half of you has done to the other. In every action I take, in every accomplishment I enjoy, I think of them: the Arawak, the Borikén, the Caribs, the Yoruba, and the Igbo people. All of them melded together, creating something beautiful in the midst of great suffering. They came together to create a unique culture in Puerto Rico, not because of white colonialism, but in spite of it. Everyday Puerto Rico exists, much like me, both because of and in spite of the one thing that seeks to destroy us. We take from the cultures set on stamping ours out and create something more beautiful than the source material.
Santeria was born out of the forced conversion of slaves in Puerto Rico to Christianity. Slaves of different backgrounds, different beliefs, sought solace in their religions together. Religions they had to disguise for safety. A practice that can still be felt today in the tense air around mesa blanca. I believe as Puerto Ricans we are constantly playing tug-o-war with these different facets of our identity. We are Caribbean, we are Latinx, we are American, and we will always be Borikén.
The differences between us are vast, but when we come together you can expect good food and boisterous conversation. You can expect us to fall back into what our ancestors did, melding together and sharing in our joint experience. We are a small island, but a large people. Borikén is not just our home, it is the people we come from, the people we are. We are many hearts, but one soul. The soul of Borikén.
De un Borikén como tú.
Dear Papito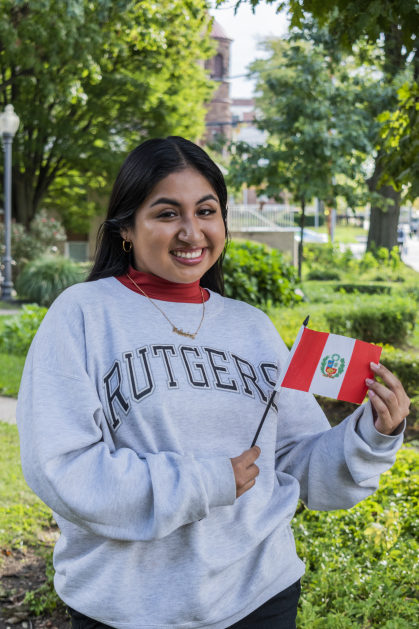 Betsybell Sanchez
School of Arts and Sciences
Rutgers Business School-Newark and New Brunswick
Dear Papito,
When my mom set her mind to come to America, I know it wasn't easy. I know that she's stubborn and I know you tried to change her mind. But I also know it's that same drive that gave her strength to build a home here, the drive she still brings into every room she walks into today. When you reminded her of the fact she'd have no one to take care of her if she ever got sick, when you wouldn't let go of how she would have no family here, and as you couldn't get over how she would struggle to speak the language.
I wanted to let you know that you were right.
My mom did struggle to speak the language, and still does today. She was learning English as my brothers and I were learning, too, and she still sends me pictures of the letters she gets in the mail but can't read. I don't mind translating.
The idea of not having family here to take care of us if we got sick made us take care of ourselves that much more. She'd wake up super early to make us food before leaving for work all day. Peruvian food is really all we grew up on so trust me when I say we never lost that part of the culture. My dad knew it was quicker to buy food with the hours he'd work but they both valued home food so much and they passed those values to us, too. They both made sure we spoke Spanish at home so that we would never lose it. It was my first language and I have to tell you how thankful I am because I take pride in being bilingual.
To be honest, I speak Spanglish. Still, I imagine what would've happened if we grew up with you. I wonder if you would've taught me Quechua, our native language. I know life would have been different if I grew up with you but that was the point. We found people who've looked out for us from the beginning, they've watched my brothers and I grow up, they laugh and cry with us. Seeing how almost 21 years have passed, I'm just happy you got to see the home we built here. I'm not sure you saw me but I'd pay attention to how you'd journal about your time in America. I know we are family because I do the same. I know your memory fades but I still read your journals now and reflect about how my parents changed the course of our family history forever. I know it must have been hard, but trust me, it was worth it.
Love,
Bibi