Lattimore Food Pantry Offers a Caring Approach to Treating Tuberculosis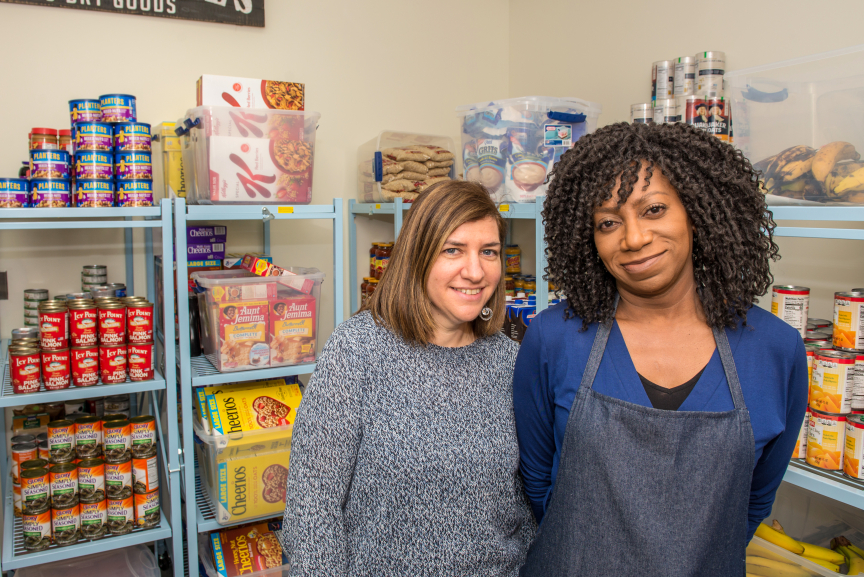 It wasn't long ago that Dona Miller had to reach into her pocket to buy food for patients in Essex and Union Counties being treated for tuberculosis (TB).
"We're asking people to take eight to ten pills at the same time, which shouldn't be done on an empty stomach. But their refrigerator or cabinets would often be totally bare," says Miller, a public health representative at the Global Tuberculosis Institute at Rutgers New Jersey Medical School.
"I'd say, 'what do you like?' And what staples do you need like milk? I'll be right back.' And then I'd go get food with my own money. I wasn't rich, but I would do any little thing to help them out. Even something as cheap as ramen noodles could make a difference,'' she said.
That changed when Deborah Handler, the program administrator in the institute's Waymon C. Lattimore Practice visited a treatment center in Mexico that provided monthly meal packages to patients to make sure they were taking their medication properly. Amee Patrawalla, the medical director of the practice, had read about ingredients being provided to patients who were being treated for TB in Mexicali and thought that the practice should be able to offer the same food staples to their patients.
"I thought we could try something similar and started a nonperishable collection-bin," Handler said.
With a $29,000 PNC Charitable Trust grant, the practice opened the Lattimore Food Pantry, which keeps patients well fed for the six months necessary for treatment, a period where they're unable to work or go to school. But the grant expires in December 2019.
The food pantry is needed, Miller said, to ensure that patients — taking a cocktail of medications — are complying with the directions and tolerating them well. This involves daily home visits for at least the first month, then video recordings via an app.
"People are really suffering out there and they don't say anything," Miller said.
The Lattimore Food Pantry inventoried its patients' needs, tastes and backgrounds to determine the best ingredients to stock. People with TB are often foreign born — emigrating from regions where the disease is endemic, such as Asia, South America and African countries. The team developed a menu that satisfies various tastes, along with the acute nutritional needs of patients who often have diabetes, cancer, HIV and other diseases. The pantry has contributed to 76 families since its official launch in March 2019 and countless others beforehand.
Patients can choose among 60-odd evolving options like peas, spinach, tuna, eggs, lentils, peanut butter, apples, bananas, blueberries, bone broth, frozen chicken, canned peaches and pharmacy items like multivitamins, Ensure shakes, pregnancy tests and smoking-cessation patches. Patients also receive a food package, USDA MyPlate guidelines and brief counseling specific to their known dietary restrictions and health needs.
 "It's all healthy stuff they would get if they had money or didn't live in food deserts," Miller said. "But when you have to rely on the local bodega or corner store, people start buying the cheapest available thing that will fill their bellies, even if it's full of chemicals and white flour."
She says the introduction of the food pantry has lifted a burden from the shoulders of both patients and staff.  "We've discharged patients who cry, hug you and kiss your hands, because they're so grateful and happy — they didn't have anybody else," she said. "We want the food pantry to continue, so we can keep helping patients get back to full health and strength."
---
For most Americans, tuberculosis (TB) is a plotline in Victorian novels. Few realize our country grappled with 9,025 reported cases in 2018, according to the CDC, and that up to 13 million people live with latent infections in the U.S. Visit the Global Tuberculosis Institute to learn more about tuberculosis research at Rutgers New Jersey Medical School. Interested in donating to the Lattimore Food Pantry? Contact Rajita Bhavaraju