Keeping the Rutgers' Livingston Story Alive 50 Years After the Trailblazing College Opened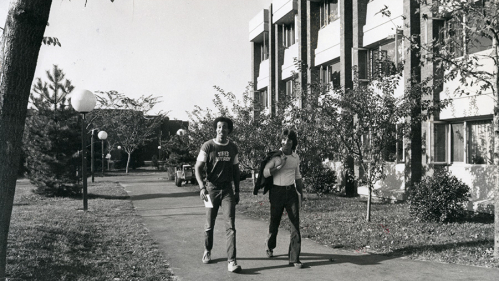 When Patricia Graham was looking for something different in her education during a time of explosive change in 1969, she found it at Rutgers' new Livingston College.
With its emphasis on diversity, Livingston College was the perfect place for Graham, a young African-American woman eager to expand her social and intellectual boundaries.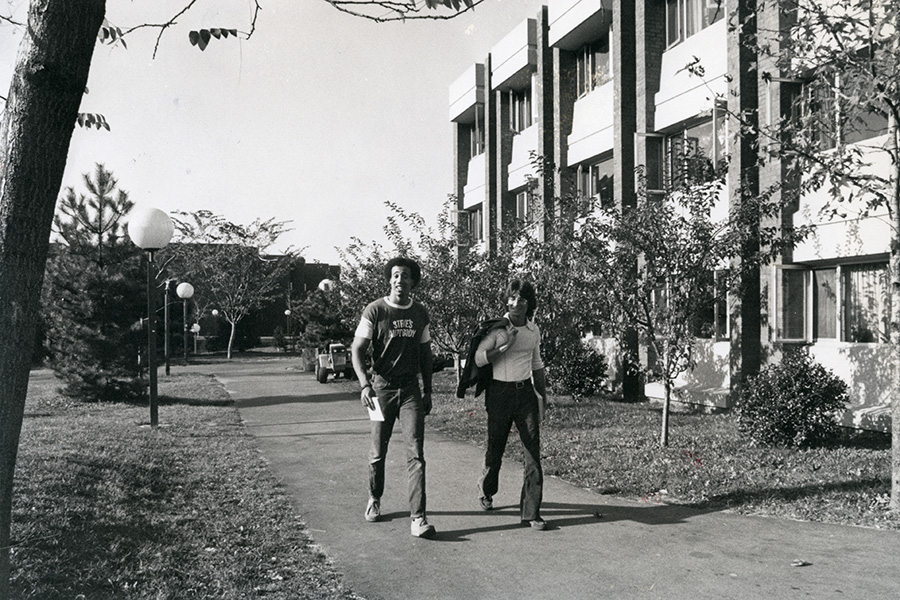 Students walking on the Livingston campus in 1975 (Photo: Courtesy of Special Collections and University Archives)
---
She went on to become a professor at East Stroudsburg University, where she designed courses that were inspired by the classes she had taken at her alma mater. She applied many of the approaches she'd been exposed to at Livingston, including an emphasis on culture and diversity, in her own classroom. 
"All I can say is, 'Thank you, thank you, Rutgers','' Graham said in an oral history interview recorded in 2015, which is a small part of an extensive collection of Livingston history assembled by alumni and posted online in celebration of the 50th anniversary of the college's opening in 1969.
The project had its genesis in 2011 when a group of alumni realized that the unique history of Livingston College, which became part of Rutgers-New Brunswick School of Arts and Sciences, could end up scattered among the vast Rutgers University archives.
"We said, 'We've got to keep Livingston alive,'" remembers alumnus Jason Goldstein. "The spirit and energy of this place won't be forgotten."
Thanks to Goldstein, alumnus Eric Schwarz, and others – including Erika Gorder, interim university archivist in Special Collections and University Archives, and Kathryn Rizzi, assistant director of Rutgers Oral History Archives – that spirit and energy live on in an extraordinary and varied collection of documents available online at the websites of the Livingston Alumni Association and Rutgers Oral History Archives.
They tell the story of a college that was born out of the crucible of the 1960s and reflected the social and cultural forces that shaped those turbulent times.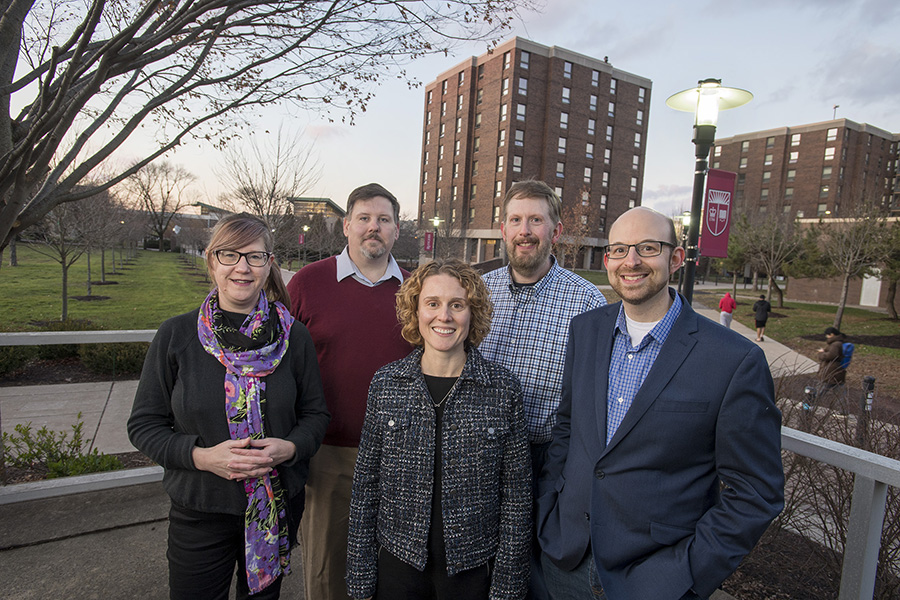 Interim university archivist Erika Gorder, director of Rutgers Oral History Archives Shaun Illingworth, assistant director of Rutgers Oral History Archives Kathryn Rizzi and Livingston alumni Eric Schwarz and Jason Goldstein are working together to preserve Livingston's story. (Photo: Nick Romanenko)
---
In fact, in 1964, when Rutgers acquired 540 acres of the former Camp Kilmer, a decommissioned Army base in Piscataway, it had no plans to create a social experiment. Instead, Livingston's founding dean, Ernest Lynton, envisioned the college as "the MIT of the social sciences."
By the end of that decade, however, much had changed. In February of 1969, as young people across the country increasingly clamored for a more equitable society, the Rutgers-Newark Black Organization of Students took over Conklin Hall, a main classroom building, in protest of the lack of minority students and faculty on the Newark campus.
In response, the university deemed that Livingston, whose original motto was "Strength through Diversity," would be a college of inclusion, with a faculty and student body unlike that of any other public institution in the state of New Jersey, said Rizzi, of the Oral History Archive. Unlike Rutgers College and Douglass College, Livington was coed.
The spring 1969 undergraduate catalog offered this description of Livingston for prospective students:
"Livingston College will have no ivory towers. It cannot; our cities are decaying. Many of our fellow men are starving; social injustice and racism litter the earth; weapons of awesome destruction threaten our existence. The times we live in are revolutionary and bewildering. Radical change has become the rule; understanding and mastering that change has become a necessity. Livingston students will need to get a sense of the transformation occurring around them."
Livingston's curriculum was as groundbreaking as its student population. The college was the first at Rutgers to create departments of Puerto Rican studies, urban studies, community development, anthropology, and computer science. In his oral history on the alumni site, James Simon, Class of '74, notes that "we really were encouraged to analyze, to synthesize, to role-play, and to do perspective-taking to evaluate things."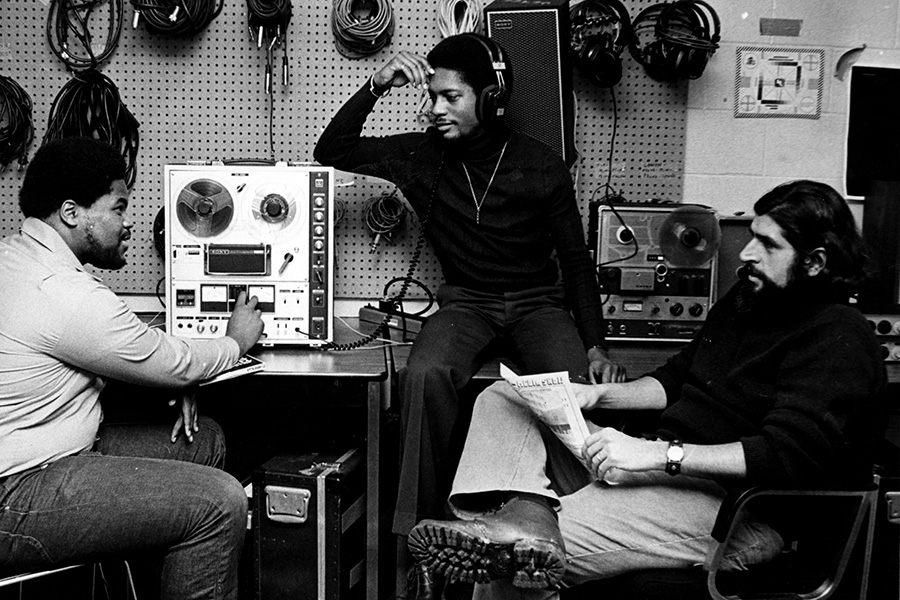 Students in the Urban Communications Labs on Livingston campus. (Photo: Courtesy of Special Collections and University Archives)
---
Many later graduates viewed the college as unique.  "I saw it as an incubator for great thought," says Goldstein, the founder of a startup that offers online ticketing for school theater productions.  He credits the college with honing his entrepreneurial abilities and his sense of empathy and social awareness.
Schwarz, who collected a majority of the documents on the alumni site, believes that the college's original spirit of diversity lived on through its later years.
"Livingston gave me an appreciation for people of all sorts of interests and backgrounds," he said.
The college left its mark on more than just its alumni.  So much of what it introduced – coed dorms, an emphasis on diversity, a disavowal of ivory tower educational philosophy – has become central to the university at large.  The departments it created are now important elements of the university curriculum.  "Urban planning became one of the major components of the Edward J. Bloustein School of Planning and Public Policy," Schwarz said. "In that sense, Livingston endures, and not just in the campus bearing its name. Rutgers University became what Livingston College was."