Steve Matarante can't remember a time when his world didn't revolve around athletics.
It's a passion that has taken him from refereeing at intramural games on the Cook/Douglass campus to refereeing for the NCAA, including the 2022 championship game between Georgia and Alabama.
"Growing up, me and my brother got involved with everything," said Matarante, who was a catcher for the Rutgers University baseball team in the early '80s alongside his brother Richard. "If there was a sport, we would play it."
That is what led the Scarlet Knights letter winner to get involved in the Rutgers Recreation intramural sports program. There, in addition to playing, he scored points with his peers for being one of the program's best officials, regardless of the sport he was calling, according to Ed Levy, a former intramural program staffer.
"If you put Steve on a game, he took control of it right away," said Levy, "and the kids were happy to see him because they knew that the officiating would be done right."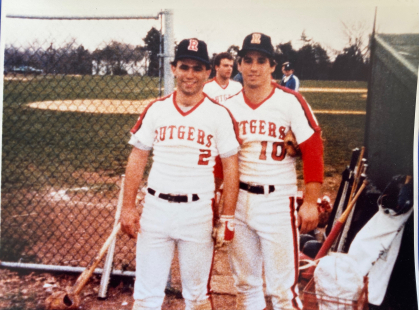 After graduating from Rutgers, Matarante pursued a part-time career in officiating on weekends while also working in healthcare sales. He moved his way up the ranks, officiating high school Division II and III football. In 2001, he joined the Division I Colonial Ivy-Patriot League as a referee and crew chief. He's also returned home in officiating the 2021 Rutgers vs. Ohio State matchup at SHI Stadium.
"In my second full year of working in that league, I was assigned to the Harvard-Yale game," Matarante said. "Guys work their whole careers to get to that game, and I got it in my 12th game. That's when I knew that I might be pretty good at this." 
He joined the Big East in 2007, where he officiated over 60 games as a head linesman, including the 2009 Fiesta Bowl, where Matarante made a call that his brother cites as indicative of his officiating skill.  
"Late in that game, Texas throws the ball on fourth-and-four, and the receiver catches the ball and stretches his hands over the first-down line before being tackled backwards. The line judge marks the ball where the receiver was tackled, but Steve re-marks the ball where the receiver was stopped, even though it's not his call," said the older Matarante, who also officiates collegiate football. "It was the right call, and 95% of the people who put the stripes on wouldn't have had the nerve to make it. That's when I knew that he was destined for great things."
From there, Matarante advanced to the Big Ten Conference from 2013-2017, then joined the Atlantic Coast Conference (ACC) in 2017. He has worked five bowl and playoff games in the ACC so far.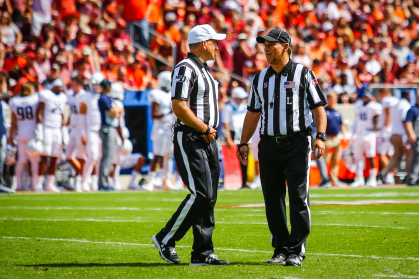 Matarante sees a connection between his work officiating games and his career in healthcare sales and says the skills he needs for both have complemented one another over the years.
"My clients know that I must have a high level of integrity in order to do what I do every Saturday," he said, "and talking with CEOs and CFOs has helped me treat football celebrities like Jim Harbaugh and Urban Meyer like normal human beings." 
That those life-building skills can be gained through officiating experience is not lost on Paul Goobic, who now runs Rutgers-New Brunswick Recreation's intramural program.
"Our referees end up learning so much," Goobic said. "Their experience gives them so many different skills, from conflict resolution to quick-time decision-making, that they can take with them after they leave us. It's amazing how many students will come back to us and say, 'I never realized how refereeing a basketball game set me up for a job.'"
For Goobic and others at Rutgers, Matarante stands out as an example of what their dedicated referees can accomplish both on and off the field.
"He was out there as a student, probably getting yelled at on the Cook fields [by intramural athletes], and now he's an NCAA ref," said Goobic. "He's a great example who shows that you can do it if you want to."