Sixteen months after taking office, Jonathan Holloway was inaugurated as Rutgers' 21st president on Friday. The ceremony at Jersey Mike's Arena capped off two days of events, which included an Excellence Fest on the Rutgers University-New Brunswick campus on Thursday and a virtual academic panel discussion on the value of public service moderated by President Holloway Friday morning.
The inauguration kicks off a yearlong series of events showcasing excellence across the university. Here are some highlights of the inauguration in pictures.
Excellence Fest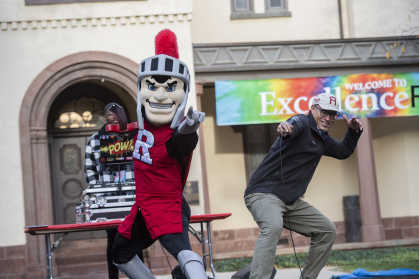 Excellence Fest gave President Jonathan Holloway a chance to meet students, faculty and staff and have some fun with the Scarlet Knight.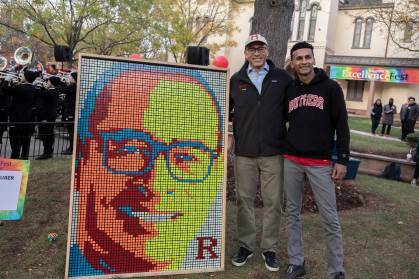 President Holloway was surprised to see his image created out of Rubik's cubes by Dylan Sadiq (SOE '22) at the Excellence Fest.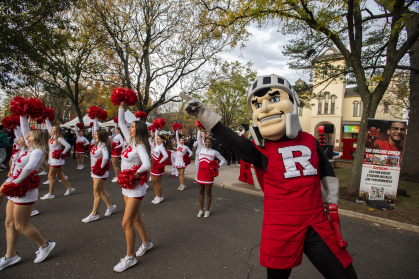 The Rutgers cheerleading squad performed for the crowd at Excellence Fest held on Bishop Beach in front of the historic Bishop House on the College Avenue campus at Rutgers-New Brunswick.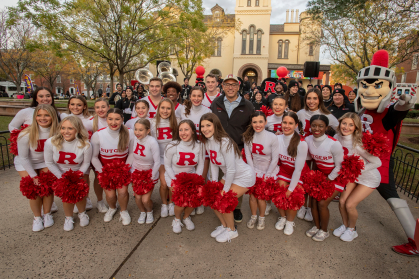 President Holloway poses with the Rutgers cheerleading squad.
It was an honor to be a part of Excellence Fest as part of the inauguration of President Holloway! @RutgersU @Rutgers_Cheer pic.twitter.com/5NCux8HZox

— Rutgers Marching Band (@RUMarchingBand) November 4, 2021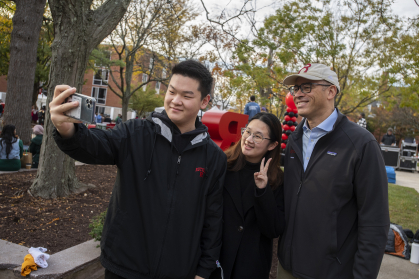 Excellence Fest was a great day to take a selfie with the president.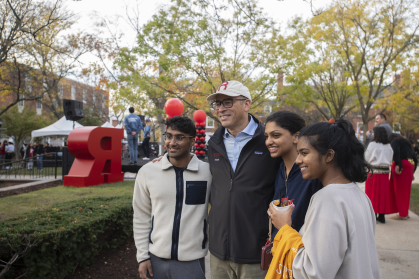 There were many photo ops with the president.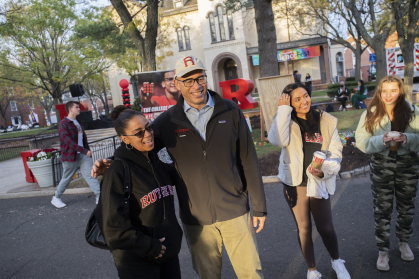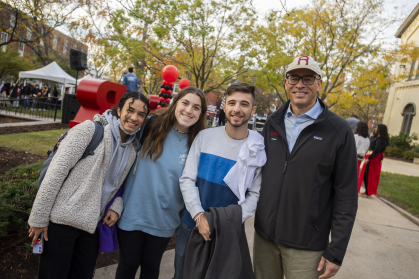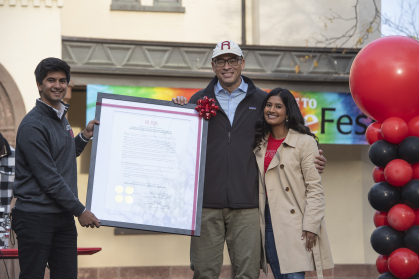 Members of the Rutgers Student Assembly present a resolution to President Holloway at the Excellence Fest.
Yesterday's Excellence Fest was a terrific opportunity to celebrate the Inauguration of President Holloway! Thanks to everyone who came out to Bishop Beach. 🎉(1/2) @rusa_nb @RutgersSA @RutgersU @RutgersNB pic.twitter.com/z5ewkCqVJS

— Rutgers University Student Centers and Activities (@RutgersUSCA) November 5, 2021
…In Service to the Common Good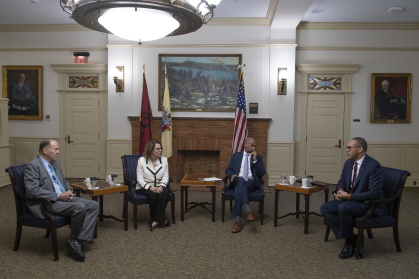 Thomas H. Kean, former governor of New Jersey; Joan T.A. Gabel, president, University of Minnesota; and Rajiv Vinnakota, president, Institute for Citizens and Scholars; participated in a virtual academic panel Friday morning moderated by President Holloway on the value of public service.
Inauguration Watch Parties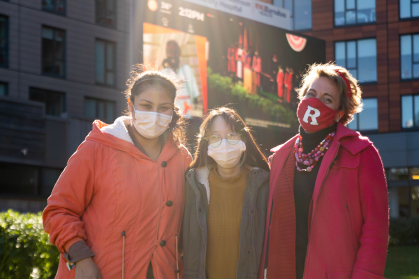 Students gathered to listen to President Holloway's inaugural address at watch parties on the Rutgers-New Brunswick, Rutgers-Newark, Rutgers-Camden and Rutgers Biomedical and Health Sciences campuses. Mary Bridgeman, a clinical professor in the Ernest Mario School of Pharmacy and a 2006 graduate, scheduled time into rotation schedules for her and her students to watch the inauguration together. "After everything we have been through with COVID, we were so excited to just take the time to celebrate this momentous occasion. The fact that Dr. Holloway is only the 21st president of such a major institution is reason to celebrate. It's an exciting time for Rutgers and we wish him the very best as he leads Rutgers into its next chapter."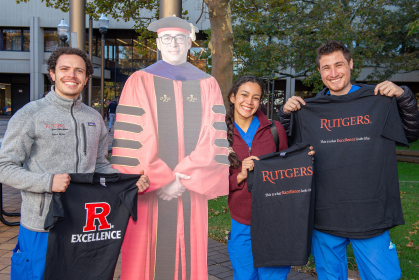 Rutgers School of Dental Medicine students pose with a life-size cutout of President Holloway outside the inauguration watch party at New Jersey Medical School Plaza.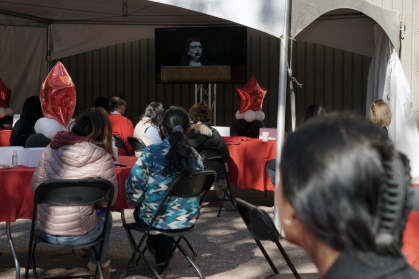 Watch party outside the Rutgers Robert Wood Johnson Medical School Research Tower. 
Today, the Rutgers–Camden community celebrated the inauguration of Jonathan Scott Holloway, the 21st president of @RutgersU, during a watch party in the Campus Center. pic.twitter.com/xplwQc3rw4

— Rutgers–Camden (@Rutgers_Camden) November 5, 2021
The Inauguration at Jersey Mike's Arena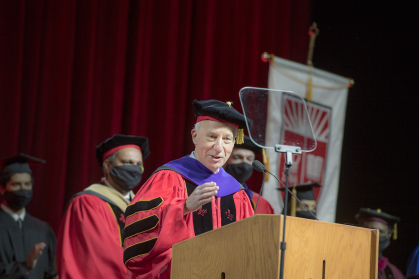 During opening remarks, Mark Angelson, chair of the Board of Governors, told the crowd gathered for the inauguration there is a sense of hope and optimism at Rutgers because of President Holloway's leadership. "Jonathan Scott Holloway, thank you for your commitment to the beloved community, your commitment to excellence, your commitment to students. Thank you for the good trouble that I am absolutely certain is yet to come. Ladies and gentlemen, this is what excellence looks like, Jonathan Scott Holloway.''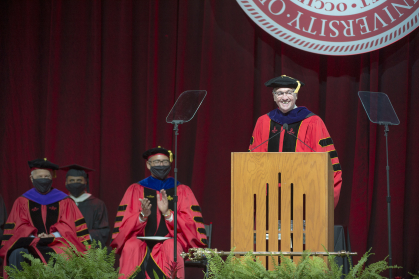 Gov. Phil Murphy spoke of the need for leadership that brings people together to learn from each other, rather than pushing them apart during this transformational time in history. "I know Rutgers, The State University of New Jersey, is in very good hands. President Holloway, congratulations and, formally, welcome to New Jersey.''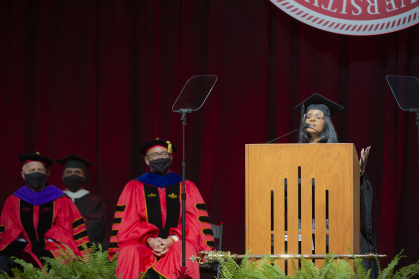 Susan Badia, a first-generation college student at Rutgers Business School-Newark and New Brunswick, talked about the impact President Holloway's focus on fundraising for student aid has made on her as a recipient of the Scarlet Promise Grants. "It is because of that program, because of people like President Holloway and others, that for the first time in my college career I feel seen. I feel cared for. I feel important,'' she said. "It is not about raising money. It is about so much more than that. It is about closing gaps, addressing economic diversity, diversity of circumstance and allowing thousands of students to gain access to a world-class Rutgers education.''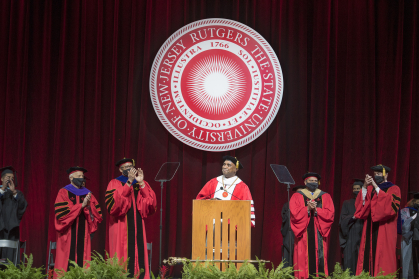 "The only sentiment that could only be appropriate for what most of us are feeling today is 'Wow!' This is amazing. This is historic," said Dwight McBride, president of The New School, during his keynote address. "This is a match ordained by the forces of the universe," McBride said as he spoke of his friendship with Holloway that dates to their graduate school days and brought the audience to its feet to sing the first verse of the Black national anthem, Lift Every Voice and Sing, in a poignant moment during the ceremony. "If ever there was a time for courageous principled academic leadership for Rutgers, this is it and Jonathan Holloway is the right person to provide courageous leadership in this time of incredible reckoning for higher education.''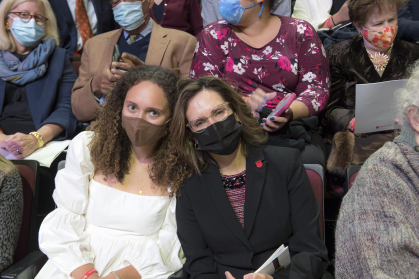 President Holloway's daughter, Emerson, and wife, Aisling Colón, watch the inauguration ceremony.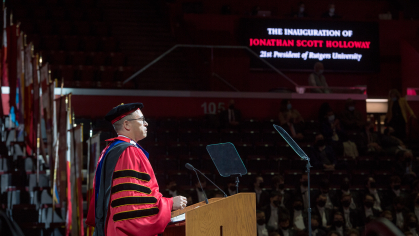 President Holloway, whose tenure is being shaped by a profound political reckoning and other global challenges, told an audience gathered for his inauguration as Rutgers' 21st president that he believes education paired with public service can save democracy as he announced initiatives to make the university a leader in serving the common good during his inauguration.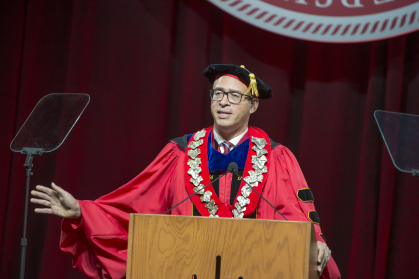 Part of President Holloway's plan for focusing on access to education includes raising $50 million to support the Scarlet Promise Grants, a student need-based aid program that he said will build a pathway to a better world. The program has been a focus of President Holloway's since his first day as university president July 1, 2020, when he announced a $10 million campaign for the program that is now complete. "Over 9000 students received support who otherwise may have been unable to earn their Rutgers degree. This is a beloved community in action.''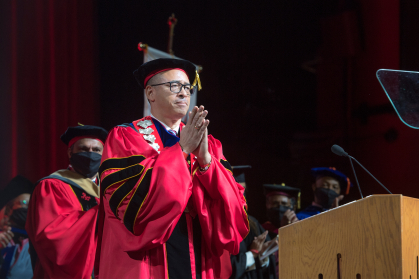 President Holloway also announced the creation of the Rutgers Summer Service initiative, administered by the Eagleton Institute of Politics and Rutgers Career Exploration and Success, which will offer up to 150 second- and third-year students paid summer public service internships working for nonprofit organizations. "Students will work for nonprofits, serve the broader community and gain the opportunity to learn about people who are unlike themselves – who face different struggles and come from different backgrounds, countries, races or religions," said Holloway, a prominent historian whose scholarly work focuses on post-emancipation U.S. history. "Participating in this program will make our students better citizens and our world a better place."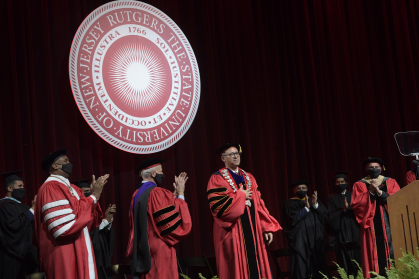 President Holloway receives a standing ovation at the conclusion of his inaugural address.
Writers Evie Duvert and Lisa Intrabartola contributed to this essay.