Improving Dental Care for Children in Africa One Toothbrush at a Time
Founder of an organization to expand access to oral care gets a boost at Rutgers School of Dental Medicine through fellowship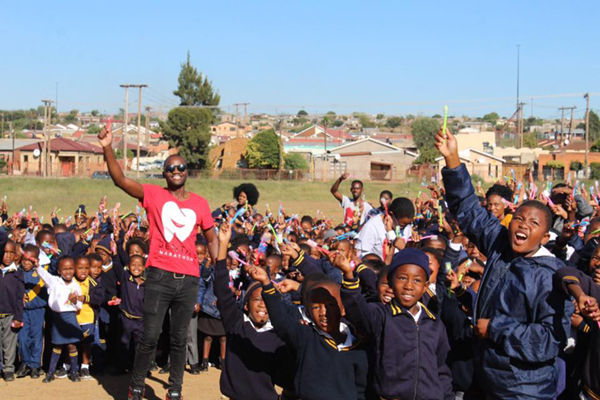 In Africa, toothbrushing is not a priority for families struggling to survive, and dental care is often nonexistent, says Thobile Mushwana.
"They don't see the importance and they don't have the money to buy toothbrushes. I've met 8-year-olds who have never seen a toothbrush or brushed their teeth,'' explains Mushwana, a South African citizen who came to Rutgers as part of the Mandela Washington Fellowship for Young African Leaders Initiative (YALI).
Sponsored at Rutgers by the university's Leadership Institute of Civic Engagement, the program provides professional development training and high-level networking for aspiring African entrepreneurs.
Mushwana, who visited the Rutgers School of Dental Medicine in July, founded the nonprofit Dental Marathon organization to make oral health care accessible to children throughout Africa, where any kind of health education is scarce, a situation that's changed little since apartheid was abolished in 1994.
Since 2009, he and his team have used a network of schools and local organizations throughout Africa to reach more than 250,000 children annually, educating them on the importance of oral health and dispensing toothbrushes, toothpaste and floss. They have brought their program to 11 nations in Africa.
"We don't just want to hand kids a toothbrush and toothpaste, we want to restore their dignity,'' he says. "You don't give someone something just based on how poor they are. Once you empower someone with knowledge, they'll keep going back to learn, and they'll make better decisions. To change a nation, you have to start with the children.''
Mushwana's ultimate goal is to open a dental clinic in each of Africa's 54 nations, plus a Dental Marathon headquarters.  His plan is to treat 13.5 million children a year for 20 years. Mushwana has already worked with an architect on the clinic buildings' toothbrush-shaped design.  But first, he's estimated that he needs to raise $100 million.
The Mandela fellowship program was established to help leaders like Mushwana realize their dreams.  This year, he is one of 700 participants, all between the ages of 25 and 35, who travel to Washington D.C. and, eventually, other part of the U.S. to learn about entrepreneurship. A highlight of the program is the chance to network with executives from Amazon and other Fortune 500 companies, in addition to nonprofit leaders, politicians and philanthropists.
"We're being trained on how to run companies, all aspects of that: writing, leadership and business skills,'' said Mushwana.
At the Rutgers School of Dental Medicine (RSDM), he met with Dean Cecile A. Feldman and others to learn about running dental clinics that treat underserved patients. Mushwana and Feldman also discussed the possibility of RSDM students travelling to participate in Dental Marathon's education and oral hygiene campaign. "The need there is incredible,'' says Feldman. "He's really committed to improving the lives of African children.''
Although his plans are a tall order, Mushwana is determined to succeed.  To raise awareness of Dental Marathon's mission, he and his partners hiked to the top of Mount Kilimanjaro in 2017, so he 's confidant that he can accomplish his goals. "It must be done,'' he says. "And I will do it.''