How Will Consumers Shop During the Holidays This Year?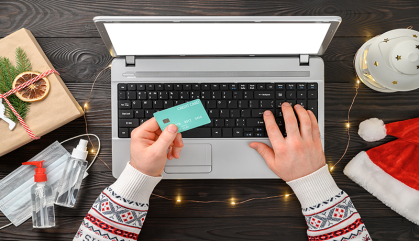 Rutgers Business School researchers discuss

consumer habits and

the role of shopping in consumers' lives during the coronavirus pandemic
With holiday shopping in full swing, retail and consumer behavior will look different due to the coronavirus pandemic. But how will local and big box retailers be impacted and what will the shopping experience look like for the everyday consumer?
Rutgers Today spoke to Ashwani Monga, a professor of marketing and a consumer psychologist who studies consumers' judgment and decision biases, and Kristina Durante, a professor of marketing and a social psychologist who studies the biology of decision-making, about retail consumer behavior this holiday season.
What will the impacts of the pandemic be on holiday shopping behavior?
Durante: The pandemic is a triple threat. It is recession, contagion and isolation all wrapped into one. Because there is more uncertainty now than perhaps any other time in recent history, this holiday season will look a lot different. Many consumers will avoid in-person shopping, preferring to buy online.
Monga: People are creatures of habit, and the pandemic has created new habits for consumers. Those who went to malls every weekend and were uplifted by the energy of people around them are now used to staying at home, socially distant from their fellow shoppers. Those who earlier refrained from online shopping have now become more comfortable with it and that will continue through the holiday season and beyond. Newly developed habits may not be just about how consumers shop, but about the role of shopping in consumers' lives. Weekend visits to malls are being replaced by other pursuits such as going on outdoor trips with friends or spending time indoors with immediate family members.
What role will economic constraints play this year?
Monga: Shopping may be less pleasurable during these difficult times. Some people don't have money to spend because of economic hardships. Others do have money but feel guilty splurging on fun holiday products while others are struggling for necessities. Given economic anxieties, more people have been holding on to their money as is reflected in higher savings rates. Retailers are trying hard to nudge consumers so that they can stop saving and start visiting malls to spend their money, but consumers will take time to unlearn their newly formed habits. 
Durante: People are eager to get some cheer back into their lives, which we see in the number of Christmas trees going up early this year. For consumers saving on travel, eating out and commuting, that saved money may go into holiday cheer—including gifts to themselves and others. Many of us are cooped up and might be clamoring for retail therapy, even though a lot will be ecommerce. While this does not necessarily mean more consumer spending this year for the holidays, the hit may be minimal and could be on par with prior years.
What will this mean for big box retailers and local businesses?
Durante: Retail giants like Amazon and Walmart could win out over local merchants, particularly because consumers like seamless buying without a lot of steps—hello, Amazon one-click. But research shows that uncertainty creates favoritism for what is local or nearby. When consumers feel threatened, we have a deeper desire to help friends, family and community over strangers. So, local businesses have a great opportunity at hand this season, but they need to get the word out that they, too, can deliver goods fast and at low cost.