The History of Jewish Farming in New Jersey
A New Online Exhibit: "Jewish Agriculturalism in the Garden State" launches Oct. 21 with a virtual public talk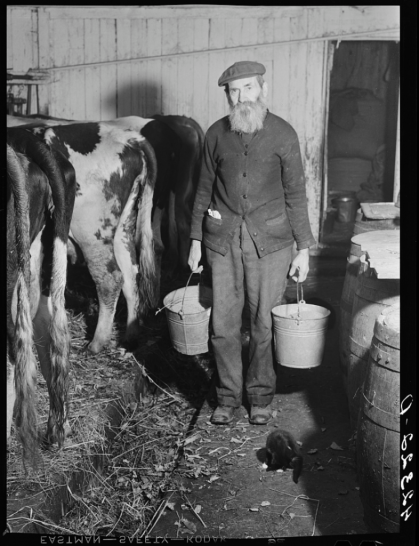 Farming played an important role in the American Jewish immigrant experience, although it's become a story lost over time. Fleeing violence and oppression, many Jewish immigrants chose New Jersey farm life, despite its challenges, over suffocating urban tenements. The rural setting often offered more rapid assimilation into American life than isolated and insular city neighborhoods.
Jonathan Dekel-Chen, the Allen and Joan Bildner Visiting Scholar, developed an online exhibit that shines a spotlight on the little-known history of Jewish farming in the Garden State. Dekel-Chen was assisted by Jacquelyne Hankard, a graduate student whose position was made possible by the Gene R. Hoffman Endowed Student Internship program at the Bildner Center.
Dekel-Chen talks about the exhibit, Jewish Agriculturalism in the Garden State, in advance of its Oct. 21 virtual launch.
What inspired your interest in Jewish farming?
I grew up near farms in Connecticut, then fell in love with kibbutz life when I moved to Israel. My fascination with Jewish farmers outside Israel developed while doing Ph.D. research on the Red Army at Yiddish Institute for Jewish Research (YIVO), where I happened upon the files of Joseph Rosen. He'd been the director of the Baron de Hirsch Agricultural School in Woodbine, New Jersey, before heading up the Agro-Joint, which resettled Jews from towns in the Soviet Union to cooperative farming colonies in Crimea and the Ukraine during the interwar years.
How did the online exhibit come about?
It's a product of my research on Jewish farming worldwide. For me, this has been both a scholarly pursuit and a labor of love. The Bildner Center's vision to share this aspect of Jewish history with a wide audience brought the exhibit to life. Jacquelyne Hankard, my graduate assistant at Rutgers, designed and built the exhibit.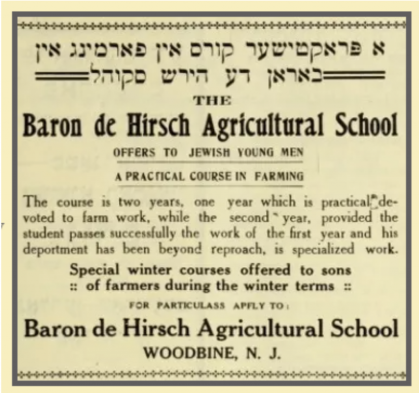 What is most poignant about America's Jewish farming history?
Jews strove to integrate and improve their circumstances when they settled here. From the late 1800s until the mid-1900s, tens of thousands of Jewish immigrants put the past behind them and went to the land. These days, few Jews know anything about this history. Farming defies the traditional image of American Jewish success, but it was once a revered profession. The almost anecdotal placement of Jewish farming in most American Jewish history museums proves the point. In Argentina, on the other hand, Jewish gauchos are still legendary.
Yet the Jewish farmer played a significant role in the American Jewish immigrant story of physical and spiritual renewal. We wanted the exhibit to convey how transformative farming was for Jews who fled violence, oppression and poverty, arriving on these shores in search of better lives.
Tell us about the scope of the online exhibit.  
The era of modern Jewish farming began in the early 1800s and spanned four continents, with hundreds of thousands of Jewish farmers working millions of acres. The exhibit is devoted primarily to the New Jersey experience, but places it within a broader context.
Tsar Alexander I allowed Jews trapped in the Pale of Settlement to move onto empty farmland in New Russia. Decades later, Eastern European Jews, with the help of benefactors like Baron de Hirsch, established agricultural colonies in the Americas. Israel's blooming desert evolved as part of this global project. Each of these is a chapter in the larger story of Jewish rural life.
Was the New Jersey agricultural experiment unique?
It was one of the more successful ones, lasting until the 1960s because Holocaust survivors boosted the numbers in Garden State farming communities after the war.
From the beginning, many immigrant Jews chose New Jersey farm life, despite its challenges, over suffocating tenements in the cities. Whatever era or locale, farming allowed them to Americanize more quickly as they integrated into the rural landscape, rather than isolating within insular urban neighborhoods. 
Meanwhile, mutual aid made the global Jewish farming movement a very Jewish story. New Jersey was no exception. Farms were set up in clusters, often along railroad lines that connected them. They found strength in numbers – in purchasing, marketing, mutual credit cooperatives and building synagogues.
How does the site illustrate this?
In addition to historical descriptions, the exhibit features interviews, on-location videos and music inspired by the Jewish farming life. We hope to add oral histories and visual objects we were previously restricted from accessing due to COVID protocols. Photos also paint the human story, like young and old standing next to their poultry trucks and egg stands, or celebrating holidays.
What is the takeaway from the Jewish farming experience?
First, the Jewish calendar has always been intertwined with the agricultural cycle in the biblical Land of Israel. Second, a powerful restorative message is embedded in the story of modern Jewish rural life. We have forgotten that. I am encouraged by new organizations of young Jews working the land – growing artisanal produce, making wine or cheese, gathering for holidays – to nurture Jewish identity when other communal models don't satisfy them. Jewish Agriculture in the Garden State is a way for our farming history to inform the present.  
Which aspect of the site do you expect will resonate most with viewers?
Even if they don't know it, many American Jews have a connection to this history. We hope the exhibit will begin conversations, helping individuals to open up about, or perhaps first discover, their family's stories.  
How can the community enrich the exhibit?
After launch, we plan to crowdsource for artifacts and stories. We can only imagine what people have in their attics and look forward to sharing select discoveries in the online exhibit.