Helping Students Through Lean Times
Student food pantries help fill grocery gaps while removing stigma around food insecurity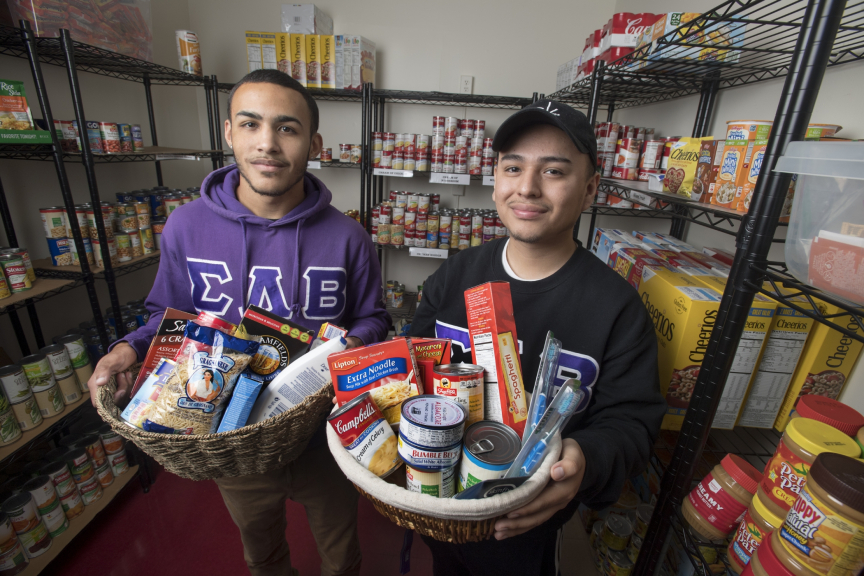 Funds were tight this summer for several members of Sigma Lambda Beta and their housemates.
For most of them, it was their first experience living off campus and learning to budget their finances. After paying rent, utilities and summer courses, there was little left for the Rutgers University-New Brunswick students to refill their fridge.
"I was taking a summer class and wasn't able to focus because of how much my stomach hurt," said third-year math major Aziel Rosado, 20. "None of us wanted to accept it was a problem because it was a normal thing to be hungry."
He is not alone. According to national statistics, 40 percent of college students have experienced food insecurity. To help address the need at Rutgers, the university's Board of Trustees voted this fall to provide funding for students, including financial support to student-based food pantries at university locations in Camden, Newark and New Brunswick through 2022. On Giving Tuesday following Thanksgiving, the Rutgers University Foundation and Alumni Association will focus fundraising efforts on the student food pantries.
"We think if someone can afford college, they have enough money to afford food," said Ellen Daley, Nutritionist and Director of Rutgers University-Newark Student Food Pantry. "But the reality is many more students are coming to college thanks to scholarships. While families provide what they can to help, many students understand all too well the financial struggles that remain at home and don't have a safety net when they run out of money."
That was the case for Rosado and four of his fraternity brothers, who were among the 600 students who visited the Rutgers-New Brunswick Student Food Pantry last year. Launched in the fall of 2016, it was the first of the university's student food pantries, followed by Newark in January 2017 and Camden in fall 2017. The pantries have distributed a total of 72,500 pounds of food (New Brunswick: 44,000; Newark: 17,000 and Camden: 11,500) since opening.
"If students are skipping meals or living off ramen noodles because they don't have enough money for a healthy diet, they are more likely to have poorer performance in class and are at higher risk of not graduating." – Ellen Daley
Had they been living separately, Rosado suspects he and his friends would have tried to "tough it out" until the fall when their meal cards were replenished, but living together made it hard to ignore that they were all struggling.
"I felt like, 'We are in college, why would we need the food pantry? That's not really for us,'" Rosado said. 
Fighting that misconception is a priority for each of the food pantry's directors. This year, Danielle Warren from Rutgers Business School is studying the stigma associated with food insecurity and ways to combat that through messaging. By studying food pantry use and attitudes at Rutgers-Newark before and after releasing new messaging about food insecurity, Warren said she will be able to determine whether the messaging is effectively reducing stigma.
"The logic is if you can shift how people feel about food insecurity and how those who are food-insecure feel about themselves, they will be less embarrassed and more likely to seek assistance," said Warren, who hopes the results of this study will improve messaging at all of the university's student food pantries.

"One of the things we are trying to educate people about is why it's important that students get fed," said Daley. "The quick answer is we want you to graduate. If students are skipping meals or living off ramen noodles because they don't have enough money for a healthy diet, they are more likely to have poorer performance in class and are at higher risk of not graduating.  Students of color, first-generation students, working students and students receiving financial aid are all at higher risk of food insecurity." 
Kerri Willson, director of Off-Campus Living and Community Partnerships at Rutgers-New Brunswick and founder of the Rutgers-New Brunswick Student Food Pantry, concurs. "If this basic need isn't being met, we are going to assume it's hard for you to do well in the classroom and maintain personal relationships."
While the food pantries help students meet an immediate need, they also serve as a hub where students can learn about other resources available to them. "We connect them with deans of students to connect them with other services, from financial counseling and psychological services to academic services," said Willson. "The food pantry is just one way we are bridging that gap and connecting them with resources."
Director of Student Health Service at Rutgers University–Camden Neuza "Maria" Serra has found the benefits of The Raptor Food Pantry being located within health services is twofold: medical providers can identify students as potentially food insecure and send them down the hall to the pantry. She does the same, suggesting to students who use the food pantry that they see a physician on campus.
"One of the things we did notice is that a lot of students who use the food pantry had never used health services before, so we gave coupons to encourage well visits," Serra said. "A lot of these students have not had good consistent health care throughout their lives. We see this as a way to connect them with medical care."
Similarly, the Rutgers-Newark students are made aware of the CARE Team (Campus Awareness Response and Education), Health Services and Counseling Center when they are in need of additional services.
After benefiting from the Rutgers-New Brunswick Student Food Pantry, members of Sigma Lambda Beta have made it their mission to give back and let their peers know this valuable resource is for any student in need – no exceptions.
Since the start of the fall semester, the fraternity has manned a table each week on the Livingston Plaza, where they accept nonperishables for the food pantry and use financial donations to purchase items they know are in short supply. Their first month yielded 400 pounds in donations.
"Food insecurity is a global problem and on all college campuses," said senior and Sigma Lambda Beta brother Percy Tito, 23. "We want to use our fraternity as a platform to raise awareness and to help."

It's grassroots efforts like this that are the pantry's bread and butter, said Willson, noting she's been encouraged by the support the organization has received from students and alumni since opening.
"A couple weeks ago a woman drove up with a trunkful of stuff for us and told me her daughter graduated from here 10 years ago," Willson said.  "One alumnus works for a pasta company nearby. We just call him up when we're low, and he brings pasta. It's heartening to see people give back."
---
#GivingTuesday is a global giving movement that takes place the Tuesday after Thanksgiving each year. On November 27, the Rutgers community will come together to raise money for university food pantries to help students fill their plates while they feed their minds. Learn more.