Helping Students Pay for College
A look at the ways students at Rutgers can fund their education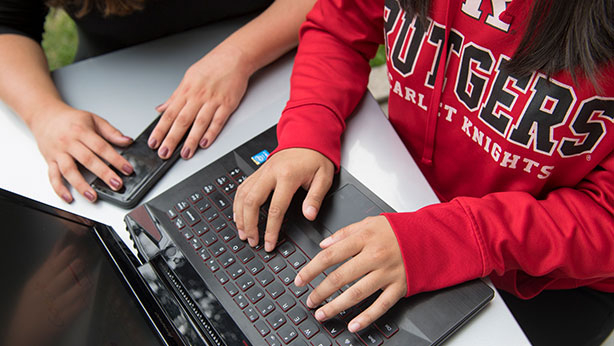 Being accepted at a college of your choice is reason to celebrate. But for many students what's just as important is the financial aid package. At Rutgers University, nearly 80 percent of students receive some form of financial assistance.  
"There are over 52,000 students at this university who receive financial aid," says Jean McDonald-Rash, associate vice president of University Enrollment Services. "Without it, many of these students would not be able to pursue an education."
The financial aid offices in Newark, Camden, New Brunswick and Piscataway assist students and their families in identifying scholarships, grants, loans, student employment and tuition payment plans for which they qualify.
What should students and parents know about how decisions are made to compile a student's financial aid package? We talked with McDonald-Rash about what type of aid is available, where it comes from and steps they need to take to be eligible.
What is the first stop for students seeking information on financial aid options and how to apply for them? 
The first stop for new and continuing Rutgers students is our website, financialaid.rutgers.edu. Students and their families can find information regarding important deadlines, eligibility requirements and all available types of aid on our site.
How does the Office of Financial Aid work with students and families to pursue financing options?
We understand how challenging the cost of financing a college education can be for many students and their families. That is why we are committed to providing eligible students with as many options as possible for financing their education. Dedicated counselors are available to meet with students and parents year-round in all our locations to navigate the financial aid process, answer questions, and advise on financial aid eligibility and availability.
What kinds of aid are available to students who qualify?
There are many options for financing your education at Rutgers. Non-need-based aid includes scholarships and grants awarded on the basis of academic achievement or merit, as well as unsubsidized Federal Direct Loans, PLUS loans, and private loans. Additional information about all types of aid can also be found at financialaid.rutgers.edu/typesofaid.
Need-based aid is awarded on the basis of financial need as determined by the Free Application for Federal Student Aid (FAFSA). Pell grants, Federal Supplemental Educational Opportunity Grants, New Jersey Tuition Aid Grants, Rutgers Assistance Grants, Federal Work Study and subsidized Federal Direct Loans are all need-based.

We're pleased that Rutgers Assistance Grants, which were established in the 1990s, will soon be called the Scarlet Promise Grants.  In June 2019, the Rutgers Board of Trustees voted to launch and contribute to an endowment for these grants to continue to help students – especially those who face unforeseen or sudden life-changing circumstances – offset the gap between financial aid and costs.
The Rutgers Assistance Grant program, soon to be called the Scarlet Promise Grants, supplements state and federal aid offerings, and is another source of funding many don't know exists. How much Rutgers Assistance Grants funding will be available for the 2019-2020 school year, and how many students will receive the grants in their aid packages?
Final Rutgers Assistance Grant amounts for the 2019-2020 academic year are still being determined. In the 2018-2019 academic year, $33.3 million was awarded to over 11,500 students to assist with educational expenses. The Rutgers Assistance Grants, like all campus-based funding, is awarded based on eligibility, available funding and meeting the Rutgers FAFSA filing priority deadline.
What should students and parents know about how decisions are made to compile a student's financial aid package?
The first step in the application process is to complete the FAFSA. A federal index calculates the Estimated Family Contribution (EFC) based on the information on the FAFSA. Parents' income, assets, number of dependents and other factors are all considered in determining EFC. The Office of Financial Aid then determines financial need by deducting the EFC from the estimated cost of attendance. Awards are packaged to help students and their families meet their financial need.
Do other programs at Rutgers help students pay for their education?
There are a number of other programs to help Rutgers students. Rutgers University-Camden and Rutgers University-Newark both offer grant programs for qualifying students. Bridging the Gap in Camden provides grants to cover the cost of tuition and the general campus fee for students from households that earn $60,000 or less a year. Families that earn between $60,001 and $80,000 can receive a grant covering 75 percent of tuition and those earning up to $100,000 a year can receive a grant covering 50 percent of tuition. Newark's Talent and Opportunity Pathways is a program for Newark residents and graduates of county colleges whose families earn less than $60,000.

Rutgers Future Scholars is another aid program that provides full tuition scholarships to low-income students from New Brunswick, Piscataway, Newark, Camden and Rahway who participate in a preparation program starting in middle school.
What are some other good resources for students applying for financial aid and scholarships?
Our website is a great resource for students looking for outside scholarship opportunities as well as instructions for applying for federal and state financial aid. Students can visit financialaid.rutgers.edu/scholarships for a list of scholarships that is updated regularly. Information on how to apply for aid can be found at financialaid.rutgers.edu/apply.