Health Education Empowers Homeless Women
Rutgers pharmacy student Megha Shah creates a health education program for women at a homeless shelter – and hits a turning point in her pursuit of a career in medicine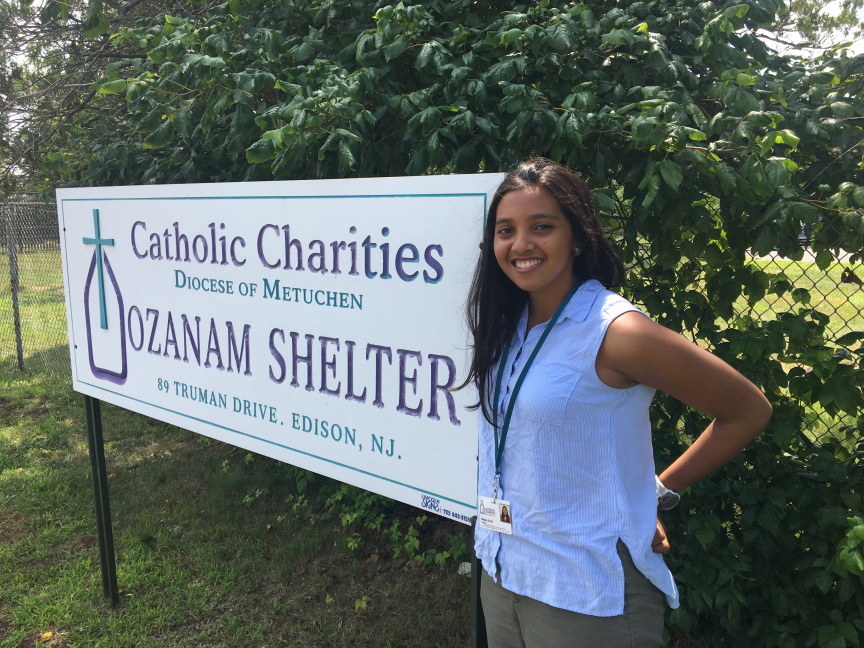 'I approached each class from the perspective of camaraderie: Woman to woman, let's have a heart to heart.'

–Megha Shah
When pharmacy student Megha Shah began her internship at the Ozanam Family Shelter in Edison, she was prepared to improve the health literacy of the residents. What she didn't realize was how much the residents would teach her.
Shah, who will graduate in 2019 from the Ernest Mario School of Pharmacy at Rutgers University, spent seven weeks this summer developing a health education program at the emergency shelter that houses 16 single women and 26 families in Middlesex County. She participated as part of the Bridging the Gaps Community Health Internship, a program that links graduate students preparing for careers in health and social services with community initiatives in underserved populations. The Philadelphia-based program is administered in New Jersey by Rutgers School of Public Health.
To begin, Shah distributed a survey to find out what was most important to the residents. From the responses, she created four two-hour classes: women's health, staying safe, medication safety and dental and oral hygiene.
Shah's biggest surprise – and challenge – was finding a way to make the women want to care about their health. "I discovered health is not a priority for this population. Their concern is finding a home or job, while health and wellness takes a backseat," she says. "Because I am still a pharmacy student, my interactions with patients have always been limited , so engaging a large audience with opposing priorities was new territory for me."
She also had to navigate an age gap. "Many of these women were older and had children. I had to figure out a way to relate to them, to approach them casually so they wouldn't think I was lecturing them," she says. "I approached each class from the perspective of camaraderie: 'Woman to woman, let's have a heart to heart.'"
Realizing that humor would help break down the walls and keep attendees engaged, Shah filled her presentation slides with gifs and funny memes and spoke directly to the group rather than reading from prepared notes.
The tactics worked. With each class, Shah's audience grew and the sessions became more interactive. To make the classes easier for mothers to attend, she moved them to the activity room and provided games for their children so they could be entertained and watched.
Shah discovered that much of the information she presented was new to the group. By providing resources in an accessible way, she demonstrated how they could prioritize their health and wellness as part of their daily routine. "For example, I showed them how little things like drinking an extra bottle of water a day or limiting their smoking can make a difference," she says. "They do care and want to be proactive about their health."
---
Related Stories:
---
At the end of the internship, Shah coordinated details for St. Peter's Healthcare System's mobile van to be on site at the shelter to provide blood pressure, blood sugar and cholesterol screenings. She also created health packets for the shelter to distribute to women when they leave. The exit packets include information sheets with fast health and wellness facts and the locations of the closest health centers, with notes on which accept Medicaid or patients with no insurance and those that provide care on a sliding scale basis and offer prescription services. To further assist the women in acquiring medication, Shah enlisted a prescription discount program to donate coupons and included information on name-brand and generic over-the-counter medication in the packet.
Shah credits the success of the health education program to her preceptor, Rebecca Rhoads, the housing and social justice service area director at Catholic Charities, which operates Ozanam. "I care strongly about women's health, and she was very open minded and encouraging about my suggestions for building a program," Shah says.
Teaching at Ozanam marked a turning point for Shah, who decided she wanted to study medicine in high school. It wasn't until after a health scare during her undergraduate career that she knew she definitely wanted to continue to pursue pharmacy. "I was prescribed the wrong medicine during a hospital stay. My mother is a retail pharmacist and flagged the error when she realized it would have been dangerous to me in my condition," she says. "It was then that I knew I needed to learn more about medications before I pursued any further education."
Originally considering employment in retail pharmacy, Shah now aims to work with underserved communities, perhaps at a local hospital or clinic, to continue to improve health literacy in marginalized groups. "There's so much education a pharmacist can do from a retail standpoint," she says. "I believe I can change more lives by serving this population."
---
Members of the media seeking more information can contact Patti Verbanas at 848-932-0551 or verbanpa@ucm.rutgers.edu.