Harvest Brings Healthy Eating to College Diners at Rutgers
Menu includes oven-roasted flatbread, a fresh smoothie station and a Mongolian Grill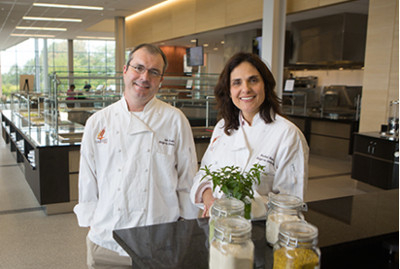 'A lot of people are used to artificial flavoring and foods that have more salt than is necessary. It's a challenge teaching people that not everything has to taste like a Dorito – off the chart salty and artificial.'

 

– Rachel Reuben
Harvest, the new dining venue at the Rutgers New Jersey Institute for Food, Nutrition and Health – is rich in many things: a bright atmosphere, fresh healthy produce, a seasonal menu. What it isn't rich in is sugar and salt.
Those craving a syrupy caffeine rush will notice that there aren't any soda machines. You won't find any salt and pepper shakers on the tables either. "That's because we season everything perfectly," says Chef Rachel Reuben, who is happy to bring fresh sea salt in from the kitchen if a customer asks (which rarely happens, she says).
Reuben, who attended the French Culinary Institute in New York and has appeared on Food Network's Chopped and Chopped Champions – and won – launched Harvest in September with Chef Ian Keith, an alumnus of the Culinary Institute of America, based on the concept of minimally processed food, and from-scratch culinary techniques.
Nick Emanuel, director of operations for Rutgers Dining Services, says the idea was to create a healthy dining venue that reflected the new institute's mission: to combat obesity and make New Jersey the "healthy state" and a model for the nation. With a bustling breakfast and lunch crowd, Emanuel says, Harvest's popularity since opening in October has grown tremendously.
"Harvest is allowing faculty, staff and students to rethink collegiate dining and healthy cooking altogether," Emanuel says.
The 125-seat venue, on the main floor of the IFNH building on the university's Cook Campus, offers a flatbread wood-oven station, a Mongolian grill, a spa water station, a smoothie station and a salad station that regularly features unconventional dining hall choices like bok choy, fennel, quinoa and lentils.
Keith, who was director of front of house operations and part of the James Beard award-winning team at the Ryland Inn, Whitehouse Station, N.J, is especially fond of Harvest's broth bar, a make-your-own ramen station with fresh noodles and vegetables. "Our tagline is 'eat well, live well.' That's what we're trying to reflect – whole foods that are deliciously prepared," Keith says.
Keith and Reuben are both strong advocates of a wholesome lifestyle and diet. Keith recalls working in his grandparents' garden as a young boy, canning vegetables and hunting game in Hunterdon County. He still lives in Hunterdon County – now on a farm. Reuben grew up in the Bronx. Her father, who was from France, and mother, who was from Germany, introduced Reuben to quality food at an early age.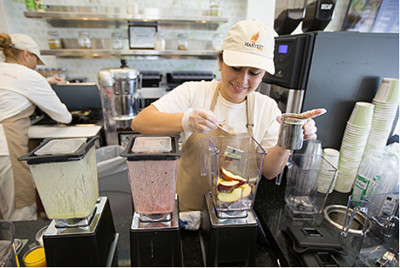 "My father was belligerent about nothing in a can. We had brie and French bread for breakfast, even though I begged for Captain Crunch," Reuben says.
The chefs acknowledge that is sometimes difficult for people to adapt to a healthy lifestyle if they didn't grow up with it.
 "A lot of people are used to artificial flavoring and foods that have more salt than is necessary," Reuben says. "It's a challenge teaching people that not everything has to taste like a Dorito – off the chart salty and artificial. Normal salt and pepper is too bland because of their 'Dorito tongue.'"
Keith and Reuben believe that learning how to eat healthy starts by cooking for yourself. The duo hopes that by having students choose what they'd like to eat from the seasonal salad bar or grill station – where you can watch the chefs cook – will show them how easy healthy eating could be.
"You get a little raw chicken, some stuff that grows out of the ground and you throw it on a grill with some garlic and onions and fresh herbs – it's absolutely delicious," Reuben says. "A dish like this takes five minutes to make and it's a little model of what's possible."
Along with its dedication to promoting a healthy lifestyle, Harvest is also committed to reducing its carbon footprint. All tableware and utensils are compostable. Each day the venue uses a mechanical food digester that breaks down more than 500 pounds of waste, turning it into a compost tea. In addition, Harvest tries to source as much local produce as possible.
"If we can get produce on the east coast, then that's where we get it from," says Keith who also hopes to incorporate some produce grown on Cook campus, including Rutgers' new strawberry.
"It's about fostering relationships with people that feel the same way about food ethics and about the way food should be, that's what we're trying to do here," Keith says. "The more that we have ties together with food science, this building, nutrition, and being on this campus – the more successful Harvest will be."
Harvest is open 8 a.m. to 3 p.m. Monday through Friday.