Harvard Scholar Advocates ''Bias Education as Social Vaccine'' Against Bigotry
Rutgers alumnus delivers keynote in James Dickson Carr Lecture Series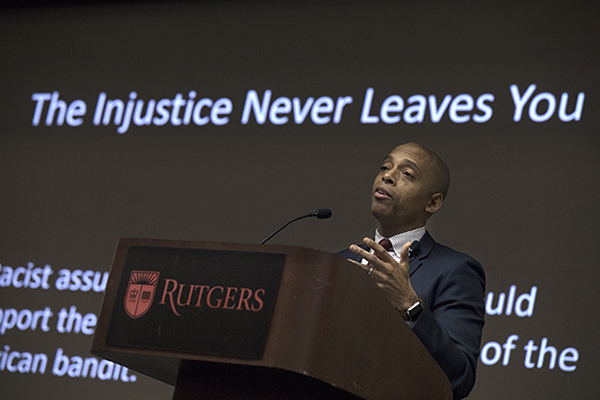 The future of our democracy depends not on overcoming our racist past, but on embracing the history of those who struggle for equality, Harvard Kennedy School scholar Khalil Gibran Muhammad told a Rutgers audience Thursday while delivering his James Dickson Carr Lecture at the Busch Student Center in Piscataway.
"We can choose to build a new civic culture that sees our history not as an unfortunate diversion from the inevitable march towards progress, but rather as a necessary component to it," the Rutgers alumnus and nationally renowned authority on U.S. racial justice said. "To see our democracy flourish is to demand new history lessons, new civics lessons and new origin stories, ones that are drawn out of the stories we keep forgetting and restoring."
Muhammad, who earned his Ph.D. in U.S. history at Rutgers, reflected on his "special homecoming" and memories with Paul Clemens, a professor of history in the School of Arts and Sciences at Rutgers-New Brunswick, who was in the audience. He credited his alma mater for its approach to bias education and becoming a role model for other universities. He also touted the Scarlet & Black Project, Rutgers' historical exploration of the experiences of African Americans and Native Americans at Rutgers, as well as the work of Marisa Fuentes, the Presidential Term Chair in African-American history at Rutgers-New Brunswick.
Hosted by Rutgers University–New Brunswick's Division of Diversity, Inclusion and Community Engagement, the annual lecture – named after Rutgers' first African-American graduate – provides a forum for public intellectuals to discuss issues of diversity, access and equity in an open dialogue with the Rutgers community.
Muhammad is an award-winning author whose books have explored the link between race and crime in the United States. His work has been featured in The New York Times Magazine's 1619 Project, which explores the consequences of slavery and the contributions of black Americans, and in Ava DuVernay's 13th documentary, which explores the history of racial inequality in the United States.
The history of racial bias can be difficult for all ages to learn, Muhammad said, but delivered at appropriate developmental stages, young people can be immunized against the worst tendencies in our society.
"What if we could eliminate the worst systemic manifestations of American racism and the everyday expressions of bigotry and bias with a vaccine?" he said, introducing a phrase he has coined – "bias education as a social vaccine."
Social vaccines could do for society what medical vaccines do for children – keep our democracy healthy and strong, he said. Bias education would expose children to the way people discriminate based on social differences just as vaccines expose people to a small dose of a harmful virus, he added.
During his lecture, Muhammad also discussed racial socialization in schools, colorblindness as silence and how current U.S. history curriculum contributes to learned bias. History textbooks, children's literature, museum exhibits and monuments are among the greatest sources of misinformation and, in some instances, disinformation and deliberate propaganda, he said.
In addition to Rutgers efforts to recognize its past transgressions, Muhammad offered other examples of current progress, including Brian Stephenson's lynching memorial, the 1619 Project and the Chicago Public School system's adoption of a history curriculum that educates students about the torture black men endured at the hands of Chicago police from the 1970s to the 1990s.
The James Dickson Carr Lecture is part of Access Week 2020, a universitywide initiative to create campus awareness for first-generation, low-income and historically underrepresented students.
Rutgers–New Brunswick Chancellor Christopher Molloy and Anna Branch, vice chancellor for Diversity, Inclusion and Community Engagement, stressed the importance of improving access to education for all in their opening remarks before an audience of about 100 students, faculty, staff, alumni and visitors.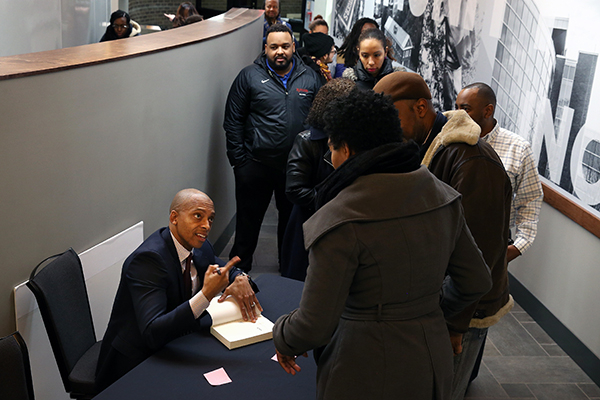 "As a first-generation student myself and as a Rutgers alum, I take a lot of pride in Access Week," Molloy said. "It encourages us to think about the opportunities we have to open our doors to more students from different backgrounds and to support their success."
Branch added: "The active engagement from the Rutgers community throughout this week, and your presence here tonight, reflects our shared commitment to the work of ensuring access."