All three student theater groups at Rutgers-New Brunswick are led by students of color
For the first time in 48 years, all three student theater groups at Rutgers-New Brunswick are being led by artistic directors of color.
It's no coincidence, said the trio – Cabaret Theatre's Uchenna Agbu, College Avenue Players' Kyle Cao and Livingston Theater Company's Kira Harris. Their diversity reflects a growing trend toward inclusion both at Rutgers and in the arts, media and society at large, they said.
"For the first time, especially in America, we are finally seeing ourselves and friends and families in the stories that get told on TV, on Broadway and in the movies," said Cao, who is first-generation Chinese American and a senior majoring in music and minoring in Italian at the School of Arts and Sciences. "Our culture is starting to realize that people of color are a part of the population, and we have talent and voices and stories that people want to hear."
It is noteworthy that this is believed to be a first for Rutgers-New Brunswick student theater, said Agbu, a junior theater major at Mason Gross School of the Arts with minors in creative writing and human resource management at the School of Arts and Sciences. The fact that it took this long reinforces the importance of ensuring students from all backgrounds can envision themselves in the performing arts, whether it's on stage, in the orchestra pit or working behind the scenes, she said.
"The first thing I did when searching for theater organizations on campus, was look at their Instagram pages and their pictures for anyone who looks like me," said Agbu, who is the daughter of Nigerian immigrants. "When people always see the same people they think, why should I try?"
The three said they are using their platforms this year to select productions and assemble casts that reach broader audiences.
"I think I bring a really important perspective," said Harris, who is Black and a senior at Mason Gross and New Brunswick Honors College majoring in music and minoring in theater arts and organizational leadership. "Viewing theater through the lens of someone who historically is not the most represented in theater, I feel even more committed to my role."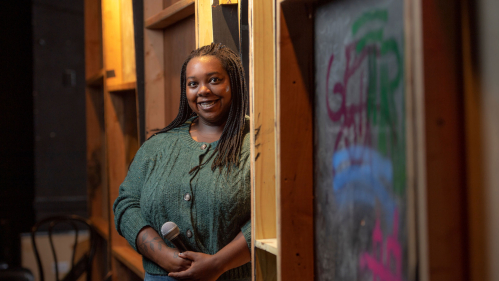 Kira Harris, Class of 2023
Artistic Director: Livingston Theatre Company
Upcoming performances: "Hair," Feb. 9-12; "Pippin," April 20-23
Raised on show tunes and classical cello, Harris' two loves entwined as a sophomore at Piscataway High School while playing in the orchestra pit for "Beauty and the Beast."
"That was a side of musical theater I had never explored before. To me it was you were either in the audience or the cast," she said. "Being in the pit opened my eyes. I thought, 'Wow! There is more!'"
A cellist with Rutgers Symphony Orchestra, her initial goal after graduation was to play professionally in a pit or pursue a management position in an orchestral field. But after working behind the scenes at Livingston Theatre Company her firsy year, she now plans to pursue theater management in graduate school.
"I knew that I would never be a person who just did one thing," said Harris, who has amassed a range of theater and leadership experience while at Rutgers, from an internship at Count Basie Center for the Arts to serving as past president and secretary of Mason Gross Student Governing Association.
At the helm of Livingston Theatre Company, Harris is instrumental in the selection of the year's productions, oversees the rehearsal process, works with the director and creative staff to select the cast and production staff – making sure all sync with her overarching artistic vision for the season.
"A big part of artistic direction is assembling shows that make up our season, and I take that responsibility to heart," said Harris who selected "Hunchback of Notre Dame," "Hair" and "Pippin" this year. "I wanted a season with a common thread. I think it is looking inward at our own biases and figuring out what makes someone different, and what it means to be different."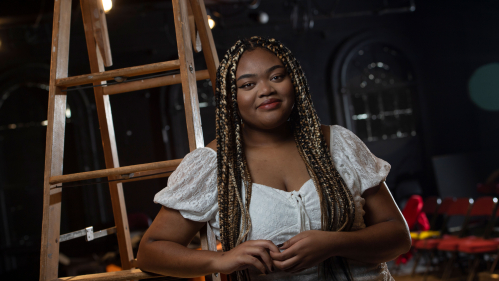 Uchenna Agbu, Class of 2024
Artistic Director: Cabaret Theatre
Upcoming performances: "Diary of a Simpy Kid," Jan. 20-21; "Hurricane Diane," Feb. 17-19; The 14th Annual Original Play Festival, March 3-5; Rutgers Night Live, March 31-April 1; "Into the Woods," April 14-16.
Agbu's introduction to theater came early during her first year at Rutgers, when she auditioned for a Cabaret Theatre production – and did not get a call back.
But based on her limited exposure to theater at that time, she wasn't surprised or deterred by the casting decision.
"Theater is a Western world thing. My parents are from Nigeria, so there is that disconnect," said the Burlington resident. "And where I grew up theater wasn't accessible to me. It wasn't something I could travel a short distance and see."
Ironically, it was during the pandemic, when Agbu was isolated at home and stages everywhere went dark, that the world of theater finally opened up to her.
"I had friends who were very into theatre, and I thought 'I'll find out what all the hype is about.' "Hamilton" came out on Disney+, and I watched a lot of musicals on YouTube," she said.
During lockdown, the longtime vocalist landed her first ensemble roles at Rutgers in Livingston Theater Company's virtual productions. Each member of the cast recorded asynchronously, which presented challenges, but also left Agbu wanting more.
"The fact I was willing to do the hard work for a virtual show made me think: 'This is something I actually enjoy doing,'" she said.
After a few in-person performances, Agbu started pitching in behind the scenes, starting as a stage manager and working her way up to her current role with Cabaret Theatre.
"I think theater is where I want to stay," said Agbu, who after years of writing songs and poetry is now trying her hand at playwriting. "My ultimate dream is to open a theater company in the community where I grew up – an educational theater company to try and make theater more accessible to people like me."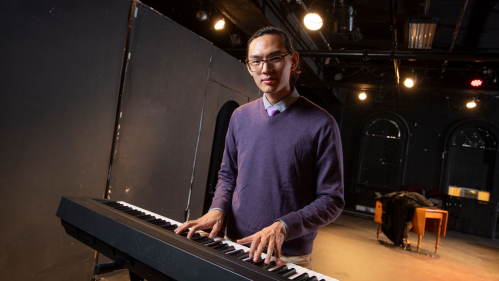 Kyle Cao of 2023
Artistic Director: College Avenue Players
Upcoming performances:  "Clue: On Stage," March 3-5; "Wacky Hijinks," March 24-25; "Peter and the Starcatcher," April 7-9
After years of classical piano instruction, Kyle Cao felt like he was marking time. The high school first-year was a skilled pianist, but Cao had yet to fully embrace the instrument he devoted so much time to practicing.
Then he accompanied his high school's student-run cabaret, and everything changed.
"My high school choral director told me I don't have to play everything on the page, and as a classical musician that blew my mind. It was liberating," he said of his first experience with musical theater and improvisation. "As a musical director, you need to follow the singer. Your role is not to replicate the music perfectly; it's about judgement."
He joined the jazz band, started jamming with other musicians and began experimenting with a new instrument, his voice. No stranger to singing, Cao had spent much of his childhood belting out Disney classics in his family's Livingston home. But it wasn't until his changing voice settled into a deep baritone that he started singing for audiences.
"I had never really come alive until I finally stepped on stage my first year of high school," said Cao, who aspires to work professionally as a pit musician or conductor.
When he arrived at Rutgers, Cao sought to continue immersing himself in singing and theatre, starting with the College Avenue Players, New Brunswick's student-run comedy theatre company.
"I had been an 'SNL' fiend. I adored performing that comedy, but I fell in love with the people more than anything. I immediately felt at home with CAP," said Cao, who is also a member of the Rutgers University Glee Club, Rutgers University Kirkpatrick Choir and MUSE: Musicians United for Social Equity. "I knew I wanted to help make shows happen and introduce this theatre company to new people and continue the welcoming environment that I had found my first year."