Gov. Murphy Unveils Ethics Reforms Overhaul
Murphy serves as Bloustein School's Gov. James J. Florio Distinguished Visiting Scholar at Rutgers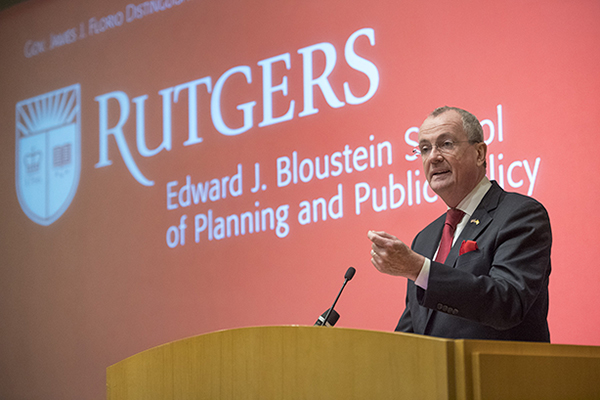 New Jersey Gov. Phil Murphy unveiled the state's first comprehensive ethics reform plan in the past decade at a public policy lecture at Rutgers on Wednesday night, saying changes will allow residents to be more engaged and better informed in the political process.
The changes "will shine light into the dark corners of our politics and re-instill faith, as best we can, that those elected to serve are there to serve the people – all of the people – and not the special, or their own, interests," Murphy told those attending a public policy lecture hosted by Rutgers University–New Brunswick's Edward J. Bloustein School of Planning and Public Policy. The proposals follow the governor's State of the State address last month, where he briefly discussed an overhaul of the political culture in Trenton.
Delivering the school's 2020 Gov. James J. Florio Distinguished Visiting Scholar in Public Policy Lecture, Murphy pledged changes "to make Trenton more open, accessible, responsive and ultimately more representative of our state and our great people."
Bloustein dean Vonu Thakuriah and Carl Van Horn, director of the John J. Heldrich Center for Workforce Development, gave opening remarks before an audience of 150 students, alumni, faculty, staff and visitors at the school's Gov. James J. Florio Special Events Forum. 
The proposed legislative package would require lobbying firms to disclose when they hire a person or firm to consult; require any executive and legislative branch employee with an income of more than $100,000 to complete a financial disclosure form; require former public officials to wait two years before registering as a lobbyist; and ensure no bills or resolutions be voted on until at least 72 hours after their final version has been made public.
Sen. Richard Codey (D-Essex), Assemblyman Ryan Peters (R-Burlington) and Sen. Chris Brown (R-Atlantic) will sponsor the proposals.
Murphy said there needs to be greater transparency to how government is conducted. "Chaos and decisions made behind closed doors may have always been associated with Trenton, but they are not how our democratically elected institutions should function in the 21st century," he said.
The faculty and research staff at the Bloustein School have been working with Murphy on other public policy issues, including the passage of the New Jersey Climate Change Resource Center, the governor's New Jersey Clean Energy Act and his recently unveiled Energy Master Plan.
The school's Florio lecture, held in partnership with Florio, Perrucci, Steinhardt & Fader LLC, recognizes former Gov. Florio's public service career through the endowment of a high-level visiting scholar who is a current or former senior government official or policy practitioner, focusing on an issue central to Florio's legislative and gubernatorial career. Themes include public service, the environment, transportation and mass transit, education, welfare reform, health care and gun control.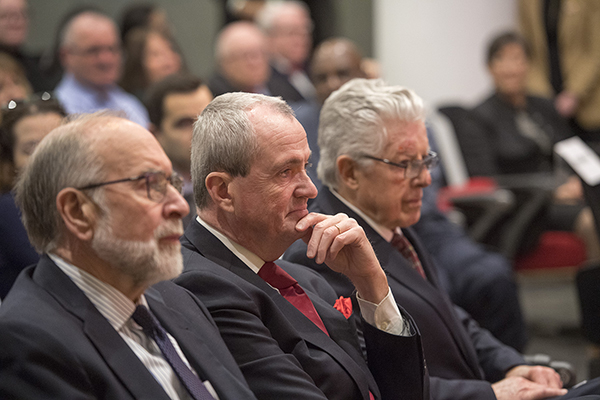 Previous visiting scholars include former U.S. Sen. Bill Bradley, former Pennsylvania Gov. Edward G. Rendell, former U.S. Rep. Gabrielle Gifford and retired NASA astronaut Capt. Mark Kelly.
"Through this program, we honor Jim Florio and his legacy as a political leader and dedication to improving our state and our nation," Van Horn said. "His many accomplishments have made the state better for low-income children, a cleaner environment, safer communities and better roads, bridges and airports."
Florio, who spoke following Murphy's proposal, provided advice to students. "Trust your instincts, stay on the right path and be your own person," he said.