Rutgers moving to partner with Google for student email services
Eight hundred Rutgers students have signed up to take part in tests this semester that will lead not to a grade, but to an upgrade.
The university's Office of Information Technology is deep into the first phase of a project that will see Rutgers partner with the communications giant Google to provide student email services beginning in 2011 with all incoming and transfer students, and moving eventually to the entire study body.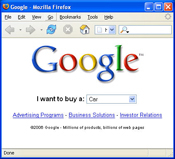 "The plan involves starting with student beta testing this fall. Participants are asked to use a Rutgers-provisioned and managed Gmail account as their primary email address, and to complete a task per week testing various functions in the Rutgers environment," said Mary Ann Chianelli, associate director of information technology and one of the team leaders on the project.
Under the Rutgers domain name scarletmail.rutgers.edu, the service offers a wide range of applications, including a shared calendar and documents, video and chat capability, and the ability to create personalized web pages, Chianelli said.
Several major factors played into the decision to choose Google, she noted: The service is free to universities, and it provides a suite of applications students and faculty will find useful for collaboration and communication. And unlike personal Gmail accounts, the education version does not carry advertising.
Rutgers joins universities such as Arizona State, Northwestern, and Brown, which have signed on since the telecommunications company launched Google Apps for Education in 2007. Today, more than 8 million students use the service worldwide.
"Many Rutgers students already have Gmail accounts personally, and are familiar with many of the Google apps," Chianelli said. "We're not expecting a large learning curve when we make the transition."
After soliciting students' input about what they seek from an email-service provider, OIT discovered a lot of enthusiasm for the transition to Google. Later, when the office called for 500 volunteers willing to try out the system, more than 800 responses poured in.
Every week, participants take a 10-15 minute quiz about their experience with ScarletMail and complete a simple task, such as sending a message from ScarletMail to an account outside Rutgers, or setting up a group calendar.
Once all the kinks have been ironed out, OIT will move to Phase II of the beta testing, which will be to test Google Apps in instructional settings. Interested faculty members will be asked to use the applications in their courses, and accounts will be provided to their registered students.
The goal of both phases of testing is to obtain real-time data on account provisioning, ease of use, support requirements, and integration with existing applications and systems already in use at Rutgers.
Under the new system, mail will be hosted on Google equipment and managed by Rutgers. OIT has researched concerns over data ownership when using a hosted service, and has confirmed that Rutgers will retain all data ownership and intellectual property rights.
"Some students and faculty are involved in confidential research, and they may be more comfortable with locally hosted email service," the IT associate director said. "We will be sensitive about accommodating their needs."
Student email systems such as Clam, Eden, and Pegasus will continue to be supported for the near future. Once all student email has been transferred to Google, these systems will no longer provide email services. Chianelli projects that will happen four years down the road.
Additional information and updates on the project can be found at scarletmail.rutgers.edu.