George Floyd Protests Inspire Rutgers Dental School Student's New Rap Song
Franco Obour has worked with some big-name artists and producers before starting at Rutgers School of Dental Medicine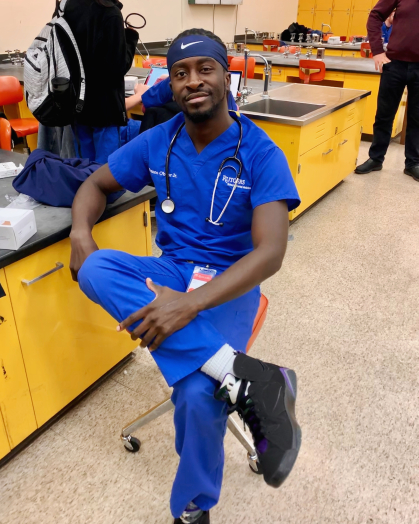 As a rapper, Franco Obour has worked with some big-name artists and producers. But when he enrolled at Rutgers School of Dental Medicine (RSDM) last year, he put the rhymes on hold.
That changed after George Floyd was killed by a Minneapolis police officer last month, leading to an international wave of demonstrations that have become the largest civil rights protest movement in U.S. history.
Obour was inspired to team up with fellow rapper Dayne Carter, a friend from Hillsborough, New Jersey, and a Fordham University graduate, and write a song about being a Black man in America, coping with racism and conditions that don't seem to change. 
Called "What Do You See?," the song, posted on Instagram and Facebook last week, has gotten more than 30,000 hits. Traffic increased after the website BroBible gave it a thumbs up, comparing Obour to Kendrick Lamar. The song was also posted on Spotify, Apple Music and other platforms. All proceeds will be donated to the activist group Color of Change, says Obour. 
While he's happy with the response, he wasn't going for mass appeal. "Whether it strikes a chord or not was never important to me. But it's a great feeling that people enjoy it,'' says Obour, a first-year RSDM student. "We just wanted to say our own piece to keep our sanity. Music is how we deal with our problems."
Obour's lyrics focus on the pain and fear of being stereotyped and viewed as a threat.
"Blame my existence, blame it on rap or blame it on instance 
See that I'm black, you already know my intentions
You already know that I'm mentioned, whenever violence is coupled with tension 
Whether it's minor or on the offensive"
The son of Ghanian immigrants who moved to New Jersey in the 1980s, Obour was one of the only black students among his classmates in Hillsborough, where he says he rarely encountered racist treatment. "I felt safe because people knew who I was,'' he explains.
But in retrospect, he remembers teasing and comments that disturb him.  "They're little things that I look back on now. Like in first and second grade, when they'd wheel in the TV carts to show you a movie and the lights would go out. I vividly remember people going, 'Franco, where did you go?' I thought it was funny, but I was too young to understand the context behind it. But if that happened to my son, I wouldn't stand for it.''
When Obour started school at The College of New Jersey, some people had a different initial response to him than his friends in Hillsborough. "I didn't grow up with these kids and they didn't know who I was. People would seem surprised and say things like, 'you're so well-spoken.' I never heard things like that in Hillsborough. I felt like I had 15 seconds to showcase who I was. It was kind of hard to show people, 'I'm an educated bio major.'''
As a form of escape and therapy, he began writing songs and taught himself to produce them. "It was a way to explain myself and who I was,'' he says.
Obour drew attention for his work, including an opportunity to open for well-known rapper Kid Ink at Starland Ballroom in Sayreville. But he never intended to make rap a career. He was drawn to science and medicine, eventually deciding to pursue dentistry after shadowing his family dentist. "I loved the patient provider interaction. People usually see results right away. It's instant satisfaction,'' says Obour, who hopes to become an orthodontist or oral surgeon.
After attaining a Rutgers masters degree in biomedical science with an oral biology concentration, he started dental school last year. Since, his focus has been on academics but the urgency of the past few weeks compelled him to dust off his rap skills.
 "I always thought my music would be something I would have to hide at dental school. But I've gotten a lot of support,'' he says. "It makes me feel good."