Gambling Rampant in New Jersey, Rutgers Study Shows
Hispanics, Sports Bettors Most Vulnerable to Wagering Addiction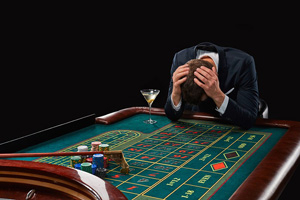 New Jersey continues to double down on gambling -- revenues are up, sports-betting is likely and nearly 70 percent of adults gambled last year. But a Rutgers University study suggests the betting boom has a price: the rate of gambling disorder in New Jersey is four times the national average, with one out of every 16 adults reporting symptoms of a serious gambling problem.
The study by Rutgers-New Brunswick's Center for Gambling Studies at the School of Social Work included 3,634 adults reached by phone and online. It was the first representative look at gambling behavior in New Jersey since the 1980s. 
"For most people, gambling is recreation," says Lia Nower, the center's director, who led the study.  "But the more games you play, the more often you gamble and the more venues you frequent, the more likely you are to develop a problem."
Rates of gambling disorder in the general population hover below 2 percent, but are more than 6 percent in New Jersey. Neighboring states offer many gambling venues to New Jerseyans.
Only 5 percent of gamblers in the study reported gambling online, while 75 percent stuck to casinos and other land-based venues. Nineteen percent of gamblers said they gambled both online and at land-based venues. The most popular games were lottery tickets and instant scratch-offs, gaming machines and live casino table games. Nower says online gambling doesn't seem responsible for higher rates of problem gambling.
"The people with the most severe problems are typically those who gamble on activities like slot machines and video poker at casinos and also played casino games online," she says.
Nower and her colleagues were surprised to find that Hispanic adults reported the highest rates of problem gambling of any ethnic group, 16 percent. That was more than eight times the rate in the general population and three times the rate of white adults.
The study also examined the relationship of gambling to daily fantasy sports play, which federal law excludes from gambling prohibitions. Companies sponsoring daily fantasy sports say the games are skill, not gambling. Critics claim the exclusion of daily fantasy sports was intended only for season-long fantasy sports play in which individuals choose teams and players for an entire sport season, in contrast to daily fantasy sports, which can turn over every day.
Only seven of the 336 daily fantasy sports players included in the survey were non-gamblers. The players were 80 percent male and most gambled online and in land-based venues. All 70 women players were gamblers. Daily fantasy sports players who gambled played several games, and 95 percent of those who gambled did so once a week or more and likely met criteria for gambling disorder.
Both frequency and severity of gambling in this group were significantly higher than among gamblers in general, the study found.
"To me, there is no question that daily fantasy sports play is gambling," Nower said. "What the study shows, however, is that, regardless of how it's classified, people who play daily fantasy sports are likely to also gamble at problematic levels and to have other serious mental health and addictive problems. Our findings suggest that not only should daily fantasy sports be regulated, but the industry should also contribute to the development and delivery of evidence-based treatment."
She added: "In social work, gambling disorder is not even on our radar. Most social workers think gambling is all fun and games. Most schools don't teach students how to identify or treat it. Most agencies don't screen for it or understand how devastating it can be."
The state Division of Gaming Enforcement and the Division of Mental Health and Addiction Services commissioned the study.
A follow-up prevalence study is scheduled for late this year. A leading gambling prevalence researcher, Rachel Volberg of Gemini Research and Leger, a Canadian-based market and research firm, are collaborating on both studies.
---
For media inquiries, contact Ken Branson at kbranson@rutgers.edu or 848-932-0580.