Film features record-setting Rutgers Prep Coach Mary Coyle Klinger, a Rutgers alumna 
A product of the gritty playgrounds of southwest Philadelphia, Mary Coyle Klinger could have taken her formidable basketball talents to any one of the iconic Big 5 universities that loom large in the sports history of her hometown.
She chose Rutgers. And it doesn't take her long to explain why.
"Theresa Grentz, hands down," Coyle Klinger says, summoning the legendary Rutgers women's basketball coach, who was herself a Philadelphia native and a standout in the talent-filled Philadelphia Catholic League. "She had a vision and my twin and I, we were drinking the Kool-Aid."
Grentz recruited Mary and her twin sister, Patty, out of Philadelphia in the late 1970s, with an idea that they might help put Rutgers over the top.
The two sisters did just that. Now, Coyle Klinger and that women's championship team will be immortalized in the upcoming documentary Forgotten Champions: The Story of the 1981-1982 Rutgers Lady Knights. Produced by Rutgers alums Geoff Sadow and Jon Newman, the film is slated for release later this year.
Led by the senior Coyle twins – Mary at point and Patty at shooting guard – Rutgers won the 1982 AIAW national title, defeating Texas at, appropriately, the Palestra in Philadelphia. It marked the first year that the NCAA sponsored a women's basketball tournament at the same time. While no one knew it at the time, the AIAW – which had been the preeminent women's basketball tournament since 1972 – would cease to exist just months later. Since Rutgers hasn't won a team NCAA championship in any sport – yet – the AIAW title in women's hoops stands out in Scarlet Knights lore.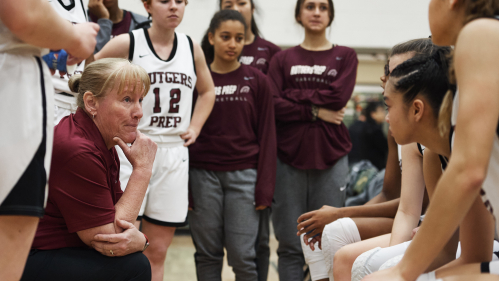 ​For Coyle Klinger, who recently reunited with many of her teammates at the Palestra to be filmed for the project, it's just part of what has been another memorable basketball season. This past December, Coyle Klinger recorded her 600th career win at Rutgers Preparatory School, where she's been the girl's basketball coach for 36 years, and athletic director for the past 23. She joins an elite and short list of coaches to cross that threshold.
"I didn't even know," Coyle Klinger says, referring to her 600th win. "I've never been big on things like that. I prefer to celebrate the team achievements."
Coyle Klinger was the first in a long line of distinguished point guards directing the Lady Knight offense 40 years ago. Second in all-time assists with 604 and ninth in steals with 181, she was named the team's Most Valuable Player following that magical 1981-82 season.
A four-year starter, Coyle Klinger played in 124 games, the seventh highest for a Lady Knight, while also competing for both the National Sports Festival East Team and the U.S.A. National Junior Teams, each time capturing the gold medal (1979). Coyle Klinger andher sister Patty were inducted into the Rutgers Athletics Hall of Fame in 1993.
One of the most respected coaches in the state, Coyle Klinger's program at Rutgers Prep was one of the most successful of the past decade, averaging just under 20 wins per season. The Argonauts won back-to-back state championships in 2016 and 2017, to go along with 11 NJSIAA Prep State Championships, 7 Somerset County Championships, 3 Non-Public B South Championships and 2 NJSIAA State Championships. With a game on the line, many consider Coyle Klinger unsurpassed at motivating her team to a win.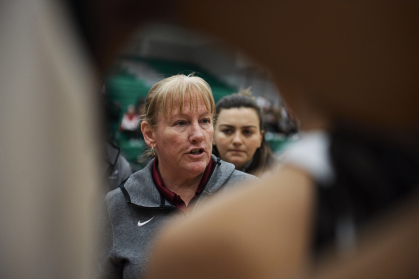 The 600 milestone gave her pause to reflect on the many student-athletes, parents and coaches, as well as the Rutgers Prep community – all of which she credits for playing a role in her program's success. She also thought about Theresa Grentz, and the days when she and Patty would watch their future coach play at Immaculata College (now Immaculata University) in Philadelphia's western suburbs.
"She impressed me most by her iron will," Coyle Klinger says. "She was a fierce competitor as a player and then as a coach." She's still awed by Grentz's ability to coax the most out of herself as well as the athletes she coached. "As I got into the field of coaching many of the lessons I learned from her I used with my own teams," Coyle Klinger says. "Being prepared, not accepting anything but your best and being the best teammate you can be."
With 600 career wins in the books, is 700 wins – and another five years or so at Rutgers Prep – in the cards? "I take it one at a time," she says with a laugh, adding that she has signed 36 one-year contracts at Rutgers Prep. "I guess you could say I take it one year at a time."
​