First-Generation Pharmacy Student Overcomes Obstacles to Help Others on Road to Graduation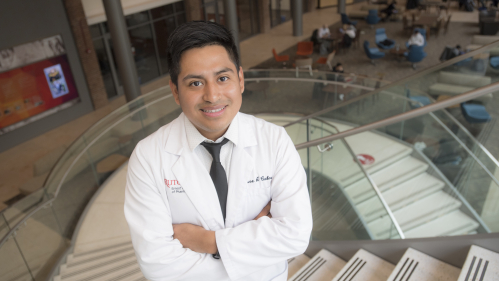 Jesse Cabrera helped his struggling family during COVID and served as a mentor to students
When Jesse Cabrera was in the hospital with a knee injury from high school soccer, he discovered his career path after a conversation with the in-house pharmacist.
"The way the pharmacist was able to fill in some gaps that the doctor couldn't, opened my eyes that the pharmacist's role is unique," said Cabrera, recalling the conversation about side effects of painkillers.
A first-generation student, Cabrera will graduate in May with a PharmD degree from Rutgers' Ernest Mario School of Pharmacy. When he arrived on campus seven years ago, Cabrera said he was timid because he knew no one. The Educational Opportunity Fund (EOF) helped him navigate the transition to college, providing books, tutoring resources and a counselor who checked in with Cabrera regularly.
"It was definitely catered to the person. They wanted you to succeed," said Cabrera about the personalized service.
EOF provided emotional support as well. "They gave me so much moral support. They were basically my second family," Cabrera said. "I was able to open up to them. There was nothing I didn't talk to them about. It lowered the stress on me."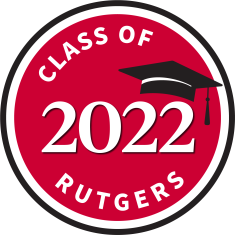 Cabrera faced stress and struggles while at Rutgers. When Cabrera was a sophomore, his father Manuel lost his job as a jewelry designer. Because his father speaks only Spanish, he faced challenges landing a new job. To help support the family, Cabera picked up extra hours as a pharmacy technician at CVS, where he has worked for five years.
Then, in early March 2020, Manuel went to his native Ecuador to help his mother who was sick with Covid-19. Manuel expected to be away no more than two weeks, but got stuck in Ecuador because of pandemic-related travel restrictions set by both countries. He could not return to the United States until late August and lost his job.
"It was a difficult time because he was our primary source of income," the son said. "I had to pick up full-time work at my pharmacy to make the income to pay the mortgage, the bills around the house. At night, I'd pick up shifts at 24-hour pharmacies and then come back and go to sleep and then repeat."
Cabrera made the juggle work, helping his mother Elsa while also working and studying. If he had to miss class to work at CVS, Cabrera had friends take notes for him. If a night shift at the pharmacy was slow, Cabrera could squeeze in schoolwork.
"I did what I had to do to make ends meet," he said. "Any free time, I was working on assignments or catching up on school."
The graduation is the best way I can give back to my parents because all they want is to see me walk across the stage. . . If tears are shed, they are tears of joy, tears of hard work and tears of never giving up.

Jesse Cabrera
Nancy Cintron, associate dean for Student Services and founding director for the EOF program at the pharmacy school, said Cabrera personifies everything that being an EOF student embodies: determination, grit, and resolve.
"Despite what seemed to be one challenge and/or obstacle after another, Jesse kept pushing forward and kept climbing. He utilized every available resource offered by our office and the university to maintain his motivation and determination. This allowed him to excel, not just academically but also personally and professionally," said Cintron. "His tenacity gave him the strength and resiliency to get to the PharmD finish line. I, along with my EOF team, am so very proud of Jesse and know great things await him after graduation."
Cabrera's ability to overcome obstacles made him an excellent choice to be a peer mentor during EOF's summer program in 2018 and 2019. He told the new students about his own struggles.
"I was able to share my experience with them," he said. "I was like, 'everyone starts somewhere.' I was in the same shoes, and the best way is to learn from your mistakes."
Cabrera's goal is to work in psychiatric pharmacy after graduating. A 5-week rotation with Professor Daniel J. Greer sparked Cabrera's interest in the specialty, which addresses the pharmaceutical care of patients with psychiatric-related illnesses and disorders. "It's very interesting to see how the mind works," said Cabrera, adding he wants to help patients who may refuse some psychiatric medications because of stigma.
As he prepares to graduate, Cabrera recalled how he almost gave up, thinking maybe a science degree wasn't for him after he got bad grades in some core classes and also struggled financially.
"I felt defeated," he said. "Looking back on it now, I'm glad I didn't give up. Thankfully, I had the support of family and friends."
Now Cabrera is mentoring his sister, Emily, a sophomore studying biology at Montclair State University. "I tell her my experience and what to avoid," he said, emphasizing the importance of networking from the beginning of college. "Basically, I tell her, 'See what I did wrong and do the opposite.'"
Focusing on graduation, with his family in attendance, kept Cabrera determined and motivated.
"The graduation is the best way I can give back to my parents because all they want is to see me walk across the stage. It will definitely be an emotional moment," said Cabrera, 25. "If tears are shed, they are tears of joy, tears of hard work and tears of never giving up."