Finding Homes for Adults With Developmental Disabilities Continues During Pandemic 
Rutgers School of Public Health uses videoconferencing to make placements happen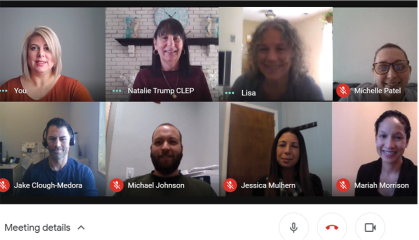 Natalie Trump feared the pandemic had created an impossible situation at work.
How could she and colleagues support families trying to make living arrangements for their adult children with intellectual and developmental disabilities without doing it all in person?
But in March – with a global pandemic creating a worldwide shutdown – the senior training and consultation specialist at the Rutgers School of Public Health Community Living Education Project (CLEP) realized there was no other choice. She would have to adapt and find a new way to work with families to make these placements happen.
"It was like we were taking the humanness out of it," said the CLEP specialist who has an adult daughter with developmental disabilities and understands the importance of getting it right for individuals who are moving into the adult system. "But I thought, let's try. I have to say I was amazed how much we could still support families without the face-to–face interaction."
For almost two decades, the CLEP program at the Rutgers School of Public Health – supported by the New Jersey Department of Human Services, Division of Developmental Disabilities – has provided information and help to those with intellectual/developmental disabilities, identifying community living arrangements and residential living options that will work best for them.
The CLEP team didn't think it would be possible to offer the same personal interaction that was necessary to connect families and providers.
But, Trump now admits, video conferencing can be even more effective. Instead of spending hours in the car driving to appointments throughout the state to meet with families, case managers, providers and others, she stayed at home and used her computer to make the connections. After doing this work for more than two decades, she soon realized an unexpected benefit: she could do these meetings all at once, making it easier to coordinate care for the families she serves.
"I was so happy that we could work during this difficult time," she said. "When I realized that the family and I could meet with the entire team, which could often be more than a dozen people and get this done, I realized how much better this was and how much time is saved for everyone."
CLEP provided invaluable help for Lisa Fitton.
Her son Andrew, who is on the autism spectrum and turned 21 in July, needed to move from the juvenile treatment facility he had been living in for the past year to a home for adults.
Andrew had lived at home with his mother before with some at-home support, but exhibited violent outbursts for a number of years and needed medication adjustment and more behavioral support.
Fitton was at the beginning of looking for an adult home for her son when she met the counselors at CLEP in January. Shortly afterwards, the pandemic put an end to meeting in person, touring houses and face-to-face meetings with the people who would oversee her son's living arrangements.
"One day we were meeting in person and then we had to do everything by phone and Zoom sessions," said Fitton. "I have to say I don't think I missed anything because of this. The people from CLEP were wonderful, very professional and very knowledgeable because some of them had gone through this with their own kids."
Besides helping her to find a home for Andrew, Fitton said the CLEP team also helped her navigate the system and learn how to best advocate for her son who could be more challenging to place because of his behavior. They assured her that with proper support and careful selection Andrew could find a home where they both could feel secure.
"My son is going to have a lifetime of needs and if wasn't for CLEP I might have picked the first provider that came along without thinking about what he needed now and much later on," Fitton said.
Colleen McKay Wharton, CLEP director at Rutgers, said the changes that needed to be made to accommodate families during the COVID-19 pandemic led to some unexpected benefits for the staff and those seeking support and guidance that could remain post COVID-19.
"In spite of the expectations that virtual meetings and planning processes would result in less human connections, in fact it has proven to be very person-centered," she said. "It has allowed more participation from those involved in the process and often decisions made more quickly. A win-win all around."