Last summer while the COVID-19 pandemic kept people at home, Rutgers senior Nanette Dande was one of the many organizers throughout the country who took to the streets to advocate for Black lives.
During a summer filled with racial reckoning, protests and the global pandemic, seeing action happening around the world was motivation for Dande to make her mark. She worked with New Brunswick officials and the New Brunswick chapter of the NAACP to plan a Juneteenth march through the city. As the event went out, it evolved into a rally, with support from students in person and joining virtually far away from campus. Dozens of Dande's friends and colleagues showed up and spoke to the events of the summer and how to progress.
"The goal was to make sure our voices are actually heard as the Black community, not just as student orgs, but what it means to really be a Black student at Rutgers. Making sure people understand how we feel, what we need to be successful and how the administration could better incorporate Black students into the fabric of the institution," she says.
Growing up in Highland Park, New Jersey, Dande craved an environment that was diverse and offered that big university feel without breaking the bank. She also wanted a change and hoped to go away to college. "I wanted to get far away because I grew up in the area and I felt like I needed something new." But she ended up staying local after she was admitted to Rutgers University-New Brunswick through the Educational Opportunity Fund (EOF) Program, which provides financial assistance and support services for students from educationally and economically disadvantaged backgrounds.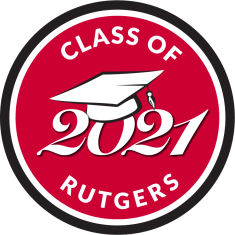 "The summer before college is usually a time to chill and hang out with friends, but in the EOF program there are some pre-fall activities and courses to take, so I was able to finish my math requirement before even officially starting classes," Dande says.
"I've never had that experience of a parent to look up to who has gone to school already here in the United States, or college to begin with, so it was very useful for me to make sure that I had a plan to navigate through college as a first-gen college student," says Dande, the daughter of Kenyan and Tanzanian immigrants.  
Majoring in human resource management with minors in health administration and business through the School of Management and Labor Relations, the faculty provided her the support and training to tackle problems, while also allowing relationships to build. "They really care about the success of their students. Really preparing and training them to be good HR professionals who are passionate about their work and actually understand what they're doing."
Her human resource skills would come into play during the COVID-19 pandemic as the incoming president of the United Black Council, the administrative organization that connects the majority of Black organizations on campus.
"Being fully virtual was a barrier in the beginning, for sure. It was very hard for me to really put my voice out there and be a visible leader being just on Zoom," Dande says. One of the biggest battles was finding the right amount of time for productive meetings while still encouraging collaboration and community.
"I really focused on time management, being more precise when it came to meetings and wanting to give everyone a break as we navigated the pandemic. I decided to keep major meetings to one a month instead of having multiple meetings in a month like we would do in-person. The goal was to make sure that we're actually communicating with each other and being able to build that community."
Though Dande's leadership helped to make things run smoothly, the world threw even more challenges at her and the Black Rutgers community during this past Black History Month, when several programs were attacked by racist rhetoric via Zoom bombing. The events were so disturbing, some Black organizations considered cancelling or rescheduling their events to avoid potential issues.
"It was a really scary time. Having support and solidarity from the larger university community really helped us feel like our concerns were being heard and showing that there is still so much work to do."
With a job offer pending in Chicago and applying to more HR and consulting jobs in New York City, Dande is cautiously optimistic about the world after graduation. Weighing job options, location and potentially beginning graduate school have made her reluctant to move across the country just yet.
"There is a lot of change happening at once: a new administration with different priorities, cases around racial justice playing out in real time, laws are being passed, policies are being changed, voices are finally being heard. Does that guarantee change will come?'' Dande says, "Not necessarily, but we must seize the momentum now or there may be more decades of suffering an unjust system. Now is the time."
With her undergraduate career in the rear-view mirror, Dande is ready to tackle whatever the world will throw at her next. "Believing and having faith in a better tomorrow is what has really kept me going and pushing instead of always living in fear. Better days are coming."