Fighting Hate While Preserving Freedom
Former U.S. Secretary of Homeland Security Jeh Johnson opened discussion during daylong symposium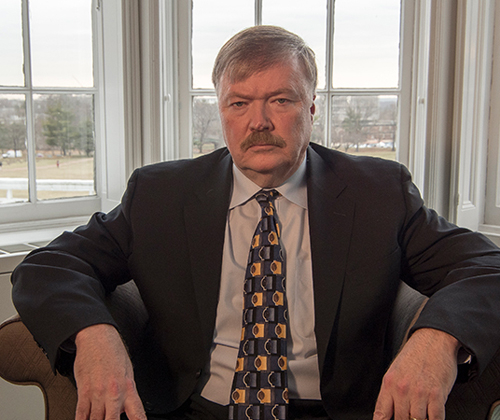 Homeland security and law enforcement officials came together with religious leaders and leading academic researchers at Rutgers University to explore how to combat a resurgence of hate while protecting our First Amendment protection of free speech.
A daylong symposium, Fighting Hate While Preserving Freedom, will focused on best practices for confronting hate at houses of worship, online, on campuses and in the broader community. Former U.S. Secretary of Homeland Security Jeh Johnson opened the discussion, while religious leaders who have faced prejudice and hate in their communities were among panelists to talk about countering hateful actions and speech. Find the full agenda here for the event, which was open to the public.
Rutgers Today talked with John Farmer Jr., university professor and director of the Miller Center for Community Protection and Resilience – a co-sponsor of the best practices forum – about why this is a pivotal moment for Rutgers to host this discussion.
Why is this the right time for a symposium on combating hate while preserving freedom?
Although its causes can be debated, the resurgence of hate – targeting vulnerable communities and people in both speech and conduct – is undeniable. Targeting of Muslims and Jews – to name just two communities – has escalated dramatically in the past few years. The purpose of this presidential forum is to explore the best practices for combating hate within our constitutional framework. Our efforts to combat hate, in other words, must be balanced against our First Amendment protection of free speech. 
What factors have played into the resurgence of hate in the United States and abroad?
We live in a world of unprecedented human migration. An estimated 1 billion people now live in places far from the land of their birth or their ethnic origins. We live, therefore, in a world of vulnerable populations. Viewed in this context, some reaction was perhaps inevitable; the "other" in society, throughout human history, has been subject to isolation, vilification and, all too frequently, persecution. The scale of the migration of recent decades has made international borders seem almost quaint, leaving many members of majority populations feeling threatened politically, culturally and personally, and many minority populations feeling isolated, stigmatized and singled out. Add to this simmering resentment a media climate that thrives on division and the accelerant of transnational terrorism and domestic mass casualty attacks, and the resurgence of hate is not surprising.

What are the challenges of dissuading hateful discourse while protecting free speech?
The question is: What can be done to combat hate in a way that is consistent with our belief in the freedom of speech? Hate by itself is not illegal. Our nation's foundational principle is that freedom of expression is essential to self-governance.  As a consequence, unlike in countries such as Germany, where the "Heil Hitler" salute or the swastika can be forbidden as a matter of law, in the United States many such forms of expression are in many contexts protected speech; our faith as a nation is that such reprehensible expressions will not survive the free exchange of ideas. So our fundamental belief in freedom of speech necessarily complicates the attempt to vanquish hate.
What is the mission of the Miller Center for Community Protection and Resilience?
The Miller Center formed at Rutgers recognizes the world of vulnerable communities we now inhabit and the resurgence of hate that threatens them. Stated simply, the role of the center is to help break down barriers and instead to build bridges between vulnerable communities and law enforcement, vulnerable and majority communities and among the communities themselves.
The center's origins are in a project we undertook to look at the safety of the world's original diaspora community, the Jewish communities in Europe.  These communities have been able to survive in a hostile and sometimes murderous climate for centuries; many of the measures they have undertaken to improve their safety can be applied to other vulnerable communities.  You can read about how the Rutgers team worked closely with law enforcement and the Brussels community to develop a program to strengthen the relationship between the community and the police after the bombing of the subway and airport in Brussels in March 2016. Since then, we visited and developed relationships in cities such as Copenhagen, Budapest and Amsterdam. And we have worked with U.S. communities, such as Dearborn, Michigan, and Hennepin County, Minnesota, to develop a framework for early intervention to help prevent incidents of mass killing.
We believe that the future of world civilization depends on our ability to mediate our differences, to find ways for diverse communities with divergent beliefs to discover common ground and to combat hate while preserving our freedoms. We hope to play a role – however small – in securing that future.
The symposium was sponsored by Rutgers president Robert Barchi and the Miller Center for Community Protection and Resilience and co-sponsored by the chancellors of Rutgers University-Camden, Rutgers University-Newark, Rutgers University-New Brunswick and Rutgers Biomedical and Health Sciences.