Daniel Ortega wanted to become a physician since middle school when his brother ended up in the emergency department, but he kept his dream a secret for years because it seemed out of reach.
Seeing the power doctors had to make a difference when his family received a middle of the night phone call became a transformative moment that inspired him to want to join the small number of Hispanic men entering medicine.
 "My mom picked up the phone. She did not speak any English. She panicked and thought my brother had died," Ortega said.
He remembers rushing to the emergency department, feeling scared and thinking about the arguments he had with his brother over unimportant and trivial matters.
"We got there and although he looked horrible because of a physical altercation, my brother was sitting there talking to the doctors who were making him feel better physically and mentally," Ortega said. "Seeing how a physician helped to create an environment where my relationship with him went from a type of sibling rivalry to what we have today inspired me to go into medicine."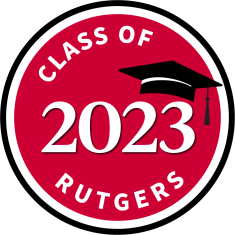 Ortega will graduate in May with a degree in biological sciences, a 4.0 cumulative grade point average and will fulfill the middle school promise to himself when he starts medical school at Columbia University in August.
"There were times that I didn't think it would happen because I knew how hard it was," said Ortega, a senior in the School of Arts and Sciences at Rutgers-New Brunswick. "I looked at the average number of Hispanics in medicine and the underrepresented minorities and worried that it might not happen, so I did not want to make any announcement."
Ortega is among a new group of minority men deciding to become doctors. According to the Association of American Medical Colleges (AAMC), first year medical school enrollment experienced significant gains among historically marginalized racial and ethnic groups. While enrollment increased more than 20 percent among Black and 7 percent among Hispanic, Latino or Spanish medical school students, the majority are women.
The 22-year-old North Brunswick resident, who has been on the Dean's List since he got to Rutgers, remembers when he was a young boy and school wasn't as important. "After learning more about the night my brother was admitted to the emergency department and how big of a supportive role the doctor had on him, I became focused on my studies in high school and beyond so that I could have a chance of getting into medical school."
His plan, however, came to a halt and could have gone off-track entirely. In the fall semester of sophomore year, Ortega had to have surgery to remove a benign tumor in his jaw. The golf-ball size tumor, and the cyst growing on top of it, left him in pain, unable to eat and in the hospital for a week.
"They had to remove a big portion of my jaw; it was not an easy time," Ortega said. "I remember waking up from surgery and finding it pretty hard to even breathe."
Still, he took it day by day. Ortega learned to appreciate the small things, like being able to drink a glass of apple juice. Once out of the hospital and recovering at home, Ortega would wake up early, go through old class materials and lectures, reach out to his professors and do all he could to catch up.
"Despite the setbacks, Daniel completed the semester with all A's and was able to flourish," said Kamal Khan, director of the Office for Diversity and Academic Success in the Sciences (ODASIS) at Rutgers, which works to increase the recruitment and academic success of underrepresented and disadvantaged students interested in STEM (science, technology, engineering and math). "His tenacity and adaptability are remarkable and will serve him well as a future physician."
Ortega believes in giving back to the community. For three years he served, first as a third responder providing support to EMTs and then as an EMT and Crew Chief for North Brunswick First Aid and Rescue. He received the squad's Excellence in Patient Care Award and the Two Years of Volunteer Service Award.
"I really felt good about being able to be there even when I wasn't delivering direct emergency care," said Ortega. "There were times when someone couldn't speak English and I talked to them in Spanish, and they appeared to become more comfortable and understood we were there to help them."
Khan said Oretga's "calm and trustworthy" demeanor has enabled him to develop a good rapport with everyone he works with. He is also tutoring students planning to take the Medical College Admission Test (MCAT). It's the first time Ortega has been an instructor, in charge of teaching those like him who want to become physicians. He wants to offer them the same help that others have given him over the years.
"It's been a learning experience," said Ortega. "I know I've been hard on them, like I've always been on myself. I truly believe each of them has developed skills and habits that will serve them in their future as physicians."