The two-day event, which features more than 250 employers, is set from 12 p.m. to 4 p.m. Sept. 15 and Sept. 16 at Jersey Mike's Arena 
Rutgers University–New Brunswick is bringing the Fall Career and Internship Mega Fair, one of the nation's largest and most diverse recruiting efforts, back to Livingston Campus after being held as a virtual event the past two years because of COVID-19. 
The two-day event is set from 12 p.m. to 4 p.m. Thursday, Sept. 15, and Friday, Sept. 16, at Jersey Mike's Arena, 83 Rockafeller Road, Piscataway, N.J.  
The fair is open to students and alumni from all disciplines throughout Rutgers University (including Rutgers–New Brunswick, Rutgers–Camden, Rutgers–Newark and Rutgers Biomedical and Health Sciences).  
More than 250 employers are registered to meet and discuss full-time, part-time and internship opportunities.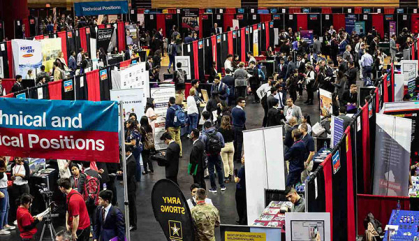 "Employer interest was at an all-time high, and we are now fully booked," said Kait Weiss, associate director of strategic outreach with the Rutgers Office of Career Exploration and Success.
"That is a sign to me there is a strong interest in coming back to campus to engage with students and alumni," said Janet Jones, director of industry and student connections at the Office of Career Exploration and Success. "We know that students also prefer in-person interactions with potential employers."
Weiss said the previous in-person fall fair, held in 2019, drew more than 5,200 attendees.
Employer interest was at an all-time high, and we are now fully booked.

Kait Weiss

Associate Director of Strategic Outreach, Office of Career Exploration and Success
Employers participating in this year's fall fair include ADP Inc., Bayer AG, Bloomberg LP, Capital One Financial Corp., Chewy Inc., Dell Technologies Inc., Eli Lilly & Co., FDM Group (Holdings) PLC, FirstEnergy Corp., Johnson & Johnson, Lockheed Martin Corp., Merck & Co., PNC Financial Services Group Inc., SHI International Corp., Tata Consultancy Services Ltd., UBS Group and U.S. Bancorp, among others.
Jones, who described the current recruiting climate as a "highly competitive landscape," said preparation is crucial for internship- and job-seekers. Noting that employers are recruiting interns earlier than in the past, Jones has some advice to those attending the fair:
Make sure your resume is current.

Research organizations. 

Prepare an introduction (elevator pitch). 

Follow up with connections made. 
For students seeking internships, Jones said now is the time to connect with employers, noting that companies and organizations have "front-loaded the recruiting process by looking for talent in the fall." 
The fair will be segmented by businesses and organizations recruiting for technical roles (science, technology, engineering, computer science and health), nontechnical positions (business, arts, communications and education) and both technical and nontechnical posts. 
Candidates are welcome and encouraged to attend both days, as both Thursday and Friday offer a variety of employer-engagement opportunities, said Weiss. 
Registration for the event, which is only available to Rutgers University students and alumni, is now open: 
Rutgers University students may preregister by logging into their Rutgers Handshake account. Preregistration is preferred, but not required. Walk-ins are welcome.  

For alumni of Rutgers–New Brunswick, they may preregister by logging in to their Rutgers Handshake account. Preregistration is preferred, but not required.  

For students and alumni of Rutgers–Camden and Rutgers–Newark, preregistration isn't required and walk-ins are welcome. 
In addition, the Office of Career Exploration and Success will provide fair-preparation workshops and drop-in resume clinics, both in-person and virtual.  
Weiss said Rutgers–New Brunswick students are encouraged to take advantage of fair-preparation resources to help build confidence and feel better equipped for this large-scale networking opportunity. 
As for COVID-19 protocols, organizers of the event said all candidates, recruiters and staff will be required to show proof of vaccination or a negative PCR test result taken within 72 hours before the event for admission. All attendees will be required to wear masks.