Physicians vie with dentists in hockey club match to raise funds for pediatric cancer foundation
'We're students studying the healing arts, and we're helping children with cancer ... That was a cause we could skate for.'

– Mike Kaufer, co-captain
What do you get when you mix Rutgers medical and dental students, stir in some faculty and alumni, and add ice – all in the name of a good cause?
The 2014 Winter Classic Hockey Game.
It's Rutgers' "docs vs. dents" in the club's second charity match, which takes place Feb. 21 at 8 p.m. in the AmeriHealth Pavilion at Newark's Prudential Center.
The face-off pits the Medwings – students and alumni representing New Jersey Medical School (NJMS) and Robert Wood Johnson Medical School (RWJMS) – against the Bitewings – Rutgers School of Dental Medicine (RSDM) students and alumni.
Last year's event drew more than 300 screaming fans and raised $7,400 for Superstorm Sandy relief.
This year's cause hits closer to home: The Sean Hanna Foundation, established by Jessie Hanna, an RWJMS student, in honor of his brother who died of pediatric cancer. The foundation provides professional and financial assistance to families of children battling cancer.  
The club wanted to support a medical-related charity and discovered an appropriate cause right in its back yard. "One of our players is a classmate of Jessie's at Robert Wood Johnson and suggested the foundation," says Medwings co-captain Mike Kaufer, a fourth-year NJMS student. "Once he mentioned it, choosing Jessie's foundation for this year's Winter Classic was a no-brainer: We're students studying the healing arts, and we're helping children with cancer and their families through a foundation started by a fellow medical student in honor of his brother. That was a cause we could skate for."
While it's "docs vs. dents" in the Winter Classic, during the regular club season the athletes play collectively as the Medwings, established in 2007. The charity game will mark a return of players now in residencies or in other professional endeavors. Among the returnees are the club's founders – Mike Klein, now a surgery resident at SUNY Downstate Medical Center in Brooklyn, and Jeremy Whang, a radiology resident at Beth Israel Medical Center in Manhattan.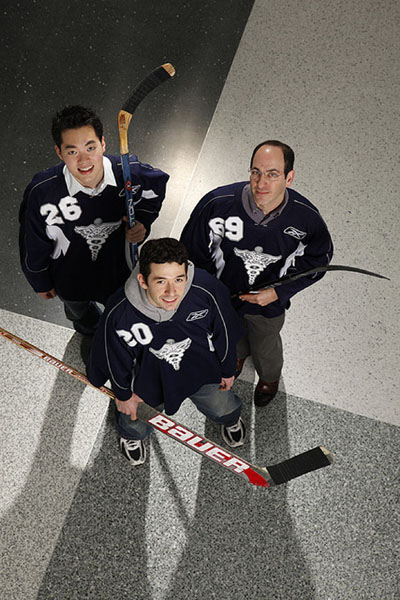 As NJMS classmates, Klein and Whang connected through their mutual love of the sport. "We both had played hockey for years and were in adult leagues with strangers," Whang says. "We thought, 'There have got to be more medical students who would want to play hockey.'" They were right. Soon, a team formed through word of mouth, spreading from the medical school to the dental school.
"We started out with a rather rag-tag group, but over the years the club has grown in size and talent," says Steven Levison, a professor in NJMS's Department of Neurology and Neurosciences who doubles as a player and the club's faculty adviser. "After about three years, we became big enough to split into two teams based on skill levels."
Over the years, the Medwings have played in local adult leagues at the Montclair State University and AmeriHealth Pavilion rinks. Since finding time for hockey in students' schedules can be difficult, the team expanded its roster to 25 skaters – the maximum allowed by the leagues in which the Medwings compete – and keeps it loose: Whoever can show up for a game, shows up. "We only need six people to play, but that can be extremely tiring," says Whang. "Ideally, we should have about 15 people, but sometimes it's six and sometimes it's 20."
The benefits of skating for the Medwings are many. "Hockey is an intense game. It requires us to be in good physical condition and allows us to channel our pent-up energy on the ice," says Judson Dacher-Shapiro, an RSDM fourth-year student. "It's a fantastic stress-reliever."
Plus, there's the networking. "Before the club started, there was not a lot of interaction between dental students and medical students. The Medwings have been a bridge between the schools – and now to the rest of Rutgers," Levison says. "The team has fostered great camaraderie. We have first-year medical students playing with fourth-year dental students. In addition to the usual locker room talk, they'll also share experiences and get advice."

"It's amazing that the club has evolved to where we can raise funds for the community," says Kaufer, who credits co-captain Joseph Ippolito, an NJMS second-year student, for the Winter Classic becoming a reality. "He had done fundraising as a Rutgers undergraduate and really helped us bring the club to the next level."
The Medwings, which will unveil its new team logo at the Winter Classic, are raising funds through its crowdrise site; a $5 donation at the door is suggested. A pre-game dinner will be held at Edison Ale House and a post-game bar event will be held at Kilkenny Alehouse, both in Newark.
"Last year, the dentists won, but it was by a slim margin," says Whang. "This could be the doctors' year."