"The Gendered Body" course is dedicated to unmasking the phantom to see the real person underneath
Sometimes what's scariest in a horror movie is what's in the shadows.
The sexual guilt that lurks in vampire movies. The social anxieties that haunt zombie films. And always that vague but inescapable fear of "the other."
The upcoming winter session course "The Gendered Body" will be dedicated to examining how our cultural fears are shaped and reshaped through the genre of horror.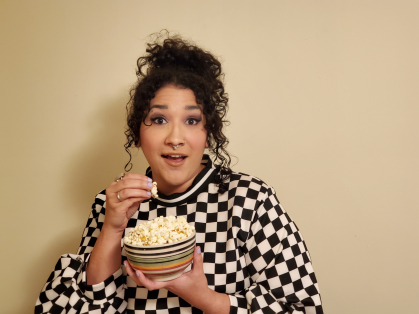 "Different people have taught this course differently, but I'm focusing on horror and the grotesque," says instructor Al Valentín, who will teach the course that is being offered through the Division of Continuing Studies.
"It's essentially thinking about how differences are constructed in society. How does someone get framed as monstrous? Putting someone outside the bounds of humanity is always the first stage in repression."
For Valentín, a devotee of the genre, it's a way to put a personal spin on a traditional offering from Rutgers School of Arts and Science's Department of Women's, Gender and Sexuality Studies.
"It's great to be able to teach something I'm interested in and love," says the doctoral candidate, who mentions the Scream franchise as a particular horror favorite. "I love being able to get students to think more critically about the world, and the media they consume, and maybe be more compassionate."
The course allows students a way to step outside their major, says Barbara Rusen, assistant director, Office of Summer and Winter Sessions.
 "They are rigorous courses, but the environment is a little smaller, and it gives students who might not have the time or mental space in fall or spring semester a chance to do these sorts of extra-curricular academics. For a student who wants to step outside of their major, satisfy their curiosity, experience new things, it's a nice complement."
The course's analysis is a bit like a classic horror film climax – unmasking the phantom, to see the real person underneath. But rather than serving as the end of the experience, this revelation only signals the beginning of a deeper appreciation.
 "We look at different subjects through different films," Valentín says. "Teeth explores gender and rape culture through the idea of a deadly female reproductive system. Interview With the Vampire evokes sexuality and contagion and fetishization, and also says some fascinating things about queer desire, and non-normative family structures."
Gabriella Juarez, a psychology major and a huge horror movie fan who graduated this year, said the winter session allowed her to explore a topic she may not have been able to during the regular academic year.
"Get Out was a movie I loved when I saw it in theaters," Juarez says. "But I saw more in it now, after the professor showed where it missed the mark, and minimized the trauma of a black woman's oppression. Or how 'Split' could be problematic – showing a person with a disability as being more resilient than other characters, yet still reducing people to either heroes or supervillains."
Valentín says watching a horror film in the classroom is a different form of watching.
 "I make sure I'm picking films that subvert the usual expectations a little, that can be seen through an intersectional lens. By the end of the course, I think students are a little surprised to see how they're now able to evaluate other types of films, how it impacts the way they watch any form of media."
It's satisfying to be able to expand a student's knowledge while being able to share a favorite genre, Valentín says.
"I used to be a bit of a scaredy-cat about horror – I was really horrified by Halloween as a child," Valentín admits. "But I'm a big fan now. And that's part of horror's appeal. We're trying to master our fears, to make sense of them. There's an element of taboo, too. It shows us things that are scary, even repulsive, things that make you want to look away. And yet you keep watching."
Rutgers is currently waiving late fees for Winter Session courses and has moved the registration deadline. Students can sign up as late as Dec. 21, the day before classes begin.