Exploring Islamophobia Across the Globe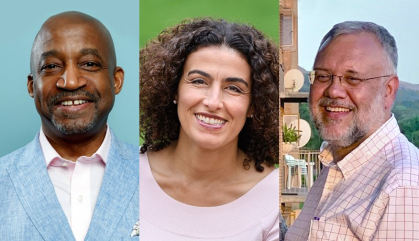 Scholars, journalists and community leaders to discuss discrimination and violence against Muslims in the United States, Asia and Europe
With discrimination and bigotry reported on the rise in many immigrant and minority communities, scholars, journalists and community leaders will gather at Rutgers University on March 12 to explore discrimination and violence against Muslims in the United States, Asia and Europe.
The "Global Islamophobia in an Era of Populism" symposium at Rutgers Business School in Piscataway will feature Ebrahim Rasool, former South African Ambassador to the United States. He joins scholars from universities including Rutgers, Yale, Georgetown and Brooklyn College. The event will be livestreamed only due to recent efforts to mitigate the spread of COVID-19.
Rutgers Today talks with Sahar Aziz, law professor, Chancellor's Social Justice Scholar, Middle East and Legal Studies Scholar at Rutgers Law School and founding director of the Rutgers Center for Security, Race, and Rights about the timing for the symposium and the need to gather academic scholars and community leaders to discuss how to address discrimination and violence against Muslims across the globe.
Why is this moment in time right to bring together these unique voices to discuss Islamophobia across the globe?
America is experiencing unprecedented levels of political polarization, fueled by the rise in far-right wing politics.  As a result, bigotry and discrimination against immigrants, racial minorities, and Muslims have become normalized and mainstreamed – notwithstanding America's stated commitments to racial equality and religious freedom. The best antidote to prejudice and misinformation is education.  
For this reason, the "Global Islamophobia in an Era of Populism" conference aims to counter widespread fallacies that Islam supports violence and Muslims are prone to terrorism, which result in tangible harms to Muslims' lives and liberty.  Purposely taking an international approach, the conference brings together eminent scholars to examine the transnational connections between Islamophobia in the United States, Europe and Asia and common causal links with right wing populism.
Why is Rutgers the right place for a discussion about discrimination, xenophobia and violence against Muslims with academic scholars and community leaders?
Rutgers University stands out as one of the most diverse universities in the United States in a state with the largest Muslim community in terms of percentage of the state population. Additionally, Rutgers faculty possess a breadth of expertise in African American studies, Middle East and South Asian studies, civil rights law and national security law and Islamic studies – which all inform how Islamophobia and xenophobia operate today. 
Student interest in the connections between the rise of far-right politics in the United States and xenophobia, racism and Islamophobia manifests in multiple ways.  A critical mass of Rutgers students on all campuses have a personal stake in global Islamophobia due to their status as immigrants and children of immigrants from Muslim majority countries or religious identities as Muslims.  Many Rutgers students study abroad in the Middle East, South Asia and African nations where Muslims comprise a large percentage of the population. And Rutgers' diverse student body leads the nation in their commitment to racial equality, immigrant rights and gender justice.
How can gatherings like these help counteract hate and discrimination?
Conversations about Muslims are rarely informed by facts and accurate analysis. This academic conference offers an antidote to this troubling trend. As a public university, Rutgers has an obligation to offer forums for students, faculty, staff and community members to learn from experts about issues that affect their lives.  With Islamophobia, anti-Semitism, xenophobia and anti-black racism on the rise, we have an obligation to facilitate civil discussions while preserving academic freedom and free speech.  While these may be uncomfortable conversations, they are essential for educating the next generation of leaders in an increasingly diversifying population and globally interconnected society.  
Learn more about the "Global Islamophobia in an Era of Populism" symposium.