Exploring the Importance of Freedom of Expression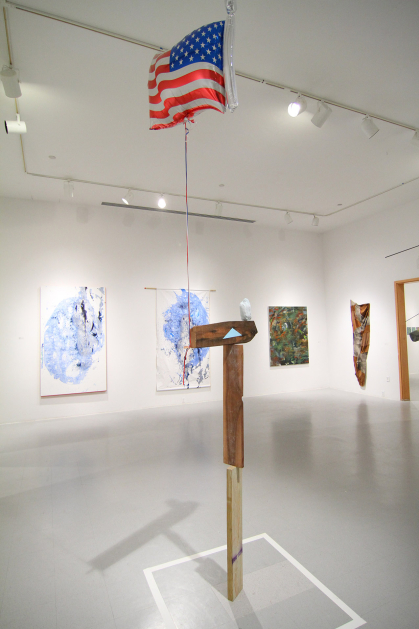 The University of Kansas removes a controversial work of art in which images are placed on an American flag; a Missouri high school student's painting portraying police officers as pigs is removed from the U.S. Capitol Building in response to Republican lawmakers' complaints; a faculty member at Olivet Nazarene University is fired, allegedly because of the content of a novel he'd written.
These are just a few examples of how questions surrounding freedom of expression are stoking powerful responses in institutions nationwide.
The Department of Art and Design at the Mason Gross School of the Arts and the public art project Windows of Understanding present a Freedom of Expression virtual panel from 6 to 8 p.m. on Thursday, Oct. 8. The event, which is free and open to the public, will delve into the often-contentious issue of freedom of expression as it plays out in the classroom, the art world, and beyond. 
Educators, students, arts leaders, and artists are encouraged to attend and participate in the discussion. 
 "In the university setting, freedom of expression is the crux of business," says Cassandra Oliveras-Moreno, administrator of communications and collaboration for the Department of Art and Design and a co-founder of the Windows of Understanding public art project, which champions social-justice issues. "This is all the more true for those working in the arts. As the political landscape becomes increasingly fractured, sensitivities are heightened, and there has been a palpable sense that people may be holding back in the classroom. Whether walking on eggshells when responding to peers or going full speed in the other direction to shut down any content that could potentially offend, there needs to be room for reflection."   
 "Ultimately," says Oliveras-Moreno, a resident of Highland Park and a Rutgers alumna, "it is hoped that the gathering will serve as one of these reflection points." She says the conversation will "explore the nuance and complexities faced by artists and institutions grappling with questions of censorship. What does the First Amendment say that our rights are—and aren't?" 
Nancy Kranich of Rutgers University Libraries and the School of Communication and Information will moderate. Panelists are Sarah McLaughlin of F.I.R.E. (Foundation for Individual Rights in Education), who will address "know your rights" aspects of the issue; Summer Lopez from PEN America, who will explore the complexities that institutions navigate; and Nona Faustine, an artist with first-hand experience of censorship. 
Kranich says diving deep into the issue of expression is critical—especially in this moment.  
"In a highly polarized political environment, it's hard to tolerate and defend contentious ideas," Kranich admits. "But during such perilous times, we must embrace opportunities to discuss the importance of freedom of expression and remind ourselves that a democracy depends on the free exchange of ideas." 
 
This program is recommended for ages 18 and up. To submit a question in advance to the panelists, email art.design@mgsa.rutgers.edu. The event is free and open to the public, but registration is required. Register via this link.