Expanding Horizons for Motivated High School Students
From limited English to predicted valedictorian, Randy Roque Sanchez achieves success with help from two Rutgers enrichment programs
Three years ago Randy Roque Sanchez, a rising senior at John F. Kennedy High School in Paterson, moved with his family from the Dominican Republic to New Jersey. He spoke no English but learned quickly through books and television and by junior year Sanchez, who excels at math and science, is now ranked number one in his high school class with a 3.95 GPA.
With his eye on Rutgers after graduation, Sanchez has enrolled in two university enrichment programs to advance his engineering skills.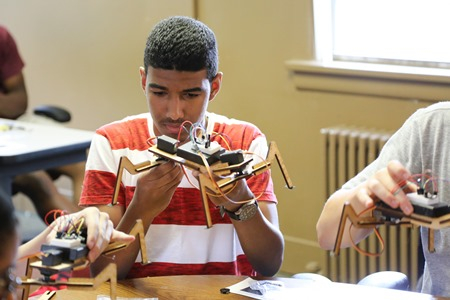 Last year, Sanchez participated in Shadow Program sponsored by Rutgers Society of Hispanic Engineers, a student chapter of a national organization that motivates high school students to pursue higher education in engineering. For the Shadow Program, high school students live on campus for several days, participate in teamwork activities, attend engineering workshops and meet faculty.
"I learned that you don't always need a lot of complicated or expensive supplies to build things," says Sanchez of the Shadow program.
Excited by his first experience at Rutgers, Sanchez was recommended by his high school counselors to enroll in the Pre-Engineering Summer Academy, an intensive, one-week certificate program running July 9-15.  Unable to match the cost of the program, Sanchez was able to find scholarship funding to allow him to participate. The program, run by Rutgers Division of Continuing Studies, introduces high school students ages 16-18 to aerospace, biomedical, civil, computer, electrical, forensic and mechanical engineering through lectures, demonstrations, hands-on projects, tours and field trips. 
"The Pre-College Summer Academy is a way to spotlight many disciplines within engineering for next-generation students. The summer academy opens up the doors of higher education so students can see first-hand what engineering and Rutgers might offer for their future," said Richard Novak, vice president of continuing studies and distance learning at Rutgers.
Sanchez is enthusiastic about his enrichment experiences at Rutgers and how they have expanded his perception of what he might achieve in the future.
"Before programs like these, I didn't know much about college.  These experiences really help me explore and learn more," Sanchez says.
He hopes to use these opportunities to gain acceptance to college, earn an engineering degree and begin solving problems in communities like his hometown, where new technologies are scarce. Gilman Choudhury, the college prep teacher who recommended Sanchez for the Pre-College Summer Academy, says that without partnerships with Rutgers and other organizations, students like Sanchez would struggle to find that level of academic enrichment opportunity in Paterson, a place where budgets have been reduced, unemployment is high and families struggle to provide the basics.
"Randy is a fantastic student and very dedicated to education. He really fell in love with Rutgers when he came to campus and met with professors. The fact that Randy has made it this far and has not been sidelined by anything around him is truly remarkable," says Choudhury, community outreach and special projects coordinator at JFK.
Sanchez still struggles at times with the extensive vocabulary in the English language and with essay writing, but in his other classes he does not need to study much as long as he never misses a class. He listens, understands and retains. Outside of class, Sanchez is an executive officer on the JFK Robotics/ College Prep Team. This group of 30 students has developed a tight bond of encouragement.  In addition to robotics, the member receive SAT prep, engage in 100 hours of community service, and share information about enrichment opportunities.
"We all have the mentality that we want to go to college. We help each other get there," Sanchez adds.
If he did not have the opportunity to come to Rutgers for summer enrichment, Sanchez says his list of summer activities would be limited to staying in his house and working at a grocery store.
"It is much harder for students to see their future if they don't have a mentor to guide them through college and tell them about opportunities," Sanchez says. "I am lucky to have my advisory teachers and these programs."
---
For media inquiries, contact Beth Salamon at es753@docs.rutgers.edu.