The documentary on Michael Jordan and 1997-98 Chicago Bulls features Ron Harper Jr.'s namesake father in the starting lineup
Less than a month after the coronavirus cancelled Rutgers' first chance at an NCAA Tournament appearance in 29 years, Ron Harper Jr. found himself watching ESPN's much anticipated The Last Dance documentary about the career of Michael Jordan on his father's iPad.
Not only was he getting an advance look at the miniseries about the basketball legend and the Chicago Bulls' 1997–98 season, he was doing so next to someone who started every game during that championship – his namesake and father, Ron Harper.
"It's definitely a little weird and somewhat humbling to see your dad on there," said Harper Jr., a rising junior with the Scarlet Knights men's basketball team. "It's him talking, then it flashes to Michael (Jordan), and then to Scottie (Pippen) and he's just sitting there watching with me like it's an ordinary thing. A lot of people text me when the show is on. It's been fun watching and following along"
Given the popularity of Jordan and the Bulls, combined with the absence of live sports, The Last Dance continues to reach massive audiences. Including re-airs and on-demand viewing, the first two episodes of the 10-part series have reached an audience of over 13 million.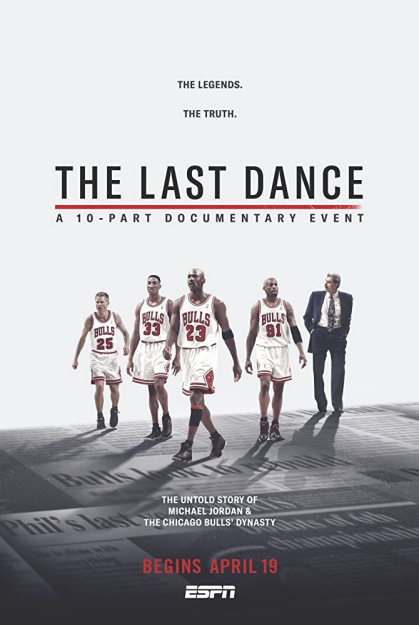 "My dad told me that a lot of people are going to see things that they wouldn't expect," said Harper Jr. "He let me watch the first two episodes in advance but told me I needed to watch the rest on TV like everyone else."
Harper Sr., who played 14 seasons in the NBA, won three consecutive titles with the Bulls before concluding his career with the Los Angeles Lakers, winning two additional championships playing alongside the late Kobe Bryant. He is not only prominent in the documentary as a teammate of Jordan's, but as an opponent. Prior to joining the Bulls in 1994, he played for the Los Angeles Clippers and the Cleveland Cavaliers, a key rival of Chicago in the late 1980s.
"He talks very highly of Jordan," said Harper Jr. "He credits him with motivating him to be a better player and to have that championship attitude. He wasn't thrilled about those 6 a.m. breakfast club workouts, but he learned to embrace that greatness is a lifelong chase. You need to live it and to breath it."
Jordan made numerous series-winning shots during his Hall of Fame career, the first of which came against Cleveland in the 1989 playoffs and has been deemed simply "The Shot." The documentary reveals that Harper Sr. asked Cavaliers coach Lenny Wilkins to guard Jordan on that final play but was rebuffed. Jordan acknowledges that the decision was a mistake, and the image of his emphatic celebration afterward is one of the most lasting in NBA history.
"I've heard that story so many times," said Harper Jr. "He's mad about it till this day. You could see it in the interview. That shot really changed the trajectory of the Eastern Conference and put Michael Jordan over the top."
Among the revelations in the documentary is one of Bulls player Dennis Rodman taking a mid-season vacation to Las Vegas with actress Carmen Electra that extended beyond the 48-hour window granted by head coach Phil Jackson. The acknowledgement not only showed the coach's unique approach, but spoke to the different intensity of media engagement, as opposed to today's social media-driven news cycle.
"That just wouldn't happen," said Harper Jr. "Nowadays, paparazzi would follow you everywhere as soon as you walked out of the practice facility. If you get a day off now, you are probably just going to stay in the house, especially if you have a level of popularity."
After Kobe died, it was hard to play basketball for a while. My teammates, my coaches, and all of Rutgers really, helped me to get through that.

Ron Harper Jr.
Just wanting to stay home is a sentiment that Harper Jr. can relate to, given his experiences over the past five months. In addition to the disappointment of having the post-season halted, he and the basketball world suffered a significant loss when Bryant died in a January plane crash. Harper Jr. had an important relationship with Bryant through his father and his mother, Maria. He wears Bryant's No. 24 and models his game after the superstar.
"These last few months have been rough, but it's shown me that I'm surrounded by wonderful people," said Harper Jr. "After Kobe died, it was hard to play basketball for a while. My teammates, my coaches, and all of Rutgers really helped me to get through that.
"I always think about being in our locker room when we returned from Indiana after the Big Ten and NCAA Tournaments were canceled. I just started to break down. Of all the people to console me, it was Akwasi [Yeboah], after the end of his college career was just taken away. He was so calm, so confident that we were both in the right place and that better days were ahead for us."
Harper Jr. credits his mom with instilling the perseverance that he draws from. A former player at the University of New Orleans and a prominent coach on New Jersey's Amateur Athletic Union basketball scene, she is a constant at home, at the Rutgers Athletic Center and on the road.
"She's my superstar," said Harper Jr. "She's the reason I'm the person and the player that I am. Above everything, she's my greatest life coach."
Wherever the game, Harper Jr. needs to confirm Maria's seat location prior to tip-off. Their brief engagements while action is paused are fundamental.
"We have a relationship that's almost telepathic," he said. "She can be all the way at the other end of the court, with fans standing and yelling all around her, but when she mouths words, I make out complete sentences. I'm learning how to block out the noise so I can listen to what's most important."