Equity Audit Looks at Commitment to Diversity, Inclusion
First step to finding excellence everywhere at Rutgers
On his first day as Rutgers University president, Jonathan Holloway said he agrees with calls for concrete commitments to address the nation's systemic inequities – and to identify and take measurable actions so Rutgers can do its part to promote equity and inclusion.
As a first step, the president commissioned a University Equity Audit to quickly assess Rutgers' commitment to diversity, equity and inclusion, starting with a self-study and survey among university leaders, and an equity scorecard. Holloway also named Enobong (Anna) Branch to a new position, senior vice president for equity, to ensure a permanent, universitywide approach to equity.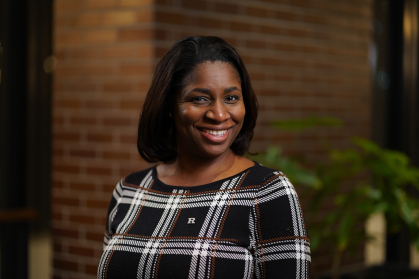 While Rutgers welcomes people from diverse communities, especially students, the audit begins to measure how intentional university leaders are in creating opportunities for all, Holloway said in a message to the Rutgers community.
"Are we providing wide access to opportunities to learn, work, and teach here? Are we deliberate in our efforts to retain and promote faculty and staff from underrepresented groups?" Holloway asked. "Excellence can be found everywhere – but are we looking hard enough and in enough places?"
In the University Equity Audit, In Pursuit of Excellence, led by Branch, central administration leaders rated efforts to incorporate diversity, equity and inclusion best practices. The self-study suggests the results are between fair and good, and that there is work to be done to improve even areas of strength, such as valuing different experiences, perspectives and the cross-cultural skills essential to communicating and thriving in a diverse workplace.
"The aim of these results is not to say how great we are but how great we can be," Branch said. "The findings from the University Equity Audit will help us shape a universitywide diversity strategic planning process that brings in the voices, ideas and energy of diverse stakeholders in our beloved university community."
The goal of the University Equity Audit was to assess Rutgers' on-the-ground commitment to core equity values, starting with the central administration. The audit has three components: a self-study by executive and senior vice presidents; a leadership perception survey completed by 133 administrative leaders across Rutgers; and an equity scorecard, which tracks 30 different metrics across all campuses, including access, retention, success and leadership for underrepresented minorities and women at Rutgers.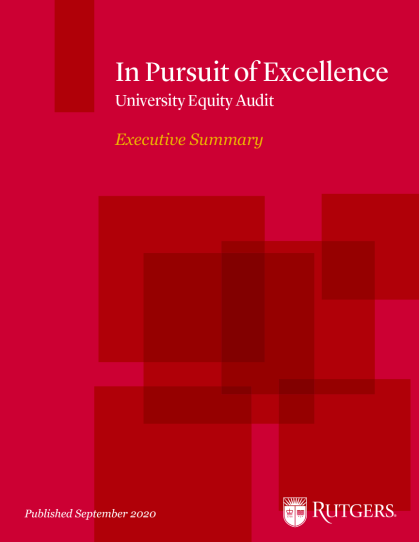 The scorecard results show a mix of gains and losses in recent years. Gains include improved graduation rates for underrepresented groups at Rutgers while losses include retention of first-year students from these groups.
In the survey, leaders agreed diversity, equity and inclusion are important to the university, though fewer than a third believe Rutgers is making the needed efforts "to a great extent" to support these values. And, while half said the people they work with directly are "very committed" to inclusion, a quarter perceived Rutgers as an institution "very committed."
The president said he will discuss the report and actions that will be taken in response to it in his address to the University Senate on Friday, Sept. 25.
 "With this audit," Branch said, "we are taking the first steps toward developing a shared vision and strategy that will be informed at all times by a clear understanding that diversity, equity and inclusion lead us to excellence."