When Soham Shah began planning the logistics for this year's Rutgers University Dance Marathon, he drew on some skills he didn't expect to use from his experience as a mechanical engineering major.
Creating the layout and schedule for an event, finding the materials for activities and transporting them to a site were all part of Shah's work as an engineering project leader at Rutgers.
"A lot of my engineering projects require a lot of planning and visualizing where everything would go before you commit to it," says Shah, the marathon's director of event logistics who graduates this spring. "I think that has definitely been applied in my position for the marathon."
After two years as a virtual celebration, the dance marathon, a tradition at Rutgers since 1971, will return as an outdoor event at 4 p.m. on April 2 at the Voorhees Mall on the College Avenue Campus. The event, which has raised more than $10 million for Embrace Kids Foundation, is organized each year by a six-member board of directors, and nearly 2,000 students are involved in fundraising for the project.
Shah is excited that he will finally get to attend the marathon in person again as a graduating senior. He began volunteering for it his first year at Rutgers after hearing about the marathon through his fraternity, the Theta Tau Professional Coed Engineering Society, and signed on as a "champion" to raise money for the event.
"I've been looking forward to this for three years now, ever since I went to my first dance marathon," he says. "I think dance marathon is going to be at the top of the list for my best memories at Rutgers."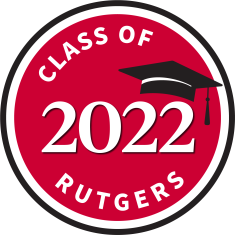 Shah, who raised nearly $800 this year, says he was attracted to the marathon because of its connection with Embrace Kids Foundation, a New Brunswick-based nonprofit that provides free support to families whose children are facing cancer and blood disorders. During sophomore year, Shah was paired with a boy named Miguel who was in treatment at Robert Wood Johnson University Hospital and met him on a weekly basis to play games at the clinic through a program run by the foundation called RU4Kids.
"I really liked being able to put a smile on Miguel's face," Shah says. "There were times when we would go visit him and his mood would be really, really down, and he wouldn't want to talk to anyone. But when he saw us come, his face would light up and he would just want to play games with us."
The children, whom the Rutgers students were matched with in the program, are invited to attend the dance marathon, a celebration of the fundraising for the foundation, which supports their families during their treatment. This year, the event will offer bounce houses, carnival games, and arts and crafts stations for the children and their families.
Rutgers students are not required to dance at the marathon, despite its name, but must remain on their feet for the duration of the event. Students had until March 7 to raise money for the marathon, and the total amount generated is announced at the event.
There is stiff competition to become one of the six directors of the event, but Shah rose through the ranks of volunteers and served as the assistant director of logistics last year. "He's an engineer so I think he's very well suited for the position that he has," says JoAnn Arnholt, director of fraternity and sorority affairs, who advises the project. "Everyone's dream of what this is going to look like — he is the one responsible for making that all happen physically."
Shah, who was an engineering intern at TTM Technologies in Stafford, Connecticut, last summer, plans to return to Rutgers next year to earn a master's degree in mechanical engineering. He hopes to remain involved in dance marathon as a graduate student.
"I think dance marathon is one of the best things about Rutgers," he says. "It's just a way for the Rutgers community to come together. We're all in it for the same cause, and we all want to help the kids. It's just a way for us to all celebrate together."