Digital Learning Commons Offers New Space for High-Tech Collaboration at Alexander Library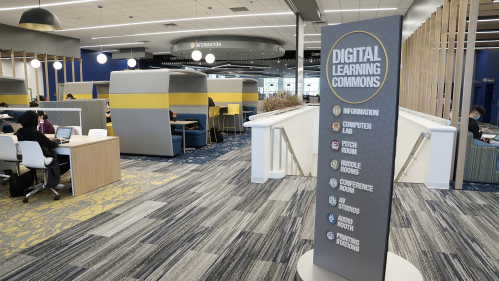 As student Radia Nazah stood at the whiteboard, her back to the wall of glass that separated her cozy meeting room from the sprawling main section of the Digital Learning Commons (DLC) at Alexander Library, she wrote equations in violet ink and discussed them with a classmate while students on the other side of the glass worked on in peace, unable to hear the discussion.
"We come here a lot," Nazah said of the DLC, which opened last month on Rutgers-New Brunswick's College Avenue campus. "It's a beautiful space. There are a lot of places for groups to study together, and it's great to have whiteboards you can roll wherever you need them."
The DLC is a state-of-the-art, multimedia collaboration center – the largest gathering space available to students at Rutgers-New Brunswick aside from cafeterias or gymnasiums – and it's packed with design features and tools that students have requested:
A large, glassed-off "pitch room" is designed for large-group collaboration and informal presentations.

A pair of "one-button studios" have cameras, microphones, lights, and greenscreens set up in advance so students can capture professional-quality audio and video presentations with the touch of a single button.

An audio-recording booth lets up to four users produce professional-grade sound for podcasts, voice-over work, and other projects.

The information desk has both library staff and computer lab consultants.

The 12-seat conference room includes a motion-tracking camera so speakers can move freely about the meeting space.

Reservable breakout rooms let small groups meet privately.

Private office space is available for consultations with either reference librarians or the Rutgers Office of Disability Services.
The DLC occupies a high-ceilinged room that stretches the full depth of Alexander Library. Giant windows line three sides of the room, and sunlight flooded the airy space last Thursday afternoon as Nazah wrote her equations and more than 100 other students packed the newly opened facility.
Most of those students sat in the vast computer lab, which has 70 university-owned machines and empty spots for students who bring their own devices. A few other lab users were on their feet, taking advantage of the computer lab's adjustable desks, which rise to standing height with the touch of a button.
"The standing desks are very cool," said Nicole Au, a senior who was working with a friend to polish her resume. "Really, the whole space is well designed. The light is great, and it's handy to have all the little rooms and all the little nooks around the edge of the main space. It's very functional."
Moveable partitions allow students to make semi-private meeting areas in nearly any part of the room. Wi-Fi printing makes it easy to print from any part of the facility. Mobile whiteboards provide a low-tech way to share ideas, while video monitors in all meeting rooms provide a high-tech way to share ideas.
The entire facility was designed in consultation with the Office of Disability Services to be accessible to the broadest possible array of users. Indeed, one of the advantages of the height-adjustable desks is that they can easily accommodate wheelchair users.
Another design emphasis was combining cutting-edge technology with ease-of-use, and the one-button studios are a good illustration of the principle. They let users record high-quality presentations without worrying about the intricacies of setting up audio or lighting. Users go in, literally press a single button, give a presentation, and get an electronic copy that's perfectly lit and recorded.
The DLC is the product of collaboration among Rutgers University Libraries, the Office of Information Technology, the Office of Disability Services, Rutgers Institutional Planning and Operations, and the New Brunswick Chancellor's Office.
"This was a very effective collaboration," said Associate Vice President and Deputy Chief Information Officer Frank Reda. "All the groups contributed their expertise, and the result is a superior facility for our students."
The Digital Learning Commons is on the ground floor at Alexander Library, 169 College Ave, New Brunswick.