Dental School Converts Clinics to Support Overflow of Covid-19 Hospital Patients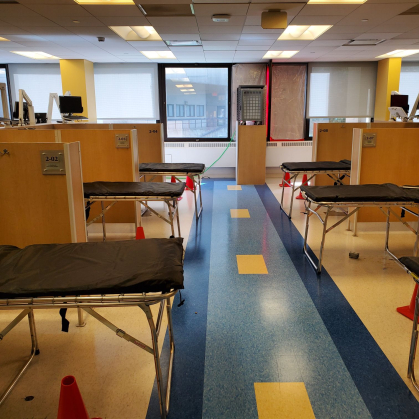 To help cope with the statewide influx of COVID-19 patients, Rutgers School of Dental Medicine (RSDM) has converted two of its clinics to treatment areas for University Hospital patients. Care began last month at the temporary facilities.
Since last month, the Newark hospital has faced an overwhelming number of patients seeking treatment for the novel coronavirus, leading to a shortage of beds for COVID-19 patients and others. To make room for more, RSDM transformed the school's pediatric and special needs clinics, which are interconnected, to a 24-bed treatment facility.
"We are providing overflow beds for the hospital to free up beds for severely ill COVID-19 patients who need a higher level of care. The dental school is a step-down unit,'' explained Dean Cecile A. Feldman.
"We are ready to do all that we can to help hospital patients receive the care they need. This is a time when we must work together and pool our resources to save lives,'' she added. "The pandemic has had a tremendous impact on the healthcare system in New Jersey, and Essex County has been especially hard hit, with some of the highest number of cases in the state.''
RSDM, which is currently treating dental patients on an emergency basis, helped provide funds for the project, estimated to cost more than $250,000. The project includes converting the space back to dental clinics when the need subsides. In the meantime, pediatric patients and those with special needs are being treated in the other clinic areas at the school.
In addition to the removal of dental chairs and the addition of beds, the renovation, completed in two weeks, involved work on the air filtration system to ensure that air from the temporary hospital patient area doesn't circulate through other areas of the building. University Hospital is in the same complex as the dental school, where the two RSDM clinics are connected to the hospital via a preexisting corridor.
RSDM's Facilities team worked with crews from Rutgers Institutional Planning and Operations, Environmental Health & Safety and the Office of Emergency Management, in addition to other units, to complete the project. 
"Within a very short time span, the team was able to prepare the space in order to fill a dire need,'' said Dean Feldman. "They did a tremendous job and we're very proud of the results and thankful for their hard work.''