Denise Washington Never Gave Up on Earning a Rutgers Degree
Determined adult student shows that a return to school can be fulfilling at any age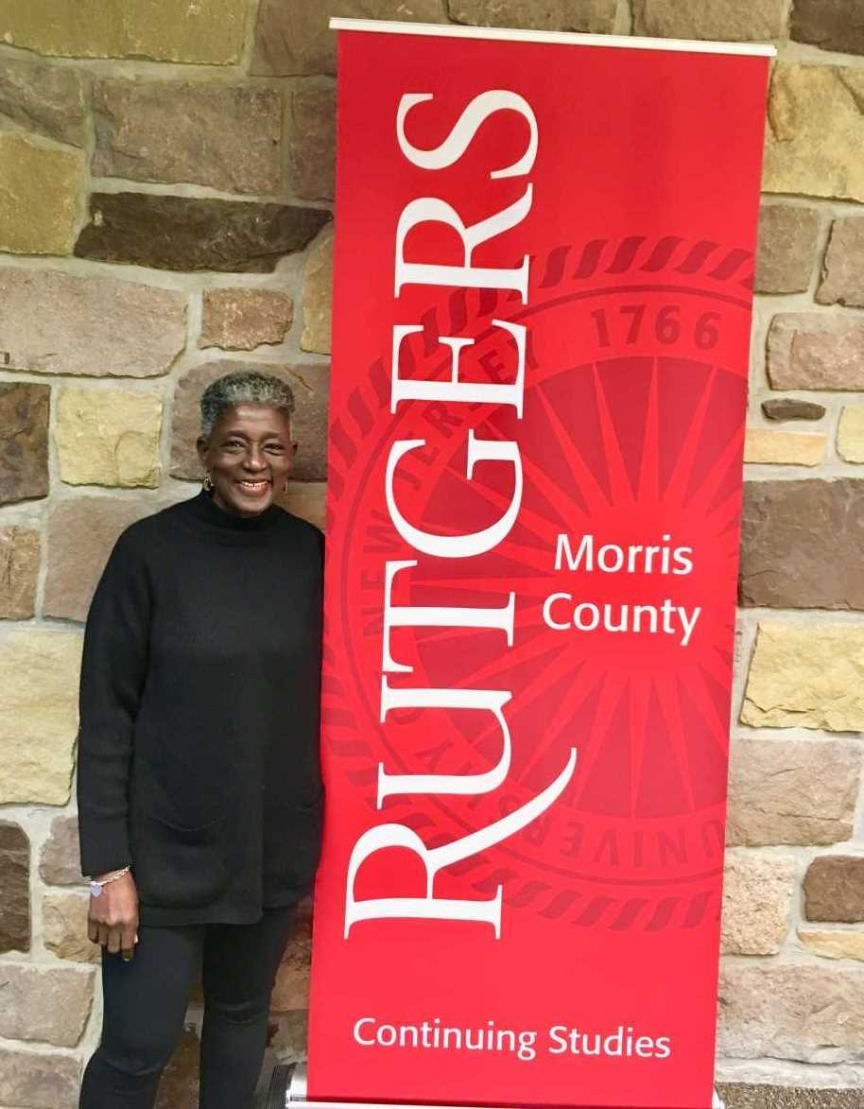 On her journey as an adult going back to school to complete an associate's and then a bachelor's degree, Denise Washington overcame hurdles that would daunt most people. She lost her job and then her husband. Still, she was determined to finish her education, something her spouse had always encouraged, and the drive to succeed also motivated her to get healthy and lose 100 pounds along the way.
"It's been a tough journey, but I have enjoyed every step of the way," says Washington, who is majoring in psychology and minoring in women's and gender studies and will graduate in December 2019.
The path back to school was paved by a unique program, Rutgers Statewide, which helps returning students who have earned an associate's degree to then earn a Rutgers degree by attending classes taught by Rutgers faculty at one of six local community colleges. The program is especially attractive to students like Washington who work and have families to support, and want the convenience of a Rutgers degree earned close to home.
At the beginning of her path to higher education, Washington attended college right out of high school, but soon left to work on Wall Street in brokerage firms while spending her free time traveling. She always vowed to go back, and when she was laid off from her job, it felt like the perfect time to complete a degree. At first, she was nervous about being the older adult in a sea of millennials.
"I didn't want them to view me as the older person who can't work a computer. However, that is not what I found at all. The students are great, and just like me they are working while going to school. I enjoy dispelling myths about what older people are supposed to be like," she says.
She began attending County College of Morris (CCM) when her son was also a student there, obtaining the same degree. They, and her daughter, would all sit around the kitchen table at night doing homework, a sight that made her husband, George, laugh with delight.
It was during this time that Washington reignited her love of exercise and joined a local program that over time would lead to a 100-pound weight loss. She did not realize the ongoing important role that exercise would play in her life.
At the same time, Washington learned that she could stay at CCM and complete her bachelor's degree as a Rutgers student, while remaining on a familiar campus. The program, offered through Rutgers Division of Continuing Studies, has helped thousands of students earn a Rutgers degree from around the state.
"I always wanted to go to Rutgers, but the commute from my job would have been rough. When I heard about the partnership program, I thought, this is pay dirt. And it has worked out so very well," she says.
During this time, Washington began a new job while also taking classes. Then, in 2016, the unexpected loss of her husband was an understandable heartache and setback, and Washington credits the psychology classes she was taking with helping her to find a good counselor to share her grief. She felt a renewed sense of joy in her education just knowing this was something her husband had always hoped she would complete.
"He knew how much I wanted this. I felt like he was there with me on this journey," she said.
Outside of work as a divisional trainer for coding and operations, she started her own business teaching students medical coding. Through her weight-loss journey, she also became a health and wellness specialist for women.
"I train women, mostly over 50, to complete half-marathons as walkers, which is a completely different training regimen than for runners," says Washington, who works out five to six days a week and has completed five marathons herself. She is expected to get her spin instructor certification in 2019 as well.
Looking toward graduation, Washington plans to take some time for herself and to focus on counseling women on wellness as a way of life. And along the way, she has two cheerleaders in her children, who have always supported her. "On bad days when I say I don't think I can do this, they say, yes you can!" she laughs.
Her advice to those seeking a life change by returning to school is to make sure to earn the degree that interests you, not just complete the path you started 20 years ago.
"Think about who you are now. Find whatever will drive you. If you waited this long, you should do something that is meaningful to you."