At Dedication, a Reflection on How the Rutgers Center for Adult Autism Services Changes Lives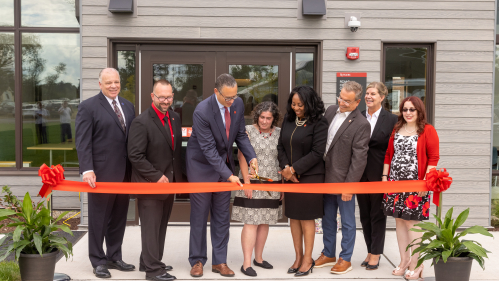 Amy Gravino was diagnosed at age 11 as being on the autism spectrum.
It was decades ago, when, she said, the word didn't mean much. She was teased by classmates and told by a school official that she would never graduate high school, let alone college.
"I only knew that I was different, and different was not acceptable as the world was frequently sure to let me know. At every turn I had people telling me who I was,'' Gravino said Wednesday during the dedication ceremony for the Rutgers Center for Adult Autism Services (RCAAS), a facility that opened on the Douglass campus earlier this year to serve adults with autism spectrum disorder through vocational, academic and recreational programs.
But now Gravino can define herself as an advocate, public speaker, writer, colleague, daughter and friend.
The goal of the RCAAS is not to tell students on the spectrum who they are, but rather to allow them to be exactly who they are.

Amy Gravino

RCAAS Relationship Coach
"I am a relationship coach in the Rutgers Center for Adult Autism Services, a place I only wish had existed when I was growing up,'' she said. "It might have spared me from so many of the hardships that I faced navigating life after college.''
Gravino shared her story Wednesday as state and university officials gathered to reflect on the significance of the center and its work.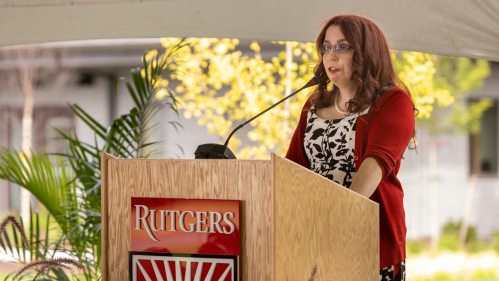 "Today's gathering reaffirms Rutgers' commitment to be a national leader in the areas of research, professional training and practical services in support of adults with autism spectrum disorder," said President Jonathan Holloway. "We celebrate much more than a structure. We celebrate the building of new awareness, new relationships and new dimensions of our community."
The state-of-the-art building creates an inclusive environment for all and addresses a growing need in the state and beyond. Autism spectrum disorder affects one in 32 people in New Jersey and one in 54 people nationally.
"What we have accomplished here began about eight years ago with a vision, a vision for a better world for adults living with autism," said Rutgers-New Brunswick Chancellor-Provost Francine Conway.
An estimated 50,000 children with autism "age-out" of the K-12 education system each year, with few options available to support their continued development.
"The problem is that people with autism do not have the opportunity to participate and succeed within our society in the way that it is currently arranged," said RCAAS Executive Director Christopher Manente. "At Rutgers, we take an entirely different approach. We strive to demonstrate that all people with autism can succeed when they are embraced by a supportive community."
At Rutgers, we take an entirely different approach. We strive to demonstrate that all people with autism can succeed when they are embraced by a supportive community.

Chris Manente

RCAAS Executive Director
The 10,000-square-foot facility was financed with philanthropic funds and is the first of its kind at a higher education institution in the United States. Among its amenities are vocational, social and life skills teaching areas, individual and group training rooms, a professional kitchen, recreational and common spaces, offices and meeting rooms.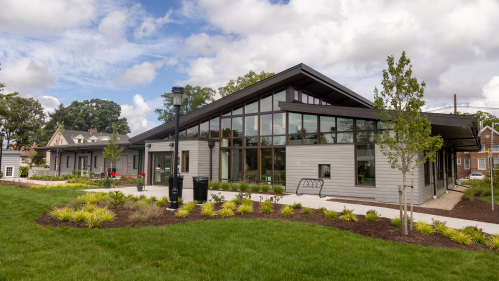 Mel Karmazin, the former CEO of Sirius XM Radio, was a key fundraising leader for the project along with his daughter Dina Karmazin Elkins, executive director of the Karma Foundation. Her son, Hunter, was diagnosed with autism at age 2, and the Karma Foundation has been active in autism causes.
"All the programs that are housed here, along with what this building represents, are the result of so many people caring about the mission of a better life for adults with autism," said Elkins. "The three-pronged mission of service, training and research is already in full-effect, even before this building, as the program has been open for a few years already."
The building's architectural strategy used nature and natural building materials and other features to make participants feel connected to the natural environment. Particular attention was paid to sensory impacts, such as using materials that reduce noise and alcoves with soft edges that allow for privacy. 
Autism and autism spectrum disorder are among the fastest-growing developmental disabilities in the United States. Rutgers-New Brunswick's Graduate School of Applied and Professional Psychology created the RCAAS in 2016 to address the well-documented shortage of quality services that help adults with autism lead meaningful and productive lives, and to conduct research that can inform the development of other programs for adults with autism.
"It doesn't surprise me that Rutgers is leading the way again in ensuring that people with special needs are treated like everyone else and provided opportunities to reach their full potential," said Senator Stephen M. Sweeney.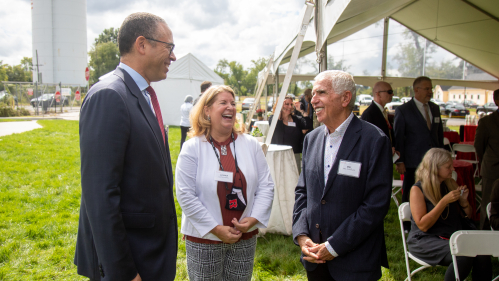 RCAAS serves adults with autism by providing meaningful, paid employment and integration into the Rutgers community through its flagship Supporting Community Access through Leisure and Employment (SCALE) program. The center also provides individualized support services for Rutgers students on the autism spectrum through the College Support Program and assessment and psychological services for autistic adults through the Psychological Services Clinic.
For more information on each of the RCAAS' distinct, yet collaborative units, visit their brand-new website at Rutgers Center for Adult Autism Services and facebook.com/RutgersCAAS for frequent center updates and highlights.
To receive the RCAAS newsletter, "On the Spectrum in Adulthood," fill out its sign-up form.