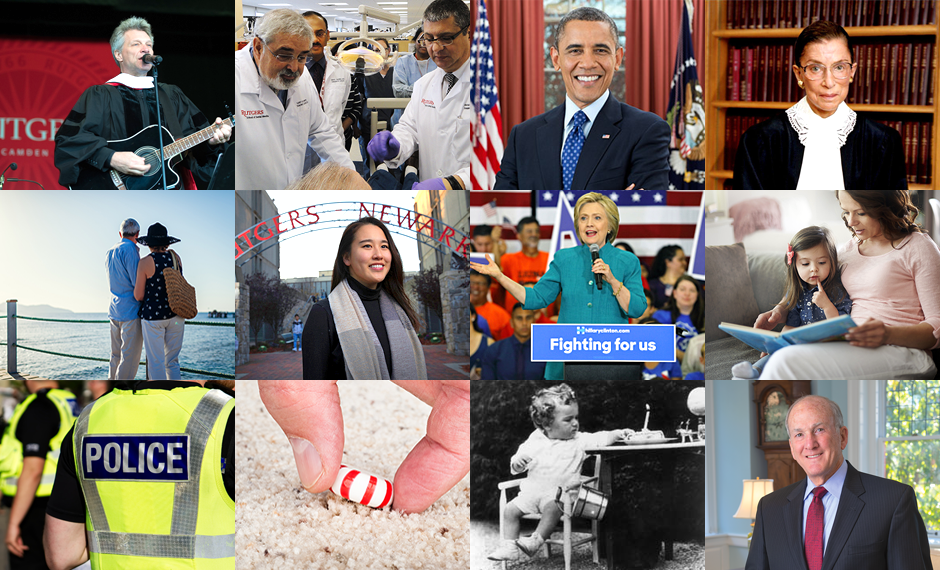 When the clock strikes midnight on Dec. 31 we will be saying goodbye to a decade that was a time of great change, growth and innovation at Rutgers. Countless impressive students have come through our doors, the university celebrated a milestone 250 years and a U.S. president spoke at commencement.  
Take a look at some of the most-read Rutgers Today stories of the 2010s, from oldest to the most recent.
Thomas Edison's First Wife May Have Died of a Morphine Overdose (November 2011)

 

While finishing the 7th volume of books about Thomas Edison, Louis Carlat and his team discovered a host of information, including the intriguing possibility that Edison's first wife, Mary, died from a morphine overdose.

Robert L. Barchi Named 20th President of Rutgers, The State University of New Jersey (April 2012)

In April 2012, Robert L. Barchi – a renowned neuroscientist, respected educator and academic innovator, and successful fundraiser – was named the 20th president of Rutgers, The State University of New Jersey.

Was the Lindbergh Kidnapping an Inside Job? (August 2012)

After researching the case for almost a decade, legendary historian and professor emeritus Lloyd C. Gardner found evidence suggesting that Charles Lindbergh may have been involved in the kidnapping and murder of his son.

When a 'Toothache' Is Really a Migraine (November 2013)

Rafael Benoliel and Gary Heir strive to raise global awareness of dentists trained in mouth and facial  pain to diagnose elusive syndromes such as chronic migraine.

Mystery Photobooth Portraits Baffle Historians (March 2014)

A haunting collection of 445 photobooth images of a man taken over decades is unveiled at the Zimmerli Art Museum in March 2014, begging the question: Who was he?

A Wife's Happiness Is More Crucial Than Her Husband's in Keeping Marriage on Track, Rutgers Study Finds (September 2014)

Deborah Carr's research on marital quality shows that the more content the wife, the happier the husband is with his life.

Rutgers University-Camden Awards Honorary Degrees to Jon Bon Jovi, Bryan Stevenson (May 2015)

Jon Bon Jovi and Bryan Stevenson, two nationally recognized leaders in civic justice and equality, received honorary degrees from Rutgers University–Camden during a Convocation and Graduate Commencement ceremony held in 2015.

Ruth Bader Ginsburg: The Former Rutgers Law Professor Led the Legal Campaign for Gender Equality (February 2016)

A request by her students at Rutgers Law School sparked Ruth Bader Ginsburg's journey to becoming a pioneer in women's legal rights.

President Barack Obama to Deliver Commencement Address at Rutgers University-New Brunswick (April 2016)

After a jam-packed year of celebrating the 250th anniversary of Rutgers University, the 2016 graduating class was surprised when President Barack Obama was announced as their speaker less than a month before the big day.

One of Nation's Youngest Physicians Enters Medical Residency at Rutgers (September 2016)

As she prepares to finish up her residency in obstetrics and gynecology in 2020, we look back at when Robert Wood Johnson Medical School resident Ola Hadaya first arrived as the age of 22, one of the nation's youngest.

Rutgers Researchers Debunk 'Five-Second Rule': Eating Food off the Floor Isn't Safe (September 2016)

Rutgers researchers have disproven the widely accepted notion that it's OK to scoop up food and eat it within a "safe" five-second window.

Hillary Clinton's Success: Challenging Gender Norms for the Presidency (June 2017)

Despite the persistence of masculine ideals associated with the presidency, women made progress in 2016, the Presidential Gender Watch report found.

Bad Policing, Bad Law, Not 'Bad Apples,' Behind Disproportionate Killing of Black Men by Police (August 2018)

Officers of all races disproportionately kill African-American suspects, pointing to need for policing and legal reforms, Rutgers-Newark study finds.

Common WiFi Can Detect Weapons, Bombs and Chemicals in Bags (September 2018)

A Rutgers-led study demonstrated the low-cost technology for security screening at public venues like stadiums, theme parks and schools by using WiFi signals.

Naomi Klein Named Rutgers' Inaugural Gloria Steinem Chair (September 2018)

Naomi Klein, a public intellectual whose best-selling explorations of social, economic and ecological injustice have made her a global thought leader, was selected as the inaugural Gloria Steinem Endowed Chair in Media, Culture and Feminist Studies at Rutgers-New Brunswick.

Reading With Toddlers Reduces Harsh Parenting, Enhances Child Behavior, Rutgers-Led Study Finds (May 2019)

People who regularly read with their toddlers are less likely to engage in harsh parenting and the children are less likely to be hyperactive or disruptive, a Rutgers-led study found.

Stranger Things Star Gaten Matarazzo Talks About His Rare Genetic Condition With Dental School Dean (August 2019)

While attending Lobby Day 2019 in Washington, D.C., Cecile Feldman, dean of the Rutgers School of Dental Medicine, met Gaten Matarazzo, one of the stars of Stranger Things. They discussed his advocacy for Cleidocranial Dysplasia (CCD), a rare genetic condition that affects bone development, especially cranial bones, collar bones and teeth.

Meet Rutgers Class of 2023: Students Are Among the Brightest in University History (August 2019)

Rutgers University opened its doors this semester to the Class of 2023, an accomplished group of students who are already working to make the world a better place and are poised to begin making their mark at Rutgers.

Nuclear War Between India and Pakistan Could Kill Millions Worldwide (October 2019)

More than 100 million people could die immediately if India and Pakistan wage a nuclear war, followed by global mass starvation, according to a Rutgers coauthored study.

Advocate for Undocumented Immigrants Named Schwarzman Scholar (December 2019)

Esder Chong, an outspoken activist at Rutgers-Newark who has fought for the rights of undocumented students like herself, is celebrating the highly selective honor of being named a Schwarzman Scholar for 2019.